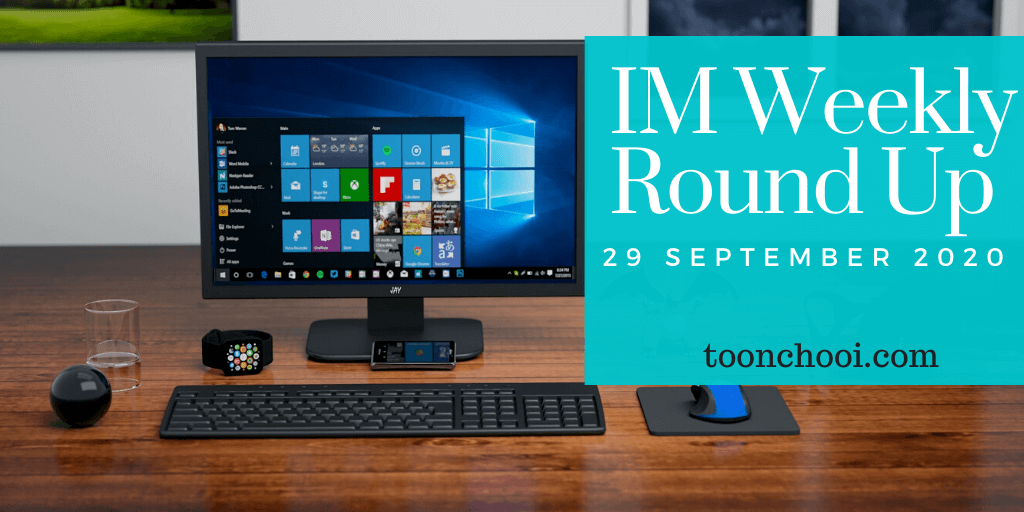 Good day everyone and and welcome to the latest issue of Marketing Weekly Roundup. Here's your weekly roundup of marketing insights, tools and tactics to help you become a better marketer!
9 SEO Best Practices That You Should Follow in 2020
By following these 9 SEO best practices, you will be laying the groundwork for your site to increase its visibility in search and achieve higher search rankings in 2020.
2. 3 Chat Automation Tools That Accelerate Sales Growth
Here are 3 artificial intelligence (AI)-assisted conversational bots that can help give your enterprise a competitive edge in acquiring sales, automating customer support and saving money.
3. How to Calculate the ROI of a Social Media Influencer Over Time
Collaborating with an influencer is a great way to fast-track your success, but how do you calculate the ROI of working with an influencer? And how can you measure one influencer against another? Let's walk through some of the key influencer ROI metrics.
4. How to Measure and Analyze Content Marketing Success
Let's explore precise ways you can measure your content marketing efforts to get a clearer picture of what's happening both at a micro and macro level. By the end, you should have some clear action steps on how you can proceed in the coming days and weeks.
5. How to use Twitter Polls and the Best Twitter Poll Ideas and Examples
One key to Twitter success is engagement. Or in other words: Interaction with your target audience and provoking a reaction from the right people on Twitter. Twitter polls is one of the tools that you can and should use for that are Twitter polls. Find out how to use them right.
6. 21 Inbound Marketing Strategies To Quickly Grow Any Business
Check out this infographic by TemplateMonster with 17 ecoomerce conversion boosters which you should include in your strategy:
7. 4 Proven Tips & Tools to Optimize Your Shopify Store for Sales
Whether you already have a Shopify store or you're just getting started, with countless alternatives available to your business, you'll need to make sure your store is optimized to have the edge over your competitors. And so, here are four proven core tips to optimize your Shopify or Shopify Plus store for sales.
8. How to Create Paid Search Offers That Are Actually Profitable
This step-by-step process gives you the structure to maximize profits.
9. 9 Ways to Improve Organic Reach and Beat the YouTube Algorithm
To truly execute a successful YouTube marketing strategy, improve organic reach, and take advantage of that massive percentage, you need in-depth familiarity with the unique YouTube algorithm. Here are nine ways to increase your organic reach on YouTube.
10. 9 Little-Known Font How-Tos for Instagram Stories
Follow the how-tos for these nine design-focused, lesser-known font hacks to make your Instagram Stories stand out
11. Getting Started with Influencer Marketing
Influencer marketing is a type of marketing that focuses on using key leaders to drive your brand's message to the larger market. Find out how to get started with it
12. 31 Tips for Turning Marketing Leads into Closed Sales
Leads to sales is the number one goal of all businesses. Use these 31 tips to help your business convert more leads to sales.
13. The 40-point SEO checklist for startups
Startups can't afford to miss a SEO trick when it comes to launching a new site, says Contributor Pratik Dholakiya. Here's a checklist to help keep you on track.
14. 4 Surefire Ways To Target and Retain eCommerce Customers for Sales
Once you've started on your eCommerce journey, it's a good idea to start retention strategies. Sending emails inviting your customers to purchase again is a great start. Then you can move on to loyalty programs and other strategies. Today we'll walk you through the four ways to target and retain customers for a lifetime.
15. 5 Social Media Best Practices Every Marketer Must Follow
If you're not optimizing your social media strategy, you're going to see limited success in the space. Here are five of the most essential social media best practices to get your brand closer to your reward
16. 10 Email Marketing Do's and Don'ts for Campaign Success [Infographic]
An infographic (below) from Blue Mail Media explores 10 of these key email don'ts that should be avoided at all costs and provides 10 recommendations for what marketers should do instead.
17. 16 Simple Ways To Enhance Blog Posts To Boost Engagement
By crafting compelling blog posts, companies can connect to their audience in ways they never could through mass marketing. Here are the simplest ways to develop more exciting content.
18. 4 Digital Marketing Hacks That Grow Your Small Business
Business growth needs to be strategic, meaning you need to adopt tactics that will work for your business. Here are four tried and tested ways to actually grow your small business.
19. How to Write a Compelling Welcome Email (5 Tips)
Email marketing is one of the most profitable and engaging ways to grow your business. Here are 5 tips to help you to write the welcome email that get higher open and click through rate.
20. 20 Effective Ways to Promote Your Content
Here are 20 proven-effective methods to promote every piece of content you own.