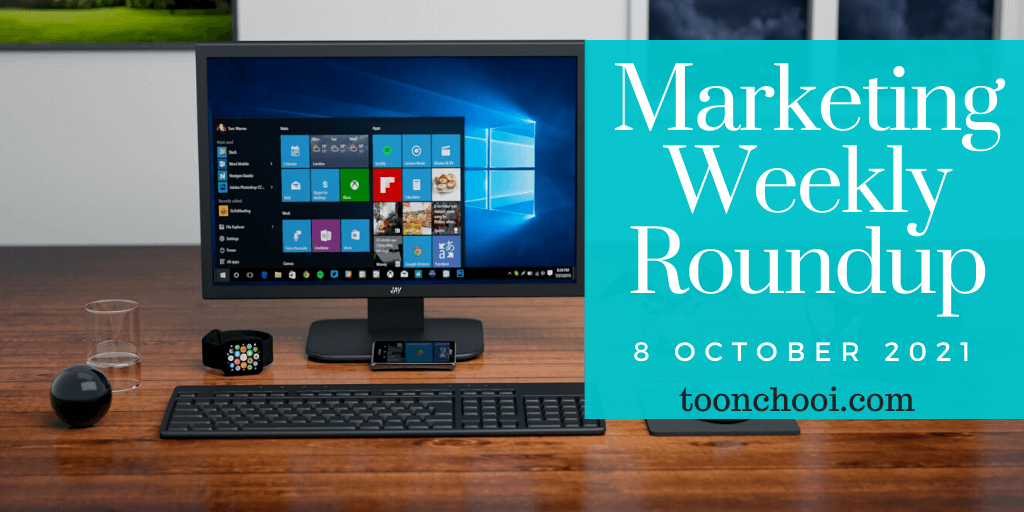 Happy Friday and welcome to Marketing Weekly Roundup! Here is your handpicked roundup for this week, packed with marketing insights, SEO tips, news and expert advice from around the world.
Let's hop into this week's marketing roundup:
.1. Market Research: An Overview and Step-by-Step Guide
To stay competitive in today's marketplace, you have to keep a finger on the market's pulse. Market research allows you to adapt to changing conditions and align with emerging trends. In this article, you'll learn what market research is and why it's important.
2. Top 10 E-Commerce Trends in 2021
In 2020, e-retail sales surpassed $4.2 trillion worldwide. Businesses need to keep up with changes and trends to stay competitive. To maintain a successful eCommerce business, businesses need to stay abreast of the top 10 most important trends.
    1.  Personalization
    2.  Green e-Commerce
    3.  Social Media
    4.  Emerging Voice Commerce
    5.  Chatbots
    6.  Artificial Intelligence
    7.  Subscriptions to E-commerce
    8.  Mobile shopping
    9.  Omnichannel Shopping
    10. Augmented Reality

3. Email Marketing Strategy: Collecting Subscribers, Users & Loyal Customers
Over a third of email marketers struggle with acquisition and close to a half say increasing engagement is their number one challenge. We'll look at where email fits in the customer journey and walk you through how to create a strategy that fits your customer lifecycle. And we'll break down the main elements of high-performing emails to show you how to drive action from your campaigns.

4. Six Ways To Avoid Most Common Influencer Marketing Mistakes
Influencer marketing has emerged as a potent weapon in the arsenal of marketers today. Brands and marketers are susceptible to making mistakes in the pursuit of connecting with end customers. Here are six ways to avoid the most common influencer marketing mistakes.

5. 7 Inbound Marketing Strategies for 2021 (and Beyond)
Inbound marketing is a content-led method of attracting new customers by providing relevant and valuable information. It typically uses channels such as blogs, search engines, and social media accounts to publish content and help you generate high-quality leads. By addressing the problems and needs of your target audience, you can build trust and credibility for your company, which leads to higher conversion rates and customer retention. Here are 7 top-performing inbound marketing strategies for tech companies.
    1. Secure Your Customers' Data
    2. Embrace Content Marketing
    3. Integrate Email into Your Strategy
    4. Design Compelling Landing Pages
    5. Develop an Engaging Social Presence
    6. Host Virtual Events and Webinars
    7. Focus on Perfecting Search

6. How to Promote a Flash Sale on Facebook and Instagram
Most flash sales last for 24 hours or less; therefore, the campaigns promoting them are also short-lived. Maximizing performance within such narrow timeframes requires a different campaign management approach than for longer campaigns. Here's how you can maximize your efforts to drive your campaigns further and make your ad spend work harder.
7. What Goes Into An Effective Sales Funnel?
There are many ways to optimize the perfect funnel built for conversions. Will your funnel include an eye-catching lead generation piece, a landing page or an e-book and video sales letter? Let's run through a five-stage funnel process to help you decide what content should go into it.
    1. Awareness Stage
    2. Lead Generation
    3. Landing Page
    4. VSL
    5. Thank You Page

8. How to Use Twitter for Business: A Practical Guide
Learn how to use Twitter to successfully promote your business and build an engaged community. This includes the basics to get you set up and more advanced tips to optimize your investment in your Twitter presence.
9. How to Get Free YouTube Subscribers (the Real Way)
Getting more free YouTube subscribers is the best way to maximize your organic reach. The more subscribers you have, the higher you rise on YouTube's "benefit level" ladder. You need at least 1,000 subscribers to become a YouTube Partner and start earning ad revenue. Find out how to get people to click that Subscribe button and get free real YouTube subscribers.
    1. Ask your viewers to subscribe
    2. End your video by teasing what you're working on next
    3. Verify your Google account
    4. Interact with your audience and make friends (a.k.a. build community)
    5. Create effective channel branding
    6. Add a custom channel trailer
    7. Brand your video thumbnails
    8. Use YouTube's clickable subscription tools in your videos
    9. Think in terms of playlists
    10. Showcase your content strategically on your channel page
    11. Run a contest
    12. Release videos on a consistent schedule
    13. Entice your audience over from other social media channels
    14. Do your keyword research for titles, descriptions, and hashtags
    15. Collaborate with other creators

10. How to Check and "Steal" Your Competitors' Top Keywords
There's an easy way to check your competitors' keywords for free and use this information to get ahead and beat them in search results. In this post, you'll learn how to identify your competitors and spy on other crucial data. You'll learn how to ethically "steal" their top keywords as well.

11. 4 Ways to Improve Your Mass Email Marketing Strategy
Take advantage of the huge benefits of email marketing to expand your business and increase sales. A valuable mass email marketing strategy can be one of the most effective ways to drive sales for your business. Take a look at these four ways to improve your Mass Email Marketing strategy.
    1. Personalize Your Messaging
    2. Design an Eye-Catching Email
    3. Utilize User-Generated Content
    4. Take Advantage of Analytics

12. 3 Rule-breaking Product Pages, Designed for Conversions
Most eCommerce sites have a standard product page layout, with a left-to-right display and a dominant image. Brands that understand their audience can defy convention and leverage prime real estate to boost conversions. Let's look at three online stores that are breaking the product-page rules.
13. 4 Things I Learned From My Ecommerce Business in the First Year
Here are four lessons that may help you build a sustainable and successful ecommerce platform:
    1. Listen to your clients
    2. Prepare the market for innovation
    3. Stand out among your competitors
    4. Client success is your success
14. How to Be Successful With Google Ads
Google Ads is one of the most popular and reliable marketing networks available. Rather than shouting your message as loud as possible, you pay for real results with Google Ads. Your ad is only put in front of people when they are receptive to it. Using Google Ads is a great way to reach potential customers. Here are some tips on how to be successful with your Google Ads campaign.
    1.  Define Your Goals and Objectives
    2.  Choose Effective Keywords
    3.  Ensure the Structure of the AdWords Account is the Same as Your Website
    4.  Create Effective Ads
    5.  Post the Ad To the Right Place at the Right Time
    6.  Calculate Your Return on Investment
    7.  Test the Ads
    8.  Optimize Your Website
    9.  Choose the Right Location for Optimal Profits
    10. Maximize Your Turnover with Google Shopping

15. 10 SEO Metrics That Actually Matter (And 4 That Don't)
SEO metrics are indicators that help you understand whether your SEO is working. Some are essential, many are useful, and others are just vanity metrics that won't help you make better decisions. We'll go through the following 10 SEO metrics worth tracking and four metrics that are popular but actually don't matter.
16. 7 Tips on How To Write SEO Content
Good SEO content is a great tool, but what if you don't know how to write SEO content? Here are seven tips that can help any marketer.
        1. Understand Blog Post Anatomy
        2. Do Extensive Research
        3. Create Practicality and Relevance (i.e., value)
        4. Do On-page SEO
        5. Include Visual Appeal and Format
        6. Write a Meta Title and Description
        7. Use Content Writing Services
17. How to Write Compelling Meta Descriptions That'll Boost Your Rankings
Meta descriptions are something that we often overlook. But did you know that pages with meta descriptions on average receive 5.8% more clicks from Google? And if you optimize your meta descriptions you'll do even better than that. Here's how you do just that.
18. How to Optimize Your YouTube Videos for Searchability
With over 2 billion people use YouTube each month, it's an excellent marketing tool for businesses across all industries. Video content is 50x more likely to drive organic traffic back to their website, which means more sales and engagement. Videos also give you a unique opportunity to put your value proposition on display while educating and entertaining your target audience. Here are several proven ways you can use to optimize your YouTube videos to rank high in Google and Youtube for your chosen keywords.
    1. Start by Choosing a Highly Relevant Topic
    2. Write Keyword-Rich Titles and Descriptions
    3. Include a Transcript
    4. Create Eye-Catching Thumbnails
    5. Embed Videos on Your Site

19. What Exactly is Digital Marketing?
For successful digital marketing, a practice must employ various channels, including social media, a website, email, a blog, reviews, and ad campaigns, among others. True digital marketing is a multi-faceted approach to advertising your practice and raising awareness, and engaging your target audience through informative, interesting, and diverse digital content.
20. 6 Tips for Marketing Your Small Business Online
A strong online presence is important to help grow your business and connect with consumers. However, there is no one-size-fits-all approach to building your brand's online presence. Product-based businesses may employ different platforms and principles than service-based ones. Here are 6 tips for marketing your small business online.
    1. Mailing list
    2. SEO
    3. Social media
    4. Website optimization
    5. Paid advertisements
    6. Thought?-leadership content  
ToonChooi
Start Your Email Marketing Free Now
Now You Can Start Out Using Aweber 100% For FREE.  No Credit Card Required… no time restriction – no trial needed! Get it here