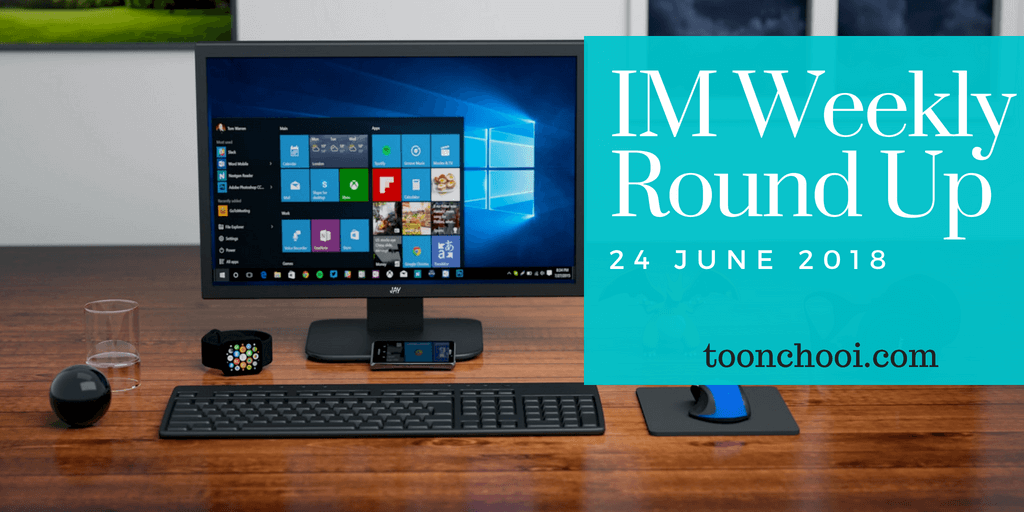 1. How to Use Email Marketing to Grow Your Small Business
Are you looking for ways to use email marketing to grow your business? Then you'll want to take a look at these five email marketing tips to help boost your sales.
https://toonchooi.com/t/read/how-to-use-email-marketing-to-grow-your-small-business/
2. Google Maps for Small Business
Google Maps for Small Business: Everything You Need to Know to Get Found by Customers
A simple listing of your business info on Google Maps can direct customers straight to your door. Here's what you need to know to put your business on the map.
https://toonchooi.com/t/read/google-maps-small-business/
3. 30 Ways To Win At Blog Promotion
Ever hear of Whole30? This is sort of like that, only not at all. You can eat whatever you want and you learn all about blog promotion.
https://toonchooi.com/t/read/30-ways-win-blog-promotion/
4. The Ultimate Guide to IGTV, Instagram's New Video Platform
Here's everything you need to know about IGTV, including how to create a channel, upload videos, watch, and more!
https://toonchooi.com/t/read/ultimate-guide-igtv/
5. 4 Digital Marketing Mistakes That Are Holding You Back
We like to think of digital marketing mistakes as natural steps in an agile marketing strategy. There are too many variables involved to ever have a clear path right off the bat. (And that would be so boring.) Embrace your errors, your oversights, your mishaps. They're part of growing your business, and growing not only as a marketer but as a person.
But that's enough sentiment. Let's dig into what you're screwing up, so you can course correct.
https://toonchooi.com/t/read/4-digital-marketing-mistakes/
6. 6 Kick-Butt Social Media Tools to Help Promote New Blog Posts
Want to know which social media tools will help you get more traffic so more people will find your blog posts? You're in luck! Today, I'm sharing six of my favorite social media scheduling tools to help you get more pageviews, likes, and shares.
https://toonchooi.com/t/read/6-kick-butt-social-media-tools-help-promote-new-blog-posts/
7. AdWords Audit: The 7-Steps Checkup Your Account Needs
A monthly AdWords audit is a great way to improve the performance of your PPC account and reduce costs. Utilize this seven-steps audit to make changes to your AdWords account quickly.
https://toonchooi.com/t/read/adwords-audit-7-steps-checkup-account-needs/
8. Generate Epic Content Ideas in 10 Minutes or Less
Struggling to come up with blog post ideas? Here are 10 of my go-to tools for coming up with a month's worth of content ideas in 1-hour.
https://toonchooi.com/t/read/generate-epic-content-ideas-10-minutes-less/
9. 9 Popular Instagram Trends in 2018 (So Far)
From shoppable posts to the latest design crazes, we're covering the biggest Instagram trends to hit the platform this year to help you optimize your Instagram marketing strategy!
https://toonchooi.com/t/read/9-popular-instagram-trends-2018/
10. Top 10 Skills You Need For Success In Digital Marketing
Even if you are not a graduate or have no understanding of technology, you can successfully acquire digital marketing skills as long as you are committed and passionate about digital media.
https://toonchooi.com/t/read/top-10-skills-need-success-digital-marketing/
11. 7 Ways to Improve Your WordPress SEO
From best practices to WordPress plugins, we'll cover 7 ways to improve your WordPress SEO, so your site doesn't get left behind.
https://toonchooi.com/t/read/7-ways-improve-wordpress-seo/
12. 20 Places You Should Be Sharing Your Content
Writing and publishing blog posts or articles on your own website isn't good enough. Here are 20 more places where you can, and should, share your content.
https://toonchooi.com/t/read/20-places-sharing-content/
13. 15 Steps to Social Media Marketing Success [INFOGRAPHIC]
Social media marketing is a powerful tool when done correctly, can produce overwhelming results (we've had impressive results ourselves). Ensuring that you have enough time and dedication to apply to your strategy is essential. All it takes is a little planning and guidance to get you on the road to success.
Here are 15 steps to social media marketing success so that you can rock your strategy and become the powerhouse you deserve.
https://toonchooi.com/t/read/15-steps-social-media-marketing-success/
14. How High Page Load Time Is Affecting Your Conversion
You may be losing users to slow page load time. If your page doesn't load in less than 3 seconds, they would have left to another page no matter how high ranking you are.
https://toonchooi.com/t/read/high-page-load-time-affecting-conversion/
15. 15 Easy to Follow Social Media Marketing Tips to Grow Your Small Business
Starts from finding out where your customers are online to social media profile managing tools. Here are 15 tips everyone can easily follow to build a social media presence for their business.
https://toonchooi.com/t/read/15-easy-follow-social-media-marketing-tips-grow-small-business/
16. Off-Page SEO Techniques: What Not to Skip
On-page and technical SEO tactics aren't the only thing you need to improve your website's search visibility. You must also have a strong off-site SEO strategy to gain influence and appear higher in SERPs.
In this post, we explain how to develop your off-site SEO strategy through the following techniques
https://toonchooi.com/t/read/off-page-seo-techniques-not-skip/
17. How to Hack YouTube SEO – 26 Tactics for Gaining Top Results
YouTube SEO is a bit different from regular SEO, and it might take a little while to get used to.
To help make it easy for you, I've created a list of techniques that will provide you with the visibility you need on YouTube.
https://toonchooi.com/t/read/hack-youtube-seo/
18. Site Ranking Strategies: 3 SEO Boosting Tactics to Use On Your Site
If you have a website, no doubt you've gone online to try and figure out the "magic trick" that will help your website rank higher on Google.
And if you're like most people, you're overwhelmed at all the ranking factors that are taken into consideration when Google determines which sites show up on the first … Continue reading Site Ranking Strategies: 3 SEO Boosting Tactics to Use On Your Site
https://toonchooi.com/t/read/site-ranking-strategies/
19. Great Email Marketing Campaigns: the Ultimate Guide to create yours
There are several pointers you have to remember to ensure that you create emails that will catch the interest of your target audience which can lead to more sales and higher return on investment. This is what I am going to show you today. I want to show you the process and the steps you need to follow in order to create efficient and effective email marketing campaigns.
https://toonchooi.com/t/read/great-email-marketing-campaigns/
20. 6 Best Businesses to Start on a Tight Budget
Want to start a business on the side without a huge financial investment? These 6 types of businesses can be lucrative in the long term without demanding much money upfront.
https://toonchooi.com/t/read/6-best-businesses-start-tight-budget/