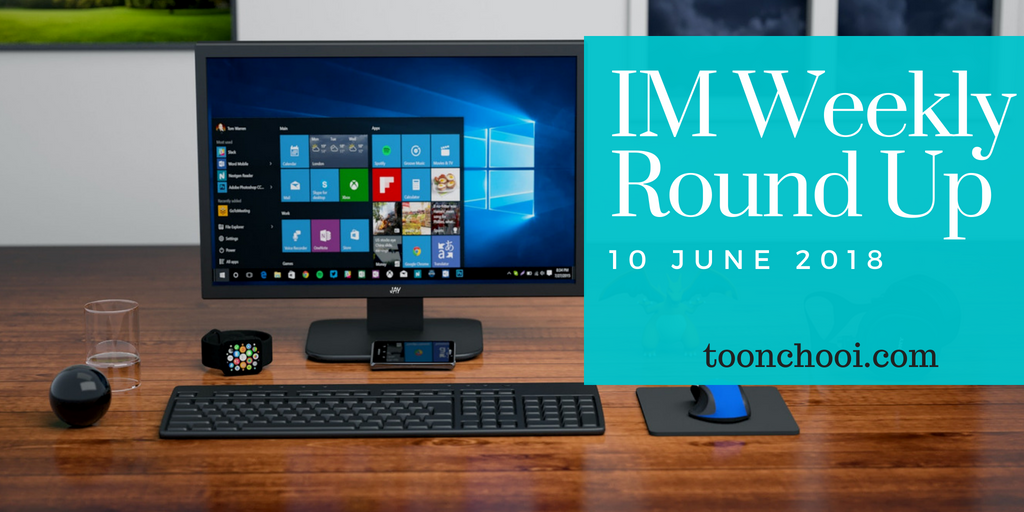 1. Scheduling and Automating Your Blog Posts, Social Media and Email Campaigns
As a freelancer, I wouldn't be able to save time and maintain quality blog content without scheduling and automating my blog posts, social media and emails.
https://toonchooi.com/t/read/scheduling-and-automating-your-blog-posts/
2. 4 Online Video Trends (And When To Use Them In Your Marketing)
Videos are prominent fixtures in today's marketing plans. It's essential for digital marketers and advertisers to stay ahead of emerging trends and know how to use them in their own strategies.
Ahead of our upcoming webcast, we explore four current online video trends, and when to use them in your digital marketing.
https://toonchooi.com/t/read/4-online-video-trends/
3. 6 Essential Channels For Building An Online Marketing Strategy
We're going to start with what Workflow Max calls the "6 Major Digital Marketing Channels" — though we'll probably just refer to them as the essentials of online marketing strategy.
https://toonchooi.com/t/read/6-essential-channels-building-online-marketing-strategy/
4. 8 E-Commerce Email Marketing Examples To Double Your Sales
Even for e-commerce businesses, email marketing can be pretty powerful. It can keep you connected with your customers and increases sales. It's also a relatively cost-effective way to generate leads. The good news is, there are so many different ways in which you can incorporating email marketing into your e-commerce marketing. In this post, we'll take look at some of the most effective email marketing examples and how you can use their strategies to boost your e-commerce sales.
https://toonchooi.com/t/read/8-e-commerce-email-marketing-examples-double-sales/
5. 8 Ways to Write Engaging Email Marketing Copy
f you don't snag them right away, there's little chance they will even make it to your call to action, let alone be convinced to click. Your designer can do amazing things with color and images, but your writing absolutely must pop.
How do you make sure your messages get read? Here are eight tips:
https://toonchooi.com/t/read/8-ways-write-engaging-email-marketing-copy/
6. Top 10 Data-Driven E-Commerce Technologies in 2018
Whether you're a small e-commerce startup or a multinational online sales platform, your need for accurate data analysis is at a premium. You need customer and visitor data in order to ensure you can target your visitors' needs effectively, as this both leads to happier, better served customers and increased revenues for your organization.
https://toonchooi.com/t/read/top-10-data-driven-e-commerce-technologies-2018/
7. Top 3 Entrepreneurial Opportunities in Digital Marketing
For anyone who wants to be his own boss and enjoys freedom to work from any place, here are 3 kinds of opportunities in digital marketing:
https://toonchooi.com/t/read/top-3-entrepreneurial-opportunities-digital-marketing/
8. Six Steps to Finding a Great Product to Promote
Although there is no 100% watertight method for finding a profitable product, there are a few things that go a long way to increasing your chances of success.
https://toonchooi.com/t/read/six-steps-finding-great-product-promote/
9. 5 Ways You Can Earn a Better ROI with Your Email Marketing Campaigns
Adhere to these five email marketing best practices to maximize your opt-ins, leads, email subscribers, conversions and sales.
https://toonchooi.com/t/read/5-ways-can-earn-better-roi-email-marketing-campaigns/
10. 10 Things You Should Never Do In Email Marketing
In this post, you will go over 10 mistakes that bloggers, businesses, marketers and sometimes even experts make that kills their email conversion rates.
https://toonchooi.com/t/read/10-things-never-email-marketing/
11. Content Brainstorming: 8 Techniques to Come Up With Better Ideas
Are you guilty of running brainstorming sessions by sitting round a whiteboard as a team? Here are eight techniques to try out if you want to come up with better content ideas.
https://toonchooi.com/t/read/content-brainstorming-8-techniques-come-better-ideas/
12. Kindle Publishing for Beginners: How to Make Your First $1,000 on Amazon
Thinking about publishing on Amazon's Kindle? Want to actually make some money when you do? Then read this guide on making money from self-publishing.
https://toonchooi.com/t/read/kindle-publishing-beginners/
13. 9 Types of Killer Filler Content that are Easy to Create
If you're struggling to create thoughtful, original long-form content, you can rely on filler content to get you through – but it has to be killer! On this week's podcast, I'm sharing a list of content filler types you can use for your blog. They don't take a lot of effort or time to create, but they do add value to both your blog and your readers.
https://toonchooi.com/t/read/9-types-killer-filler-content-easy-create/
14. 5 Social Media Audit Tips That Are Important In Your Professional Life
Have you ever wondered how you could attract your own social media visitors by creating a more compelling and exciting account? According to Natalie Zfat, an entrepreneur with more than 400,000 active social media professional followers, social media is no longer an option but a priority today for freelancers and job seekers. "People are always looking at different social channels when making hiring decisions," Zfat said. Before you start hunting for a job or any business opportunity, you should audit your social media account. The following six tips will help you do it successfully.welcome
https://toonchooi.com/t/read/5-social-media-audit-tips-important-professional-life/
15. Why Digital Marketing is Important to Grow E-Businesses
Know Why Digital Marketing is Important for your business, how different channels of Digital Marketing help you grow your business and boost your ROI.
https://toonchooi.com/t/read/digital-marketing-important-grow-e-businesses/
16. What's the Ideal Blog Post Length for SEO?
How important is article length when it comes to SEO? And what is the ideal length for a blog post to not only rank well but to perform well and actually satisfy the user? Find out here
https://toonchooi.com/t/read/whats-ideal-blog-post-length-seo/
17. Want to Boost Sales? Check out These 4 Free Ecommerce Tools.
There are many great free tools you can use to supercharge your ecommerce site. Have a look at some of the best tools you can start using right away:
https://toonchooi.com/t/read/4-free-ecommerce-tools/
18. Five Common Seo Mistakes Made By Marketers
Blogging, in particular, is a popular way to drive website traffic and build authority in your niche. However, many people struggle to get great SEO results from blogging.
There are five common mistakes that content marketers repeatedly make when creating and promoting blogs and articles. They are:
https://toonchooi.com/t/read/five-common-seo-mistakes-made-marketers/
19. How to do YouTube SEO in 2018
If you want to optimize your YouTube SEO and don't know where to start, check out these 7 recommendations to get your video to the top.
https://toonchooi.com/t/read/youtube-seo-2018/
20. 11 Creative Ways To Boost Social Media Engagement
Social media engagement is a vital aspect of social media marketing strategy. The infographic below highlights some time-tested, proven social media engagement tactics to make your content go viral, drive the desired results, and give your brand.
https://toonchooi.com/11-creative-ways-boost-social-media-engagement/