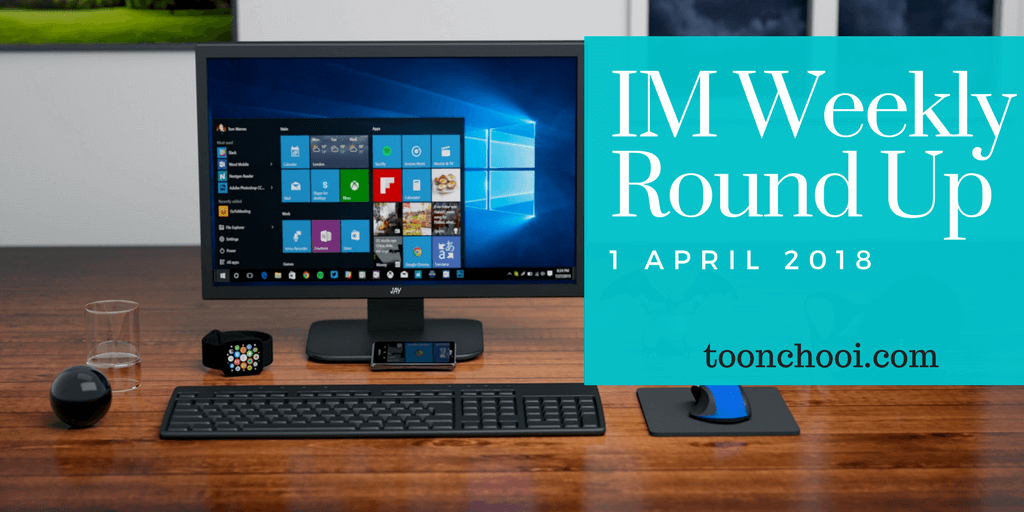 1. How MarketingSherpa Keeps Up Its Email Engagement & Re-engages Inactive Subscribers
In an insightful discussion with Daniel Burstein, Senior Director (Content & Marketing) at MarketingSherpa and MECLABS Institute, he tells us how MarketingSherpa has been using innovative strategies to keep their subscribers engaged.
https://toonchooi.com/t/read/keeps-email-engagement/
2. What Does It Really Take to Make Money on YouTube?
So, how exactly do YouTubers (or "creators," in the platform's parlance) make all this money? Most rely on four income streams: advertisers, sponsors, affiliate marketing, and old-fashioned goods and services. (If you're keeping score, this is one more than Instagram, which doesn't share ad dollars with creators the same way YouTube does.)
https://toonchooi.com/t/read/really-take-make-money-youtube/
3. 21 Actionable Search Ad Lessons Learned from Studying $2,500,000 in Ad Spend [Infographic] |
We'd like to take full credit for this infographic but actually have to tip our hat to AdBasis for creating it and sharing it with us.
It's based on their study of $2,500,000 in ad spend and the ad copy lessons they learned from studying hundreds of thousands of PPC ads. We were super impressed with the tips and think you will be too.
https://toonchooi.com/t/read/21-actionable-search-ad-lessons/
4. 46 Free Social Media Monitoring Tools to Improve Your Results
If you want to know what's happening with your brand's social networking sites you need social media monitoring tools. Before you reach for your wallet and start to spend money try out some of the free social media monitoring services. This way you will get an understanding of what is available and if you need any paid services to monitoring social media.
https://toonchooi.com/t/read/46-free-social-media-monitoring-tools-improve-results/
5. 5 Powerful Tools To Kick-Start Your Email Marketing Campaign
In this article, we will highlight some of the best email marketing tools that will potentially kick start your digital marketing strategy. So without much ado, let's review some of the the top email marketing tools.
https://toonchooi.com/t/read/5-powerful-tools-kick-start-email-marketing-campaign/
6.The Beginner's Guide to Growing Your Email List
You could be starting from 10. (Or zero.) But you need to start somewhere, right? Find out how you can start to grow your email list from scratch.
https://toonchooi.com/t/read/beginners-guide-growing-email-list/
7. How To Build Your Online Brand With Images
Building your online brand is essential to the success of your business these days. It's about getting your business seen in online searches and getting your name known through social media.
Every business is on the internet now, and yours will get buried under the masses if you don't focus on gaining authority and building your online presence.
But how do you go about building your online brand and gaining authority?
Well, when it comes to branding, great visuals are a great place to start.
This article will give three awesome examples from leading businesses – examples you can steal to grow your own brand online
https://toonchooi.com/t/read/build-online-brand-images/
8. 5 Great Shopify Apps to Optimize Your Ecommerce Store
With thousands of Shopify apps to choose from, it's easy for a business to feel spoiled in terms of the many choices available — or just overwhelmed. To make that selection easier, here are five Shopify apps recommend to supercharge your ecommerce store today.
https://toonchooi.com/t/read/5-great-shopify-apps-optimize-ecommerce-store/
9. Simplify Your SEO Program With These 5 Strategies
Don't let algorithm changes stop your site from getting traffic. Here are some things to keep in mind.
https://toonchooi.com/t/read/simplify-seo-program-5-strategies/
10. A Comprehensive Guide On Twitter Analytics For Digital Marketers
Twitter Analytics is one of the most useful analytics tools developed by Twitter to gain all sorts of information regarding your account.
https://toonchooi.com/t/read/comprehensive-guide-twitter-analytics/
11. High-performing Facebook Ad Placements (in 4 Steps)
In 2018, Facebook ads can appear on Facebook itself, Facebook Messenger, Instagram, and the Audience Network. Facebook is no longer a one-option platform. Advertisers must now keep a close eye on how their ads render on all platforms. Otherwise, you might be wasting money…
https://toonchooi.com/t/read/high-performing-facebook-ad-placements/
12. Why Visual Storytelling is the Best Way to Build Authentic Engagement
Visual storytelling can do much more than just boost web traffic. It can be a huge factor in increasing the number of eyeballs on your brand in general.
https://toonchooi.com/t/read/visual-storytelling/
13. Content Marketing Advice: 50 Tips on Growing a Blog with Content
Content marketing tips are a dime a dozen, but these 50 suggestions were born from years of experience working directly with the world's top SaaS brands. Learn how they succeed with content marketing.
https://toonchooi.com/t/read/content-marketing-advice/
14. 11 Ways to Create a Strategy for Live Video Marketing
Live video marketing is the fastest growing medium for forward-thinking businesses. In this guide, we'll present all of the best ways to make the most of live video marketing for your business.
https://toonchooi.com/t/read/11-ways-create-strategy-live-video-marketing/
15. 9 things to check if your SEO traffic suddenly dropped
16. 4 Strategies to Create Facebook Contests That Will Boost Your Business in 2018
Facebook contests are a great way to increase engagement, but you have to know where to start. In this post you'll find Facebook contest rules, great examples to inspire you and tips on how to develop specific strategies to help your business grow.
https://toonchooi.com/t/read/4-strategies-create-facebook-contests/
17. 17 Amazon Seller Tools to Find Profitable Products
As an Amazon merchant, I'm always looking for the next best product to sell — a high-potential item that no seller has discovered. In this article, I will share 17 Amazon seller tools that help source new products. Select a tool from the list, put together a standard process..
https://toonchooi.com/t/read/17-amazon-seller-tools-find-profitable-products/
18. The four pillars of an effective SEO strategy
Search engine optimization (SEO) can be complex, but columnist Marcus Miller simplifies it by breaking down its key elements into four main categories.
https://toonchooi.com/t/read/four-pillars-effective-seo-strategy/
19. 2 Simple-to-Implement Checklists to Use in Your Influencer Marketing Planning
Use these two easy-to-understand checklists to get started in influencer marketing – Content Marketing Institute
https://toonchooi.com/t/read/checklists-use-influencer-marketing-planning/
20. Medium for Marketing: How to Get 1,000 Followers and 46,287 New Site Visits in 30 Days
You've heard of Medium, the blog publishing platform, but have you used it?
WordPress is awesome, but there is no reason why you can't be on both Medium and WordPress.
To kick off your Medium journey, here's how you get you first 1000 followers and 46,287 visitors in the next 30 days.
https://toonchooi.com/t/read/medium-for-marketing/