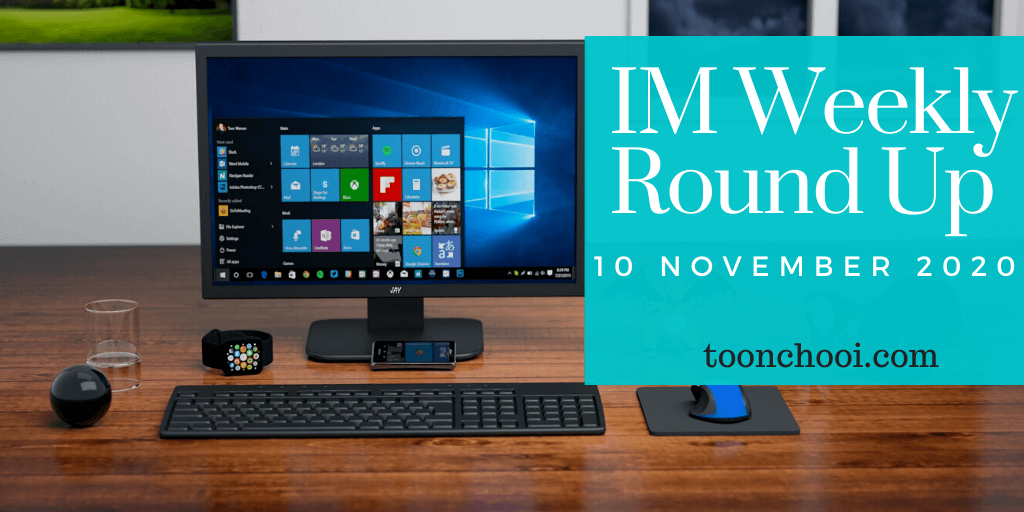 Welcome back to Marketing Weekly Roundup .Here's your weekly roundup of expert marketing tips I came across last week:
IGTV vs Youtube: Six Tips to Choose the Right Video Platform for You
IGTV versus YouTube, which platform should I upload my videos to? Here are six tips to help you choose the right social media video platform for you.
2. How Infographics Improve Your Digital Marketing Plan
Do you know how can you use Infographic effectively in your digital marketing? Here is the breaks down exactly what they are, why they are a useful tactic to get the word out about your business, how to create them and how to promote them.
3. How Email Can Improve Your Inbound Marketing Strategy
How can you develop an inbound marketing strategy? Does email marketing fit into the equation? Let's dive into the world of inbound marketing and learn how you can engage with your customers on a more authentic level.
4. 5 P's of Social Media Marketing Your Business Can Not Afford to Ignore
If your social media campaigns are not living up to your expectations, it is high time that you think about changing your social media marketing strategy. Here is an infographic by Branex that highlights the 5 P's of social media marketing that your business should focus on to succeed.
5. 10 Print-On-Demand Companies for Selling Your Own Custom Products
Print on demand is a fulfillment model that lets you create custom products without having to hold inventory. But choosing the right print-on-demand service to partner with can be tricky. Each platform has a distinct catalog of products, shipping considerations, and unique features that will factor into your decision.
6. How to Make Money with Email Marketing
Did you know email is 40x more effective at acquiring new customers than Facebook or Twitter? And that transactions from email are 3x more profitable than those made on social media? Email is clearly a powerful tool to make more sales. But what are the right ways to cash in on the emails you're sending out? In this blog post, you'll learn 8 proven ways to make money with email marketing.
7. The Beginners Guide to Selling Ebooks Online (With Real-Life Examples)
Are you thinking about writing an ebook to monetize your skills? Today, you will see how you can start selling ebooks online and make a living with everything you already know..
8. 8 Useful TikTok Marketing Tactics
Whether you want to sign up for another social media site, you don't really have a choice. TikTok has already blown up and it is here to stay. The real question isn't should you use it or not, more so it's how do you become popular on TikTok. ?And here's how.
9. Four Tips for Getting More Leads and Conversions From Your Facebook Ads
Setting up a Facebook ad is super-easy in theory. However, in practice, you need to go that extra step to get the best possible ROI and generate as many leads and conversions as possible. Use these tips and tactics and you'll turn your your Facebook ads into a leads & conversions generator.
10. Google Ads Editor: How To Use It to Improve Your Campaigns
In this comprehensive guide, we'll examine everything there is to know about Google Ads Editor, so you can use it to improve your campaigns.
11. 8 Effective Tactics to Gain Customer Engagement
Success in today's highly-competitive marketplace means you must be dead serious about learning effective marketing tactics to gain customer engagement.
12. Retargeting on LinkedIn: What B2B Marketers Need to Know [Infographic]
Retargeting on LinkedIn can help boost campaign efficiency for B2B advertisers, since the platform is widely used by professionals. So, how do you do it? Check out this infographic.
13. 16 Effective Ways To Reconnect With Disengaged Email Subscribers
If your audience has stopped engaging with your email campaigns, it's not too late to reconnect. Try these 16 tips
14. Top 17+ Metrics to Evaluate Content Marketing Success
Learn which metrics should matter most in evaluating your content marketing success
15. The 51 Pinterest Statistics Marketers Need to Know in 2020
Pinterest marketing has can yield very concrete and very valuable results. Have you ever wondered exactly how successful your Pinterest campaigns have the potential to be? Or whether or not Promoted Pins are worth the time? Here you'll find a selection of 31 most relevant, useful Pinterest statistics, to help brands and advertisers decide how they can make the platform work for them.
16. How to Run an Effective Giveaway Campaign on Instagram
Giveaways can be a great way to boost brand awareness on Instagram, but to generate real benefits, you need to map out an effective approach. Here are some of the keys to running a successful Instagram giveaway campaign, as well as some of the missteps that you need to avoid.
17. 14 Innovative Ways To Win Over New Customers With Content Marketing
To help you develop a plan that ensures your content will stand out above that of others in your industry, here are 14 innovative strategies by experts for bringing in customers through content marketing.
18. Video Marketing As a Perspective Area of Content Marketing
Videos are one of the most important segment of content marketing. A survey reveals that over 50% of marketing professionals worldwide name video as the type of content with the best ROI. Here are 7 steps to create high-quality video content
19. 11 Best Ecommerce SEO Tools Marketers Need to Start Using
Getting to the first page of the SERPs for the products you sell isn't easy, especially when you are competing with major eCommerce brands like Amazon and Walmart. Here are the 11 best tools for eCommerce SEO marketers.
20. 4 Clever Ways to Get More Email Engagement
Do you want to see more people engaging with your emails? Here are several creative strategies you can use to get more email engagement and conversions.
I hope that you found this weekly marketing roundup insightful and helpful! Stay tuned for the next weekly roundup for more expert tips and latest trends in digital marketing and advertising.