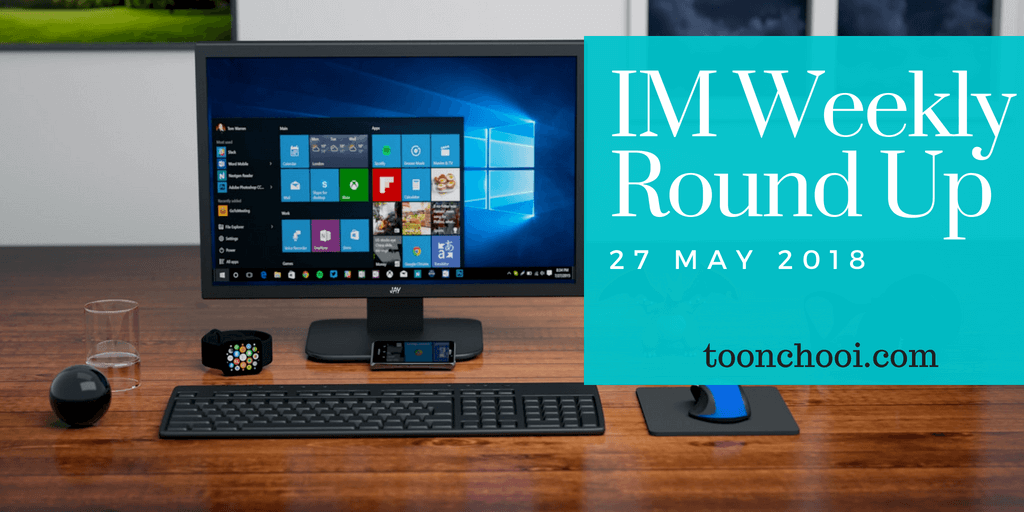 1. 11 Content Marketing Obstacles You May Face This Year
Content marketing has a lot of moving parts. Here is a list of content marketing obstacles you may face this year and how to overcome them.
https://toonchooi.com/t/read/11-content-marketing-obstacles-may-face-year/
2. How to Make Your WordPress Site GDPR Compliant
GDPR affects website owners who are tracking, collecting and storing any kind of personal data of an EU citizen. Here's how to get GDPR compliant.
https://toonchooi.com/t/read/make-wordpress-site-gdpr-compliant/
3. How to Use Google Analytics for Social Media: A Beginner's Guide
Curious about how you can use Google Analytics for social media? Our guide walks you through how to setup a dashboard and how to track the most important metrics for social media marketing.
https://toonchooi.com/t/read/use-google-analytics-social-media/
4. 7 Steps to Creating Effective Social Media Reports
When creating social media performance reports, it's important to consider your audience, and to present your insights in a clear, easy to digest way.
https://toonchooi.com/t/read/7-steps-creating-effective-social-media-reports/
5. How To Launch Your First Influencer Marketing Campaign
You want to run your first influencer marketing campaign? Here's how to do it.
https://toonchooi.com/t/read/launch-first-influencer-marketing-campaign/
6. The Ultimate Guide to Permalink SEO: How to Rank Higher With Proven URL Tactics
Sometimes it's the little things that make a difference.
For example, did you know that I was able to increase my search engine traffic by over 40% by making one little URL change? Seriously, I kid you not… one simple change got me an extra million visitors per year.
Do you know what that change was? It was related to my URL structure.
It's hard to believe, but if you want to gain an extra 40% more traffic, follow this. It will break down what you need to do. 🙂
https://toonchooi.com/t/read/ultimate-guide-permalink-seo/
7. How To Win At Content Marketing With Kickass Content Research
Content research is essential to a kickass content marketing campaign. Learn how to perform content research, why it's so important, and much more.
https://toonchooi.com/t/read/win-content-marketing-kickass-content-research/
8. How to Create a Viral Infographic – Infographic
So, you create infographics as part of your online marketing strategy, but how do you get them to go viral and attract loads of social shares and backlinks?
https://toonchooi.com/t/read/create-viral-infographic/
9. 22 Data-backed Tips for Profitable Free Shipping
Free shipping is an effective but costly sales tool. How can you offer free shipping and still make money? We cover 22 data-backed tips and strategies for profitable shipping.
https://toonchooi.com/t/read/22-data-backed-tips-profitable-free-shipping/
10. 5 Social Media Marketing Practices That Are Dominating 2018
Distributing compelling content via social media is necessary. Here are five important social media marketing practices you need to be aware of this year.
https://toonchooi.com/t/read/5-social-media-marketing-practices-dominating-2018/
11. How to Choose the Best Messaging App to Boost Your Business [Infographic]
Messaging apps are a must in 2018, but which one? This infographic will give you stats and tips on how to choose the best messaging app for your business!
https://toonchooi.com/t/read/choose-best-messaging-app-boost-business/
12. The Ultimate Guide to Taking and Optimizing Ecommerce Product Images
In e-commerce, images are everything.
You need to know how to take the best product shots if you want better conversions.
Here's how to take amazing product shots on a low budget and optimize them for better SEO and conversions today.
https://toonchooi.com/t/read/ultimate-guide-taking-optimizing-ecommerce-product-images/
13. 10 Reasons That Make SMS A Powerful Marketing Tool
The SMS is delivered to your mobile phone irrespective of a weak network signal or absence of internet. This makes SMS one of the most preferred forms of mobile messaging communication.
Apart from the above, here are a few reasons that make SMS a powerful mobile messaging tool.
https://toonchooi.com/t/read/10-reasons-make-sms-powerful-marketing-tool/
14. How to Create Great Gated Content From Existing Content
Create a new content product from your and your partners' existing content and generate more leads – Content Marketing Institute
https://toonchooi.com/t/read/create-great-gated-content-existing-content/
15. Influencer Marketing: 5 things to consider before spending your money
It is the newest tool that marketers are raving about. It is targeted, easy to deploy, and uses the age-old efficacious method of word of mouth and combines that with the prowess of digital platforms to magnify your message.
https://toonchooi.com/t/read/influencer-marketing-5-things-consider-spending-money/
16. How to Sell More Products on Instagram
If you already have a business profile for your brand on Instagram, you might be wondering how you can sell more products on Instagram. Having a business profile is not a guarantee that you will sell a lot of products, that's why these tips are so valuable.
https://toonchooi.com/t/read/sell-products-instagram/
17. SEO: 4 Simple Steps for Choosing Effective Keywords
Keyword optimization is still extremely important for today's marketers. Follow these five helpful steps to get started with your own keyword research.
https://toonchooi.com/t/read/seo-4-simple-steps-choosing-effective-keywords/
18. 7 Undeniable Risks you need to pay heed when Launching your eCommerce Business in 2018! (Infographics)
Are you planning to start your own eCommerce business? This infographic will help you get aware of the different eCommerce risks that you might have to face.
https://toonchooi.com/t/read/7-undeniable-risks-launching-ecommerce-business-2018/
19. 6 Effective Tools for Running Influencer Marketing Campaigns
Influencer marketing has changed the way businesses promote products online. Influencer marketing works best when you develop relationships with partners.
https://toonchooi.com/t/read/6-effective-tools-running-influencer-marketing-campaigns/
20. How To Grow Your Business With These Influencer Marketing Strategies
The fall of traditional outbound marketing strategies has seen the meteoric rise of influencer marketing This is due to its potential to grow your business manifold. It can help you to engage with your audience and improve your brand's visibility.
https://toonchooi.com/t/read/grow-business-influencer-marketing-strategies/