Time for our marketing weekly roundup for the 22 September 2020, with various articles and tips from experts to help you become a better digital marketer! This is where I share with you all interesting and helpful marketing tips, tools and news that I came across during the week. Here's this week's roundup: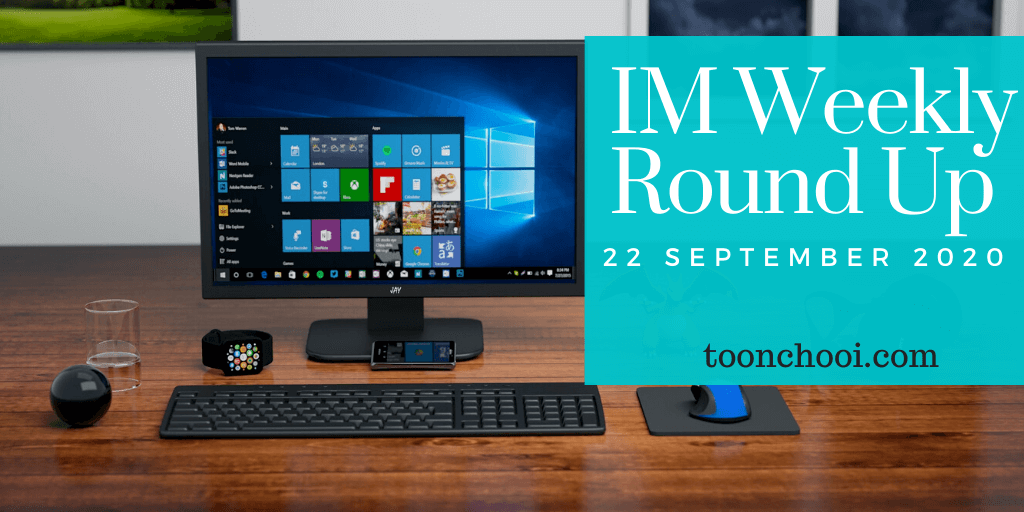 7 Best IGTV Cover Examples & Tips to Increase Your Videos Engagement
Having the right IGTV cover for your video can boost your video engagement and viewership. Here are how to create an IGTV cover along with IGTV Cover examples you can use for your next vertical video!
2. Small Business Social Media Marketing Strategies
Marketing your small business on Social Media is key to becoming successful. In this article we will discuss why small businesses need social media and tips and tricks to market your business. Lastly, we will discuss the difference between advertising and marketing on social media.
3. eCommerce Sales Funnel: How To Optimize eStore For Conversions
Check out this ultimate guide to eCommerce sales funnel. Learn what it is and how to optimize your store for more leads, engagement and conversions.
4. What Are Web Push Notifications & How Should You Use Them?
Not only do push notifications let you communicate updates to your audience, they enable you to drive traffic to your website or landing page, build your audience, and grow your business. Plus, they work great in tandem with email marketing.
5. The Beginner's Guide to a Sales Funnel
If you are in online marketing or if you want to be a sales rep, you need to know what sales funnel is. Learn all the basics of a sales funnel here.
6. 3 Growth Hacking Examples You Can Leverage In Your Business
Let's dive deeper and look at real businesses that have used growth hacking and launched themselves into massively successful companies. Along with these business examples, we'll look at key strategies to help you come up with your own growth strategy.
7. How to Start a YouTube Channel for Your Business
In this post, we'll share how to set up a fully optimized YouTube channel for your business and how you can create compelling video content to engage current customers and attract new ones, too.
8. How to Prevent Customer Churn with Retention Marketing
Customer retention marketing is a strategy designed to delight existing customers. It allows teams to turn customers into brand advocates, while decreasing churn rates and increasing revenue. Discover how to unlock the power of retention marketing with this complete guide!
9. Pinterest SEO Simplified
If you've ever wondered – Where do keywords matter? How do I get my Pins higher in the search results? What part to hashtags play? What about Interests? You do NOT want to miss this.
10. A Full Guide to Broken Link Building
A proven tactic to incorporate into your link building strategy is that you should be using is broken link building. In this guide, we will walk you through a step-by-step process of finding broken links
11 Canva Alternatives to Try In 2020
When it comes to online graphic design tools, Canva is one of the most well-recognized names. But if don't like what Canva has to offer, here is 11 best Canva alternatives to consider.
12. 12 Shopify Apps for Finding Products to Sell (Without Shipping Them Yourself)
It's hard to start a business without any products to sell—sourcing a supplier is often one of the first steps. But if you're starting a store using Shopify, there are dozens of product sourcing apps to help you populate your store with in-demand items, or even add your own creative spin to white label products.
13. 13 Tips to take Local SEO to The Next Level
SEO (also known as Search engine optimization) is a critical part of running any website that is looking to generate more traffic. Here are some SEO tips can help you make SEO more comfortable to understand and use.
14. Social Media Optimization Tips For Marketers & Creators (2020)
The best optimization practices for your brand's Facebook, Twitter, Instagram, YouTube and LinkedIn accounts and actionable tactics you can use today (even within the hour) to boost your social media efforts.
15. How to Use Email Marketing to Reduce Cart Abandonment
Learn the leading causes of cart abandonment and 10 ways to improve your marketing strategies to convert abandoned carts into online sales.
16. Three Things To Consider When Hiring A Social Media Influencer
You may be thinking about reaching out to influencers to promote your business, or maybe you've been contacted by an influencer and want to know what you need to consider. Either way, we are going to take a look at several things you should think about before you sign a contract with an influencer.
17. How To Increase Your Affiliate Earnings
For many, affiliate marketing is an easy income but for others, getting those earnings up there can be tricky. In this guide, we are going to give you some tips to help you increase your affiliate earnings.
18. How to Promote Your SaaS Startup
The increased level of competition in the sector means SaaS startups need to be more proactive in terms of marketing their business. Here are some of the best ways to promote your SaaS startup.
19. Using Instagram Video for Ecommerce
Here are options for posting videos on Instagram to drive awareness and sales for your ecommerce company.
20. 4 e-commerce email marketing strategies to heed
Here are four e-commerce email marketing strategies that will help businesses on their way to success.