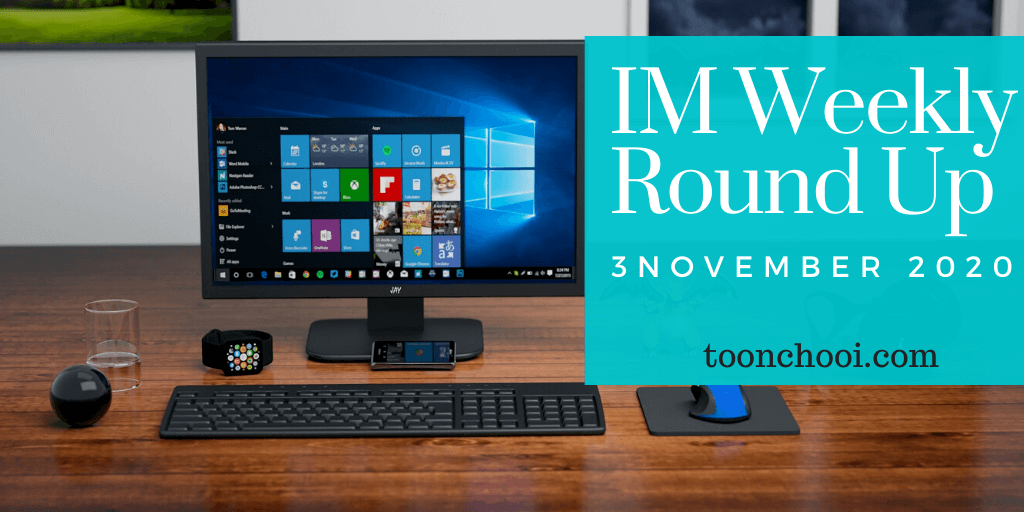 Good day everyone and and welcome to the latest issue of Marketing Weekly Roundup. Below is the latest marketing weekly roundup which cover useful digital marketing tips, tools and tactics for your business.
Six Steps to a Successful Email Outreach Campaign
Email outreach is a tough thing to pull off. Follow this six-step guide to set up an effective campaign and make sure every aspect is accounted for.
2. Four Keys To Success In Affiliate Marketing
Let's look at the main advantages of affiliate marketing and explore how, when executed expertly, it can provide your company with opportunities for growth, ROI, incrementality and elasticity.
3. Grow Your Podcast with Free Marketing Tools
Use these podcaster-specific landing page and email templates to help you save time and refocus your energy on doing what you love.
4. The best time to post on Social Media in 2020
If you want to stay one step ahead your competitors, then you must know the best time and day to post your content on the social media platform. We have made an ultimate guide for you, so you can find the best time to post your content across different social media networks. So let's visualize this infographic and learn the best time to upload content on social media.
5. 8 Tips to Grow Your Social Media Presence in 2020
Social media has continued to grow as an important tool for sharing and distributing information, with social platforms reporting 2020 increases in user engagement and platform usage, according to Sprout Social. Consider the following tips when starting or growing your social presence and strategy:
6. Top eCommerce Trends in 2021
The year 2020 is drawing to a close. Let's take a look at the top eCommerce trends to watch out for in 2021.
7. 10 Mistakes People Make When Starting a Digital Marketing Agency
If you're starting a digital marketing agency, you will run into specific challenges and may make some of these common mistakes. Here's what they are and how you can avoid them.
8. 3 Keys to a Highly-Effective Content Marketing Strategy
In a world full of false advertising and eroding trust, content marketing should be at the heart of any digital marketing strategy. Effective content marketing sends a message to potential customers that you are passionate about what you do and that you want to share your expertise with them — for free. To achieve this goal, it's important to focus on three prongs: business goals, personas, and your sales funnel.
9. Instagram marketing: 5 brands to get you inspired
Here are some unconventional brands that do some unconventional Instagram marketing. Hopefully, you'll learn from them and get inspired and will be able to apply some ideas to your own brand. https://toonchooi.com/t/read/instagram-marketing-5-brands-to-get-you-inspired/
10. How to Use Facebook Groups to Keep Customers: 5 Ways
Looking for a way to increase customer retention? Are your customers using Facebook? Learn how to strategically use a Facebook group to nurture customer relationships here.
11. 13 Best Methods To Generate Sales And Leads Online
The sales funnel remains a typical marketing technique that websites use to turn visitors into buyers. Here are a few methods that companies can employ to generate leads and close sales with an online audience.
12. Shipping Strategy: Get Packages to Customers Without Cutting Into Your Bottom Line
Choosing the best shipping strategy impacts your store's conversion rate and profitability. Find out how to get it right.
13. The Theory Behind Ranking Factors
Since day one of SEO, marketers have tried to determine what factors Google takes into account when ranking results on the SERPs. In this brand new Whiteboard Friday, Russ Jones discusses the theory behind those ranking factors, and gives us some improved definitions and vocabulary to use when discussing them.
14. How To Manage Your Email Campaigns for Ultimate Success
Managing your various email campaigns requires an efficient process. Here are a step-by-step guide so you can do it right.
15. 6 Tips to Use Social Media for Organic Marketing
The effective use of social media can drive a steady stream of traffic to your website and generate leads, without spending on paid promotions. Here are 6 tips to help you make your brand's social media strategy a success.
16. Top 18 Digital Marketing Automation Tools by Experts in 2020
The digital marketing concept has become a popular topic to discuss. Here are the top 18 digital marketing automation tools by experts in 2020.
17. Sales funnel vs. flywheel: How sales and marketing has evolved
The sales funnel and flywheel differ in their approaches, as well as in their focus areas. Find out the different here
18. 13 Expert-Recommended Tricks For Accelerating Your Online Growth
For online businesses, a high-performing website that encourages engagement and conversions is the key to successful growth. If you want to scale your site visits and engagement, try these 13 growth hacks recommended by the experts
19. Ecommerce Checklist: 19 Essentials for Your Online Store
A lot goes into launching an online store. From site security to a marketing plan, this ecommerce checklist will help you get it all done.
20. Is Your Social Media Content Attracting Leads? 4 Ways to Bolster Your Strategy
Digital marketers often identify social media as one of the best forms of content marketing, but it can often feel like we're just going through the motions. If the social media content isn't attracting leads, what good is it? Here are 4 ways to bolster your strategy to make sure your content is appealing to your target audience and getting inbound requests and messages.