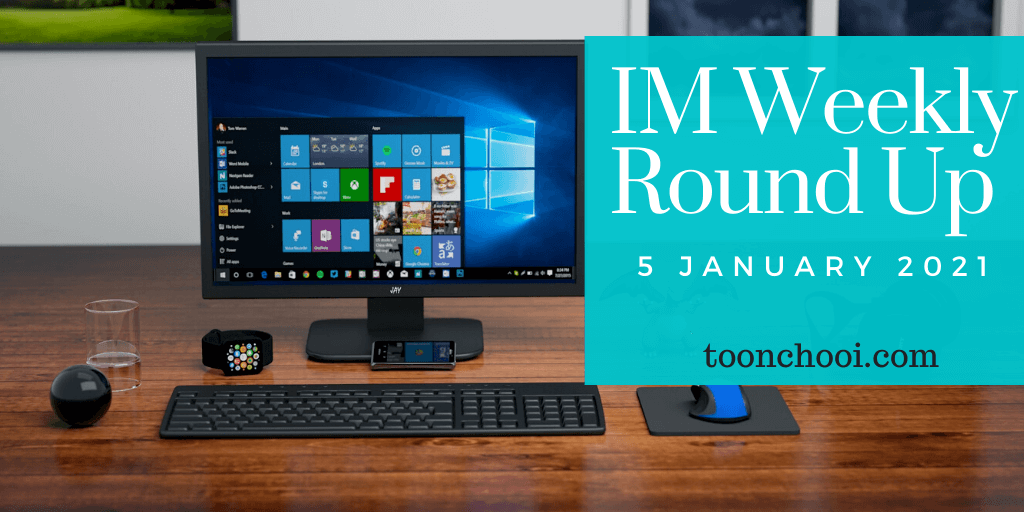 Happy Tuesday! Hope you're having a wonderful New Year weekend.  Below are this week's Marketing Roundup for you to read while drinking a cup of tea/coffee:
1. Paid Media Marketing in 2021: 8 Changes Marketers Should Make
A new year can mean a new paid media strategy. Learn eight changes marketing professionals must implement into their 2021 digital marketing plan.
2. A Practical Guide to Starting an Ecommerce Business
There is no single formula for starting an ecommerce business. In this guide, you will find a checklist of tasks to start an ecommerce business and how to start a successful ecommerce business
3. 3 Ways to Increase Organic Traffic in 2021
Are you looking for ways to increase your organic traffic this year? This video show you three ways you can do just that which include:
–    SEO Split Testing
–    Brand SEO
–    Technical SEO

4. How To Boost Your Digital Marketing Conversion Rates Quickly
Digital marketing is one of the most effective ways of marketing your business. What's more important is to be able to use it effectively to reach your conversion goals  
5. Social Media Post Lengths for Higher Engagement [INFOGRAPHIC]
Each social media platform has an ideal length of text to help ensure your message is seen, and users interact with your brand. The infographic shown below demonstrates those numbers, and even gives you a visual (in the descriptions) on what those amount of characters would look like:
6. How to Get B2B Leads on LinkedIn: 3 Ninja Tips for Social Success
Looking to get B2B leads on LinkedIn? It's not as easy as spamming a bunch of connection requests. Here are 3 ways to do it – the right way.
7. 7 Awesome Affiliate Marketing Strategies Any Affiliate Should Test
Here is a outline of affiliate strategies that are relatively easy to implement and test to help your website increase its traffic and conversions. 
8. Insights 101: Everything You Need To Know About Instagram Analytics
In this guide, you'll learn everything you need to get started with Instagram Insights, as well as how to make sense of the data, and different third-party tools you can use to get more precise measurements.
9. 9 Tips to Excel Your Marketing Campaign
You must follow the recipe for the winning formula if you want to succeed in your digital marketing campaigns. Here are some tips for stamping your online presence effectively.
10. 10 Win Back Email Examples (Plus How to Launch Your Own)
Here are some great win back email examples so you can learn how to launch a successful re-engagement campaign for inactive customers.
11. The Ultimate Step-by-Step-Guide For Ranking In Google Images
If you're looking for some practical strategies you can use on your site today to rank better in Google Image Search, then you'll love this infographic. It's a simple checklist (along with detailed instructions) that will show you step-by-step how to dominate the webs number two search engine. 
12. 7 Best Shopify Alternatives
There are many Shopify alternative out there. Let's find out how do you choose which is the right Shopify alternative to allow you to not only sell but grow your eCommerce store to the fullest
13. What to Know About Google's FAQ Rich Snippets
Google introduced the rich FAQ snippet on its search results pages. Learn what it is, how it works, and how you can take advantage of the top-of-the page search content feature. 
14. How to Build Your Personal Brand With Video
Let's look at a few marketing tactics to build a personal brand with video, and how can you increase your reach
15. 15 Insanely Effective Sales Promotion Examples to Win More Customers
Sales promotions have been used for decades with great success and, no matter your industry or the size of your business, there are sales promotion techniques that can work for you too. Learn how to attract and retain more customers to your small business through creative and attractive promotions.
16. The Secret Sauce to Successful Facebook Ads is Proper Targeting
There's a simple skill that can help you overcome your issues of attracting people into your business. That skill is finding your ideal audience through Facebook ad targeting.
17. A Guide To Leveraging Marketing Automation
Marketing automation can help a business make the most of their online marketing efforts. This guide will help other business owners learn everything they need to know about marketing automation.
18. 18 email marketing best practices for 2021
Learn email marketing best practices that will drive more engagement, clicks, and conversions. First, Do NOT purchase lists, test subject lines, optimize above-the-fold, keep copy concise, and more.
19. How to Get Started With Automating Your Marketing Funnel
Once you've established your funnel steps, you can automate many of the lead generation strategies to nurture prospects and guide them towards a sale.  
20. 20 Tools to Quickly Make Engaging Videos for Social Media
Did you know that 53% of people want to see more video content from marketers? Check out these free tools to create videos for social media! 
I hope that you found this marketing roundup insightful! Stay tuned for the next marketing weekly roundup to get more updates on new tips and insight in digital marketing and advertising.
ToonChooi