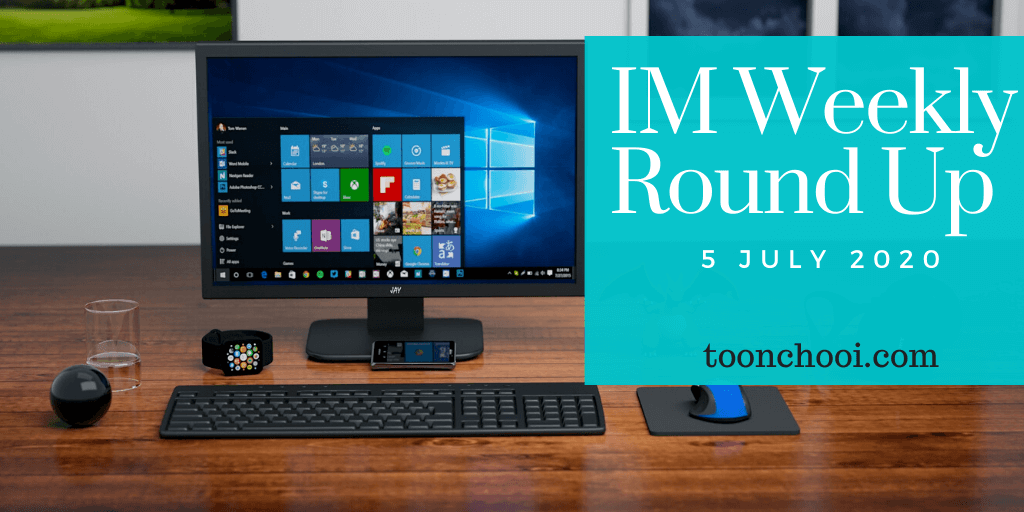 1. Social Media Engagement is the New Social Media Marketing: How to Do It Well
In 2020, social media is just as much about engagement as it is about sharing content with your friends and audiences. It is now a vital part of any social media marketing strategy. Now, it's your choice whether you want to use it to blast out your content only or to engage with your customers and leverage it to increase business leads as well. Let's look at these 9 strategies that you can use to increase your social media engagement.
2. How to Scale Content Creation
A complete, step-by-step guide to scaling up your content marketing, including processes, outsourcing and more
3. Why Marketing Flywheels Work
What the heck is a marketing flywheel and does it work? In this article, Rand talks about a few different types of flywheels and why they work.
4. 7 Chatbot Marketing Secrets That Will Skyrocket Your Sales
A well-designed chatbots can do some fairly heavy lifting when it comes to marketing. Here are 7 chatbot marketing secrets that will skyrocket your sales
5. 3 Ways to Use Social Commerce Today
If you want your B2B business to sustain & grow, you need to consistently generate new sales leads. One of the best ways is to generate leads on LinkedIn. Here is how to generate leads from LinkedIn groups in 2020
6. The Most Common SEO Mistakes You Need to Avoid in 2020
Want to identify and eliminate the SEO mistakes on your site? The team from Sitechecker share some of the most common SEO mistakes to avoid in this infographic.
7. Online Shopping Statistics [Infographic]
Online shopping is here to stay. While we wait to see what the future of e-commerce brings, let's take a look at some current data surrounding trends in online spending.
8. How to Improve Blog Engagement: 3 Ways
When you run a blog, the best part is seeing its engagement soar. Here are 3 ways to improve your blog's engagement and see your conversions soar
9. 10 Smart Social Media Moves That Can Help Boost Your Business
Social media is becoming an increasingly important part of every business' marketing strategy. Making the right move with your social content at the right time can help bring positive attention and new customers to your business. Here are 10 social media strategy to achieve great results.
10. How to Rank Your Content: SEO Writing Checklist
Do you want to get a constant stream of free traffic from a blog post for years to come? In this SEO writing checklist, you'll learn how to optimize your content so that it guarantees everlasting free traffic to your website.
11. Building a Multi-Million Dollar Fitness Brand Without Paid Marketing
In this episode of Shopify Masters, Natalie and Max share how they tested product viability, received reputable media coverage, and built a multi-million brand without paid marketing.
12. YouTube SEO: How to rank YouTube videos fast in 2020
YouTube SEO might feel like a black box at first—but getting started is a snap. Optimizing your videos based on what your audience is already searching for helps your videos rank higher for valuable search terms, getting you more eyes on your videos and helping to grow your business. Here's how you can start ranking your YouTube videos quickly.
13. 5 Ways to Convert Organic Traffic Into Qualified Leads
Are you optimizing your content for Google AND for conversions. Here are 5 ways you can turn organic traffic into qualified leads.
14. Selling Through Storytelling: How to Craft a Compelling Brand Story
Uncover how story can play an important role in building your brand and what elements make for a captivating story.
15. Reopening Your Business? Here's How to Leverage Email Marketing to Make it a Success
Retailers are starting to reopen. Getting shoppers back into your stores will take more than a one-off email. Instead, coax them in with an email reopening campaign that promises a whole new experience. Here are tips on how to do it.
16. What Is On-Page Seo And How To Optimize Your Content In 2020
Understanding what on-page SEO is will help you increase your organic reach. Let find out what is on-page SEO and how to optimize your content in 2020
17. Use visual stories through email to make more Shopify sales
Learn how this artist is able to use email marketing and Shopify to get to know his audience better, create personal connections, and grow his online business.
18. The Difference Between Inbound and Outbound Marketing
You've heard about various marketing strategies, but what really is the difference between inbound marketing and outbound marketing? Find out!
19. Top 10 Factors of eCommerce Success
There are a lot of factors that go into creating a successful eCommerce website. Here are the the top 10 factors to make eCommerce success.
20. Creating A High Conversion Sales Funnel Using Video
Video is one of the highest-engagement marketing tools available, making it indispensable for keeping more users in your sales funnel. Here are how to create a high conversion salesfunnel using video
21. How To Use Chatbots To Improve Customer Service
It's crucial to consistently improve your company's customer service to ensure it grows and reaches success. But how do you improve customer support? That's where chatbots come in. Here are four tips to help you get started with chatbot
22. How To Create Your First Email Course or Email Challenge
In this 4-step guide, you'll learn how email courses and challenges can kickstart your list growth and convert new subscribers to paying customers with simple, automated emails.
23. Calculate Your Influencer Marketing ROI in 5 Steps
This article lays out a step-by-step approach to help figure out whether your influencers are worth it. And, yes, like most things with content analytics, it starts with understanding what you're trying to achieve.
24. 5 Steps To Identify Your Competitive Advantage in Marketing
How do you determine your B2B company's competitive advantage in marketing and set yourself apart from the competition? Use these 5 steps.
25. 6 Best Marketing Budget Templates for B2B Companies
Here is a list of the 6 best marketing budget templates from around the web to help you calculate your annual spend and prove your inbound marketing ROI.