Time for our marketing weekly roundup for the 1st week of August 2020, with various articles and tips from experts to help you become a better digital marketer!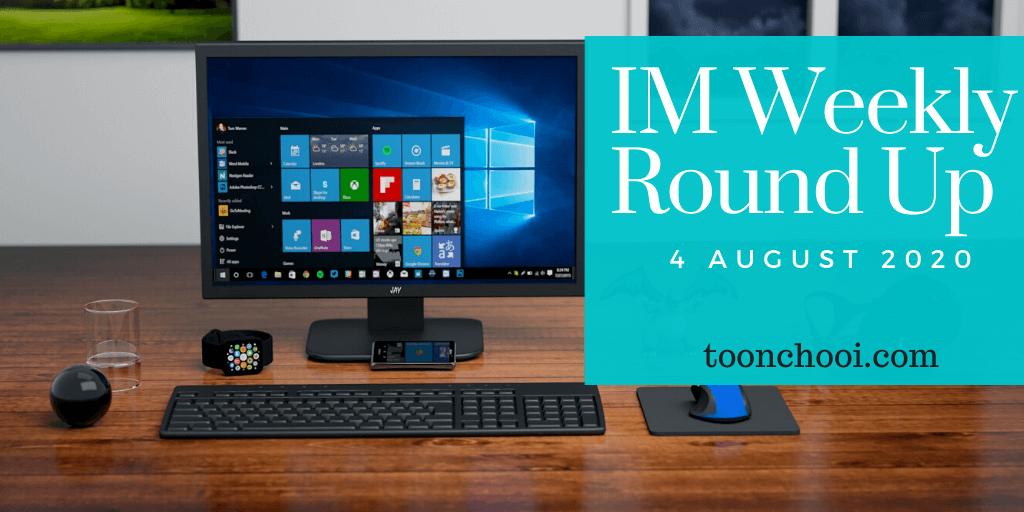 How to Boost Your LinkedIn for Personal Branding During the Pandemic
With 675 million users every month, LinkedIn offers an engaged audience and special ways to engage that audience through posts and conversations. Let's look at the top ways to maximize your LinkedIn strategy, including improving your LinkedIn profile.
2. 5 Content Marketing Ideas for August 2020
Content may well be one of the most powerful forms of modern marketing. When a business creates content, publishes that content, and then promotes it, it has the potential to attract, engage, and keep customers. What follows are five content marketing ideas your business can use in August 2020.
3. How to Nail Social Media for eCommerce
This guide will help you understanding how important eCommerce social media marketing is and give you actionable tips to drive traffic, leads and sales.
4. Boost Your Sales With Strategic Gifting [#Infographic]
An infographic (below) explores how strategic gifting can be leveraged at every stage of the sales funnel to capture attention and express appreciation.
5. How to use LinkedIn as a lead generating tool [Interview]
Here are the top strategies from expert for generating more leads from LinkedIn
6. 10 Google Patents to Boost Your SEO Effort
Did you know Google files a patent whenever it invents a new way to improve its algorithm? Below are 10 most important Google's patents that can help you design a much better SEO strategy.
7. Marketing Funnel or Flywheel?
In this video, you'll learn about the Inbound Marketing Funnel and the Flywheel, what they are, and how you can apply them to your work and create sustainable results.
8. How to Measure ROI for Digital Marketing Campaigns
Measuring ROI for digital marketing campaigns can be tricky. Here's how to do it and when you should consider other metrics.
9. 6 Content Creation Tools for Fashion Bloggers
This article focuses on helpful content tools for fashion bloggers that can be used in their everyday routine to reach magnificent results and increase conversion.
10. 5 Important Tips For ECommerce Optimization
eCommerce optimization strategies are a must in order to maximize your conversions and make your website compelling. Here are some ecommerce optimization tips
11. How to Make Money Blogging
In this ultimate, 15k+ word guide to making money blogging, you'll find out everything you need to know about making money blogging.
12. Content Marketing: A Step-by-Step Guide to Lead Generation
Are you having a hard time using content marketing to generate quality leads for your business? Discover a step by step guide on how you can use your content to generate leads and make great sales too.
13. 14 Best eCommerce Marketing Tips & Strategies to Boost Sales
Having an eCommerce store isn't enough; you need a steady conversion rate from website visitors to paying customers to be successful. Here are 14 of the best eCommerce marketing tips and strategies to boost sales.
14. 7 Ways to Use Social Media Creatively in 2020
Social media for businesses is a bit different because of the coronavirus pandemic. These tried-and-true tips can help you better engage your audiences.
15. How to Promote Your Landing Page and Grow Your Email List
An awesome landing page is the first step to growing your list, selling more, and building relationships with your audience. Let's find out the best strategies to help you begin promoting your own landing page.
16. Affiliate Marketing 101
Affiliate marketing is an increasingly important part of business owners' marketing. Here's how it works and how reviewers and business owners can get started.
17. 6 Best Hacks For SEO Managers
If your client website is not ranking for relevant keywords, you risk losing them. To make things easy for you, Here is a list of hacks that would help you to get your client sites to the top of the SERPs.
18. 7 Social Media Marketing Myths, Busted
There is a lot of erroneous advice online, especially when it comes to social media marketing. Here are seven common social media marketing myths you need to watch out for.
19. Live Streaming Video: What It Is, Why It Matters and How It'll Quickly Grow Your Brand
Live video streaming is a powerful marketing tool, which should become a key focus in your digital strategy.
20. 8 Tips to Write Better Business Blogs (+ How to Get Started Now)
Business blogging is an excellent way to establish your thought leadership by sharing your knowledge with your readers in a way that provides value. Here is everything you need to know to get started using this powerful marketing tool to drive traffic to your website, increase conversions, and grow your business.