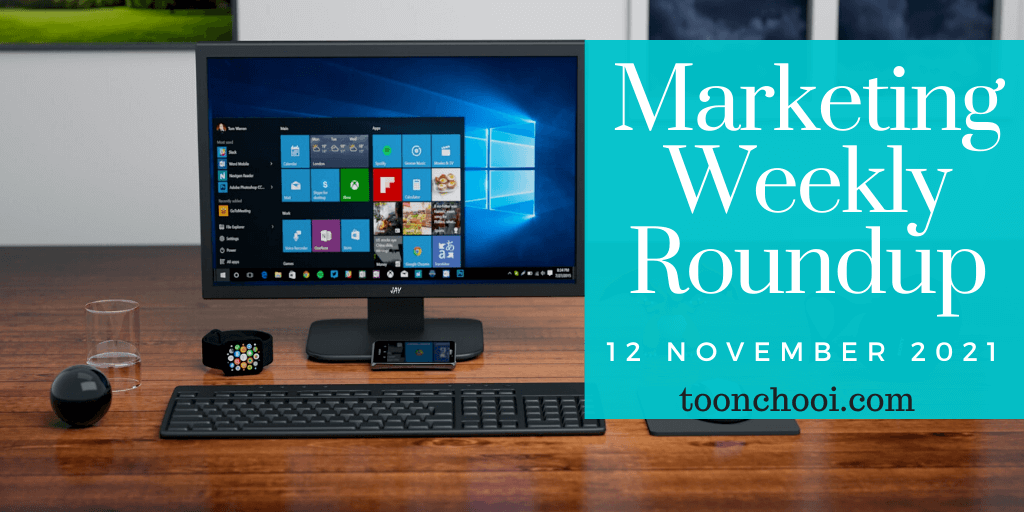 Happy Friday and welcome back to another marketing weekly roundup of the latest marketing insights, SEO tips, tactics, social media news and trends. So make sure to check them out.
Let's hop into this week's wrap-up.
1. See Your Email Open Rates Explode With These 6 Simple Tricks
The holidays are right around the corner, and most businesses are hoping to capitalize on the festivities. Online spending by Black Friday shoppers is projected to surpass the $14 billion spent last year by 20%. So how can you cut through all the noise and forge connections with your subscribers via email? Let's take a look at some tried and true tips to increase email open rates.
    1. Personalize emails
    2. Leverage FOMO
    3. Optimize subject lines
    4. Experiment with emojis
    5. Automate email marketing
    6. Choose your words wisely
2. Marketing Plan Example: An Easy-to-Follow Guide to Building Yours
Whether it's building a strong social media marketing plan, growing your market share, or realigning your marketing with your business strategy, here is a marketing plan example that will help you improve your marketing today. In this marketing template, you will learn about the structure and best tools to help you build a successful marketing plan. 
3. The Seven Keys for Social Media
If your social media presence feels inconsistent, jumbled, or disconnected, it's a good sign that you need to recalibrate your entrepreneurial energy to optimize your marketing strategy. You should be speaking directly to your audience in every post, demonstrating why you are the best choice for them. It's in that entrepreneurial energy that you're able to cultivate the perfect messaging to target—and win over—your ideal client. Here are the seven areas to address so you can reclaim your power and build an authentic social media presence that attracts, engages, and converts.
    1. Trust
    2. Compassion & Creativity
    3. Willpower & Self-Esteem
    4. Gratitude & Charisma
    5. Honest Communication
    6. Focus & Intuition
    7. Love & Connection
4. How To Make Money Blogging Starting Today
Blogging is not a get-rich-quick scheme. You have to put in work, time, and money to grow your blog sustainably in the long term. In this guide, you'll learn how to make your first dollars blogging and keep it up so you can grow your revenue consistently.
5. Proven Ways to Improve Your Entrepreneurial Skills
Entrepreneurship is not just a profession, it is a lifestyle. It can be very rewarding but also challenging and demanding. Entrepreneurs face many hurdles that are difficult to overcome without the right skillset. Here are some tips on how you can improve your entrepreneurial skills:
    1. Enroll in Courses
    2. Learn from Others
    3. Read Books on Entrepreneurship
    4. Practice Makes Perfect
    5. Attending Seminars
    6. Learn From Your Mistakes
    7. Realize That Passion Will Bring Success
6. Search Engine Optimization Trends 2021 – Mid-Year Report [Infographic]
Businesses use digital marketing tactics like search engine optimization (SEO) to boost their online presence and reach prominent spots in search engine results pages (SERPs). In 2021, Google searches already account for more than 70% of the overall global desktop traffic. Check out this infographic for the SEO trends in 2021. 
7. How To Scale Your Customer Service With Chatbots
Customer service chatbots tackle simple, repetitive tasks that don't require the soft skills and experience of an agent. They help customers quickly resolve simple questions and concerns and free up agents for complex, human interactions. If your company is just beginning to invest in a chatbot, your first objective is to identify the most common tasks and customer requests. Here are some tips to keep in mind when designing your initial AI-powered chatbot
    1. Personalise every greeting
    2. Move from static to conversational
    3. Create interactive FAQs
    4. Deploy chatbots to additional channels
    5. Engage customers with rich text and content
    6. Embed process automation in chatbots
8. Quality Score: Why It Matters and 6 Steps to Improve It
Google Ads helps advertisers ensure their ad quality is high by assigning them a quality score. Let's find out what a Quality Score is, how to see it in your account, and how to improve it for your next campaign. From narrowing down your target audience to designing your landing page, you want to make sure your ad is ready for bidding.
9. 7 Instagram Story Ideas to Make Your Stories More Powerful
Instagram stories are a great way for businesses to promote and boost their user engagement through a different method than a simple Instagram post. To attract the audience and to keep their attention, you need some creative Instagram story ideas. Even though posting a story can include elements such as filters, polls, videos, or images, you still need to know how and when to use them.
    1. Host a Q&A Discussion
    2. Organize Quizzes/Polls
    3. Showcase Your Team
    4. Share User-Generated Content
    5. Promote Products and Deals
    6. Go Behind the Scenes
    7. Provide Product Teasers 
10. How to Create Account-Based Marketing Content for More Sales
Account-based marketing is the art of narrowing your target down to high-worth accounts and then sending personalized marketing messages to them. Unlike the traditional B2B marketing funnel, ABM flips both the funnel and the agenda. Instead of generating leads and nurturing them to conversion, here you identify the leads and nurture them to loyal customers. The focus of this piece is to show how content can be used in account-based Marketing, and not just page views and traffic.
11. 10 Creative Ideas For Your Christmas Digital Marketing
With more people online shopping this year than ever before, there are some great ways to promote your business and increase sales during the holidays. Here are ten creative examples of how you can use your digital marketing channels to promote your business during the season.
    1.  Use Social Media to Promote Your Holiday Sale
    2.  Utilize Holiday-Themed Content
    3.  Use Email Marketing to Target Customers
    4.  Utilize the Christmas Spirit to Create Original Content
    5.  Utilize Social Media for Christmas Marketing
    6.  Promote Your Deals with Google Ads
    7.  Give to Charity
    8.  Create Interactive Holiday Deals
    9.  Use Your Content in Emails
    10. Create a Holiday Newsletter
12. How to Improve Readability Score on WordPress (Step by Step)
The readability of your website content is probably not a direct ranking factor, but it's pretty important for your website visitors and SEO. Find out what readability is and why a readability score is necessary. Discover how to improve your readability score on WordPress.
13. Top 5 Lead Generation Strategies for 2022
Lead generation strategies are tactics that capture the attention of leads and bring them to the sales funnel, and convert them into clients. As per Marketo, companies with an effective lead generation strategy earn 133% more revenue than those without one. These five strategies can help you keep your lead pipeline full and make some excellent conversions if implemented correctly.
    1. Optimize Your Landing Page
    2. Invest in Data-Driven Content Marketing
    3. Offer Free Trials or Freemiums
    4. Leverage Social Media
    5. Use Good Ol' Email Marketing
14. The Beginner's Guide to LinkedIn Marketing
LinkedIn has over 774 million users across the globe, making it one of the top social networks today. Use this guide to help you learn how to use LinkedIn to improve your brand awareness and share your marketing content. This guide is chock full of LinkedIn tips you can begin implementing immediately.
15. How to Market Yourself on Social Media in 4 Steps
As an entrepreneur, it's vital to market yourself on social media channels so you can attract the right type of attention from your target audience. This guide will show you how to get more visibility and engagement, which in turn helps your business grow.
    1. Optimize your profile
    2. Write an eye-catching bio
    3. Create great visuals
    4. Post regularly
16. How Brands Can Drive Growth Through Social Commerce
Social commerce refers to the selling of goods and products on social media platforms, such as Facebook, Instagram and Pinterest. Traditionally, e-commerce has had three models: B2B (manufacturers and distributors), B2C or D2C, and Marketplaces (such as Amazon). Now we have seen the emergence of the fourth model which is centered on selling directly through social media channels. Let's explore the key driving forces behind social commerce, its benefits, and pitfalls for brands.
17. Five Ways Brands Can Spark Q4 (And 2022) With Influencer Marketing
Influencer marketing is a hot topic, given that it goes largely against the grain of traditional advertising techniques. The use of content creators to reach customers has proven to have an extremely beneficial ROI. How can your brand be most effective with influencer marketing? And what techniques are most likely to sustain your brand's growth into next year? Let's look at some of the top tips for maximum success.
    1. Go full in on TikTok
    2. Forget images and long-form videos: it's all about short-form video
    3. Build a brand advocacy program
    4. Tap into the power of your employees as influencers
    5. Explore in-person events (provided you're comfortable yet)
18. Best Google Analytics Reports for Clients
If you are not a tech-savvy marketer, Google Analytics can be extremely overwhelming. This leads your clients to either get stuck in analysis paralysis or abandon their Google Analytics account altogether. The way to avoid these two unfortunate outcomes is to set up client reports and dashboard templates. From customer acquisition and retention to goal completions and keyword analysis, 50 marketers share their top client report templates from GA.
19. Five SMS Campaigns for B2B Marketers to Try
SMS boasts a 98% open rate, and 90% of all people read texts within three minutes of receiving them. Here are five ideas specifically for B2B companies looking to communicate with their customers more successfully via SMS.
    1: Status Update
    2: Request for Feedback
    3: Thought Leadership
    4: Brand Awareness
    5: Exclusive Offer
20. Your Startup Guide For Selling Wholesale to Other Retailers
A $10 trillion industry, wholesale can be a profitable sales channel for any retailer. Learn how to set up your channel and start selling wholesale to other retailers with this startup guide for selling wholesale to other retailers.
That's it, folks. I hope you liked this online marketing weekly roundup. If you have an article that you would like me to feature in this marketing roundups, please send a message through our contact form here. If it's suitable, I'll post it for free. All I ask is that you share this marketing weekly roundup on your social media channels.
ToonChooi
 AWeber has the tools you need to make promoting your business a breeze.
~ Email Marketing
~ Professional Templates
~ Email Automation
~ Landing Pages
~ Web Push Notifications
~ 24/7 Live Customer Support
~ Design with Canva
Click here to get started your email marketing with a free account today