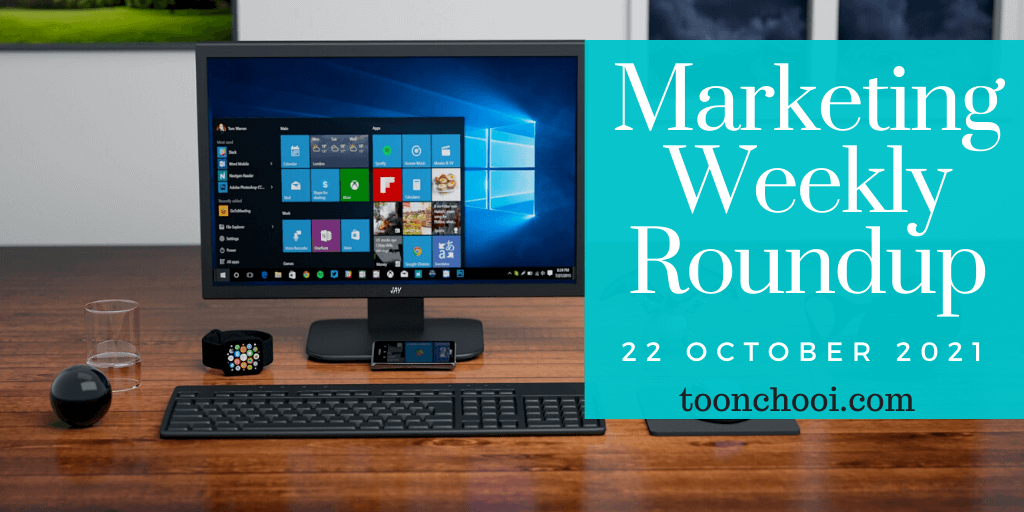 Greetings and welcome back to a new Marketing Weekly Roundup! Make yourself comfortable and let's recap this week in marketing insights, SEO tips, tactics, and social media news.
Let's get into today's marketing roundup:
1. 8 Emails to Get More Sales This Black Friday & Cyber Monday (with Examples)
Black Friday and Cyber Monday are two of the busiest shopping days of the year. Here is an 8-step playbook for you on how to get started with email marketing this holiday season.

2. 9 Easy Local Link Building Tactics
Every major local SEO study and survey shows links as one of the most prominent ranking factors. If you want to rank your local business higher in Google, then you're going to need backlinks. Here are nine ways to build local backlinks in this guide.
    1.    Get links from other ranking sites
    2.    Get links your competitors have
    3.    Reclaim lost links
    4.    Create locally relevant content
    5.    Get local citations
    6.    Pursue other local link opportunities
    7.    Claim unlinked mentions
    8.    Buy companies, or at least their websites
    9.    Add internal links

3. The Complete Guide to Cyber Monday 2021
A digital marketing strategy is essential to both Black Friday and Cyber Monday marketing approaches. In this ultimate guide to Cyber Monday 2021, learn everything you need to know about Cyber Monday 2021 — from the top predictions to tips on how to sell more.
4. How To Drive B2B Revenue And Relationships In A Buyer-First World
In a buyer-first world, we need to rethink the role of marketing and how we reach them. These five principles serve as a North Star toward a new B2B marketing approach called Precision Demand Marketing that supports a buyer-driven, omnichannel approach that accelerates lead-to-revenue conversions for meeting their businesses' demanding goals.
1. Target
2. Connect
3. Activate
4. Measure
5. Govern

5. 12 Cool Instagram Story Ideas Plus Quick, Easy Templates
Instagram Stories are a great way to have conversations and get to know your ideal customer. There are lots of ideas for Instagram stories you can use now, here are 12 cool Instagram Story ideas to help you stand out and spark engagement on Instagram (plus quick and easy templates to get you started).
6. 10 Marketing Tools to Help in Influencer Outreach
Marketing in the digital age is both easier and harder than ever before. Influencers are a big one because they open up new avenues to whole new pools of people. These 10 tools will make you an influencer outreach superstar.
1. Traackr
2. Buzzsumo
3. Pitchbox
4. Linkedin
5. MyBlogU
6. CoSchedule
7. Agorapulse
8. Keyhole
9. Finteza
10. Followerwonk

7. Google's PageRank Algorithm: Explained and Tested
PageRank algorithm (or PR for short) is a system for ranking webpages developed by Larry Page and Sergey Brin at Stanford University in the late '90s. PageRank was actually the basis Page and Brin created the Google search engine on. Now we're going to find and summarize all the facts and mysteries around PageRank to make the picture clear.
8. 16 Black Friday Mistakes To Avoid This Holiday Season
Brands often find their biggest sales months happen at the end of the year, which can add additional stress to marketers trying to create the most effective digital marketing campaigns. This is a list of the 16 biggest Black Friday mistakes to avoid.
1. Focusing Only on Discounts
2. Targeting the Wrong Customers
3. Not Diversifying Audiences
4. Not Planning Ahead
5. Letting Abandoned Carts Sit
6. Leaving Audiences to Fend for Themselves
7. Only Creating "Holiday" Offers
8. Underestimating Online Sales
9. Thinking You Don't Need a Full Campaign
10. Not Collecting Customer Data
11. Waiting Too Late to Launch Campaigns
12. Thinking Urgency Will Create Itself
13. Assuming Customers Will Come to You
14. Forgetting Cyber Monday
15. Internal Miscommunications
16. Being Unrealistic

9. How to Implement Gamification in Your Content Marketing Strategy: Useful Tips and Tools
Content marketing is constantly increasing the number of tools to increase the reach of the target audience, one of them is gamification. Gamification allows you to increase company/brand engagement, increase customer loyalty and allow you to personalize them. Let's take a look at what gamification is, why it works, and how to incorporate it into your own marketing strategy.

10. Useful Tips From Ecommerce Experts
Building an e-commerce store is no easy task, but running one is a whole new ball game. Here are some tips from experts to help you as you launch or relaunch your online business. Use these tools and tricks to ensure your site looks good and performs well on search engine sites.
1. Build a Loyalty Program
2. Don't Be In Such a Hurry To Advertise On Facebook
3. Use Influencers to Advertise Your Product
4. Sell Customer Experience and Not The Product
5. Be Active On Your Social Media Platform
6. Over-deliver
7. Give Offers and Discounts to First-Time Shoppers
8. Create Great Content
9. Get Feedback

11. The Beginner's Guide to Account-Based Marketing (ABM)
Account-based marketing aims to align marketing and sales operations. Marketing departments are often criticized for bringing in low-quality leads that sales can't convert. In this guide, you'll learn what account-based advertising is and how to get started with ABM.
12. 10 Content Marketing Trends to Watch in 2022
Content marketing is crucial for growing your brand and reaching the right audience. A well-planned content marketing strategy can help your business succeed in the ongoing pandemic. Focus on the latest content marketing trends below and use them in your strategy to make 2022 the best year yet for your company.
1. Customer retention
2. Visual storytelling via augmented reality (AR)
3. Artificial intelligence (AI) technology
4. The growing popularity of podcasts
5. First-rate search engine optimization (SEO)
6. Documenting your content strategy
7. More specialized content
8. Leveraging voice search
9. Increased individualization
10. ABM (account-based marketing)
13. How Does B2B Automation Marketing Improve Campaigns?
B2B automation marketing as a phenomenon is fast pacing itself to popularity. It is a highly valuable tool to generate leads, nurture and gain new customers. A survey found out that 76% of the businesses in 2021 report using automation in one way or the other. Discover how to incorporate B2B automation marketing into your marketing strategy to grow your business.
14. 13+ "Quick & Simple" Ways to Market Your Business Without Money
Marketing is the art and science of promoting and selling products with actionable steps. Some people might think that marketing requires a lot of money but that's not completely true. Still, there are some organic ways to market your business. These methods will not cost you any money but how much effort you are putting in, that's only matters.
1. Niche Marketing
2. Referral Marketing
3. Freebie Marketing
4. Leverage The Power Of Social Media
5. Strong and Appealing Call to Action
6. Use Influencer Marketing
7. Affiliate Program
8. Join Public Groups
9. Use Quora to market your business online
10. Run a Contest
11. Increase Networking on LinkedIn & Twitter
12. Live Streaming
13. Start a Podcast
14. Use Reddit
15. How to Write Headlines: a Step-by-Step Guide
8 out of 10 people will read your headline, but only 2 of 10 will click through and read the rest of the page. If you create better headlines you will get more ad clicks, SEO clicks, and ever higher conversions. Discover the simplest way to write an amazing headline that helps you with all of your marketing.
16. 10 Reasons to Use Social Media for Your Blog Strategy
Creating a blog strategy is an important part of your content marketing plan. A well-rounded plan will include many other digital marketing components. This article will help you out by listing the top 10 reasons why you should do exactly that. It will also help you understand the importance of working social media in blog strategy.
1: Share Content with Your Followers
2: Reach New Audiences
3: Improve SEO
4: Gain Valuable Data
5: Improve the Quality of Your Blogs
6: Find the Best Hashtags for Your Brand
7: Align The Efforts of Your Team
8: Increase Engagement in Your Blogs
9: Research Your Competitors
10: Create Conversations
17. How Small Businesses Can Leverage the Power of Social Media Marketing
One of the smartest ways for small businesses to advertise is through social media marketing. It allows them to do so much with such little resources. Let's find out how small businesses can use the power of social media marketing
18. Case Study : Nestlé's Social Media Strategy
Nestlé is one of the oldest and most famous brands of our time. What started as a milk-based company, today owns over 10,000 different products. In this case study, we go over Nestlé's marketing strategy and discover how they maintain a unique brand image.
1. Get to know the brand identity behind Nestlé
2. Nestlé has a solid social media presence
3. Nestlé knows how to win people's hearts with clever campaigns
4. Nestlé turns a social media backlash into brand innovation
5. Benchmark Nestlé against its competitors with Socialinsider
19. How to Create a Winning Content-Marketing Strategy in 2021
To truly excel at delivering content that aligns with your business goals, you must do more to stand out from the crowd. You need a content marketing strategy that enables you to have a strategic, long-term vision of what are you trying to achieve. Here is the key steps that you can take to develop an ironclad content strategy for 2021.
20. 45 Must-Have Blogging Tools and Resources for 2021
Content marketing costs 62% less than traditional marketing and generates three times as many leads. Using the right blogging tools will save you time, money, and energy. Here are some resources for brainstorming, writing, SEO, design, content promotion and scheduling, organization, blog storage, and backup, and analytics.
That's it for this weekly marketing roundup. I hope you like my marketing roundup. If you'd like to suggest your favorite digital marketing content to be considered for an upcoming Weekly roundup, please let me know.
ToonChooi
AWeber has the tools you need to make promoting your business a breeze.
~ Email Marketing
~ Professional Templates
~ Email Automation
~ Landing Pages
~ Web Push Notifications
~ 24/7 Live Customer Support
~ Design with Canva
Click here to get started your email marketing with a free account today