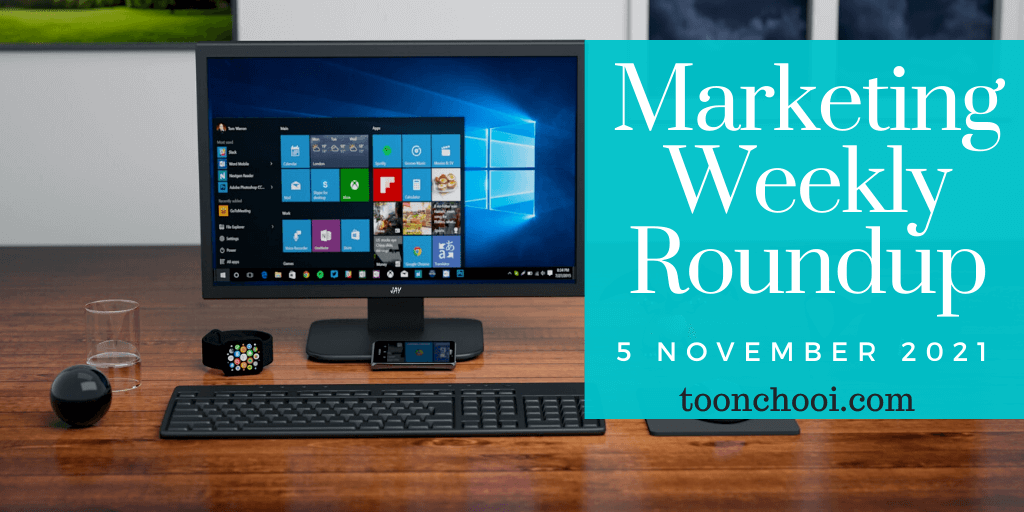 Happy Friday. As always, we have a brand new Marketing Weekly Roundup and ready. Here you'll find all of the week's best digital marketing stories, guides, articles, news & much more.
Below is your weekly roundup of digital marketing tips this week:
1. 13 Examples of Meme Marketing + 3 Best Practices to Follow
What was once considered a trend reserved for Millennials and Gen Z has now evolved into an effective way for brands to engage with their audience. Let's talk about what meme marketing is, how you can leverage it, and see examples of brands getting it right.
2. 5 Ways to Treat Your Business With Branded Links
Branded links are shortened URLs that are used to help people associate your brand with online content. A link can be more than a series of numbers and letters leading you to an obscure place on the internet, they can become a critical tool that helps to build trust, brand recognition, and awareness. The holiday season provides ample opportunities to showcase your brand.
    1. Branded Links Help With Click-Throughs
    2. Promote Engagement Around a Product or Service
    3. Branded Links Can Improve UX
    4. Boost Credibility With Branded Links
    5. Increase Your Visibility In The Market
3. 4 Easy Lead Qualification Strategies for Better Clicks & Conversions
Most paid media advertisers work towards click-through rates, but if the majority of those users aren't quality, then they are looking at vanity metrics. Find out what lead qualification is and why it's important, how to identify your lead qualification parameters and four lead qualification strategies.
4. 5 Ways to Skyrocket Your Ecommerce Sales in 2022
The year 2022 is almost here, which means it's time to start planning your digital marketing strategy for the year ahead. The way market to our customers has changed dramatically over the last several years. Here are some strategies you can use to skyrocket your eCommerce sales next year.
    1. Streamline the Shopping Experience
    2. Encourage More Email Signups
    3. Diversify Your SEO Strategy
    4. Use Social Proof to Build Trust
    5. Add More Customer Support Options

5. The Beginner's Guide to Selling on eBay: List, Manage, and Sell Your Products Through Shopify
First time selling on eBay? No sweat. Learn step by step how you can use Shopify and eBay together to list, manage, and make more sales on the global eCommerce marketplace. 
6. Six Crucial Factors To Consider When Improving Your B2B Marketing Strategy
Every firm must stay up to date with marketing and digital world changes since they are constantly changing. B2B marketing especially can be difficult, especially if you don't have a well-defined marketing strategy. Here are some effective ways you can improve your marketing strategy by simply making necessary adjustments and implementing measures.
    1. Track your B2B marketing performance online
    2. Specialising and niche targeting
    3. Use a high performance and reliable website
    4. Optimise your content for mobile phones
    5. Enhance your SEO
    6. Incorporate automation in your marketing campaign strategy
7. What Is Growth Hacking? (Plus 3 Ways to Master It)
The term 'growth hacking' was first coined by Sean Ellis in 2010. It has been widely used by marketers, entrepreneurs, and startups. What is growth hacking and how do you implement it in your marketing tactics? Read on to find out what growth hacking is and how you can leverage it for your business.
8. Drive Your Online Business's Sales With 5 Simple Strategies
Any company left without an eCommerce site is at a grave disadvantage when increasing its sales. Here are five strategies for growing your online business.
    1. Monitor the bounce rate
    2. Reduce cart abandonment
    3. Add testimonials
    4. Simplify the check-out process
    5. Ensure privacy and security
9. 13 Ways E-Commerce Companies Should Prepare For High-Traffic Seasons
This holiday season is likely to impose additional challenges in the form of shipping delays and product shortages. Budgets, inventories, marketing campaigns and staffing are just a few of the most important aspects that need to be adjusted. The technology that powers your e-commerce site must be reviewed and ready to handle a heavy increase in traffic. Here are some essential steps e-commerce companies must take to prepare for the holidays and other high-traffic seasons.
10. 9 Actionable Facebook Ads Strategies for Small Businesses
Facebook is one of the top social media platforms with over 2.89 billion active users. The easiest way to grab a wide audience's attention is to market your product through Facebook ads. It helps to attract millions of users, increase brand awareness, and generate more revenues. Here are some strategies that can help you set up your Facebook ad campaign.
    1. Identify Your Facebook Ad Goals
    2. Know Your Target Audience
    3. Use Boosted Posts
    4. Structure Pixel Strategically
    5. Test Different Bidding Strategies
    6. Test Ad Placement
    7. Add CTA Button
    8. Analyze The User Experience
    9. Usage of Lookalike Audiences

11. Everything You Need to Know About Branding and Marketing a Skincare Business
Creating a skincare line is one thing, but marketing is another. Learn how to write killer product descriptions that will draw customers in and how to market skincare effectively using social media, influencers, and SEO strategies.      

12. How to Get More Sales on Etsy During the Holiday Season
Don't rely solely on Etsy to get more sales. Discover how you can increase your sales inside and outside of Etsy's platform. Here are three ways to increase your Etsy store sales this holiday season.
   1.  Boost sales with email marketing
        2.  Sell more on average to each customer
        3.  Find new leads to convert to buyers
13. How to Improve Affiliate Sales
In the modern world, sales became the philosophy of an entire generation. Every activity, idea, communication, partnership, and progress are focused on sales. Affiliate sales are known as a separate sales channel that is based on the selling process which is carried with the help of a business partner. Here are some methods, which will help to increase affiliate sales.
14. 10 Powerful Instagram Marketing Tips That Actually Work
Instagram is a platform that gives brands the ability to connect on a deeper level with their fans as well as to reach new people. Through partnerships with influencers brands drive millions of views and engagement every day and countless brands even reached overnight success thanks to this strategy. Discover the best practices you need to follow if you want to be successful at Instagram marketing.
    1.  Use a business account
    2.  Use hashtags
    3.  User-generated content
    4.  Create an Instagram influencer strategy
    5.  Use stories
    6.  Use reels
    7.  Instagram ads
    8.  Post at the right times
    9.  Engage with your Instagram followers
    10. Go live
15. SEO Affiliate Marketing: Tips For Affiliates To Outrank Competitors
If you're an affiliate marketer whose revenue relies on attracting targeted traffic to your website, SEO should be the cornerstone of your marketing strategy. Knowing how to improve your ability to rank for relevant keywords can make the difference between success and failure. Let's take a look at how to take SEO into consideration when choosing affiliate products and share some useful tips for improving your ranking ability.
16. The 9 Best Dropshipping Websites for Your Online Store
Dropshipping is a low-cost, low-risk business model that has a ton of advantages for first-time business owners. First-time entrepreneurs might be brimming with passion and enthusiasm, but a lack of experience can make it harder to secure financing. Without the money to hire employees, they'll need to commit a lot of their own time. Thankfully, there's a solution for them: starting a dropshipping business. Here is a list of the best free and low-cost dropshipping suppliers.
    1. DSers-AliExpress Dropshipping
    2. Spocket
    3. SaleHoo
    4. Wholesale2b
    5. Modalyst
    6. Doba
    7. Inventory Source
    8. Wholesale Central
    9. Worldwide Brands
17. How to Select the Right Payment Gateway and Payment Processor for Your Ecommerce Business
Online shopping is set for a bumper holiday season in 2021. Worldwide, eCommerce sales surpassed $4.2 trillion in 2020, according to Statista. One in five retail dollars is now spent online, and identifying the right payment processor is a "make or break" decision.
18. 7 Essential TikTok Marketing Tips To Grow Business in 2021
TikTok is the latest trend that has taken the world by storm since 2019. During the global lockdowns, people have been stuck at home, and that is when TikTok spread like wildfire. TikTok has a global audience, making it the best platform to reach viewers from all over the world. If done right, the short format of videos can be attention-grabbing without feeling invasive. Here are some simple tips that you can use to get started.
    1. Use a good video editor app
    2. Influencer Marketing
    3. Hashtag challenges or giveaways
    4. Show user-generated content on your profile
    5. Share your videos as much as possible
    6. TikTok Marketing Report
    7. Always use music
19. B2B Business Blogging Tips: How to Generate More Leads and Sales Opportunities
In the age of content marketing, blogging has fast become one of the most effective ways to market your brand. A good blog has the potential to be your greatest lead generation asset. You are in charge of your personal brand and your sales success. You just have to find a way to connect with your customer on their terms.
20. How to Make a YouTube Video in 5 Easy Steps
If you're not using videos in your marketing, you're already behind. In this post, you'll learn an easy way to make great Youtube videos and grow your channel using your phone.
    Step 1: How To Come Up With Topics For Videos
    Step 2: How to Write A Video Script
    Step 3: How To Film Videos
    Step 4: How To Edit Videos
    Step 5: How To Upload To YouTube

 Happy reading and don't forget to check back next week for more roundup!
ToonChooi 
AWeber has the tools you need to make promoting your business a breeze.
~ Email Marketing
~ Professional Templates
~ Email Automation
~ Landing Pages
~ Web Push Notifications
~ 24/7 Live Customer Support
~ Design with Canva
Click here to get started your email marketing with a free account today