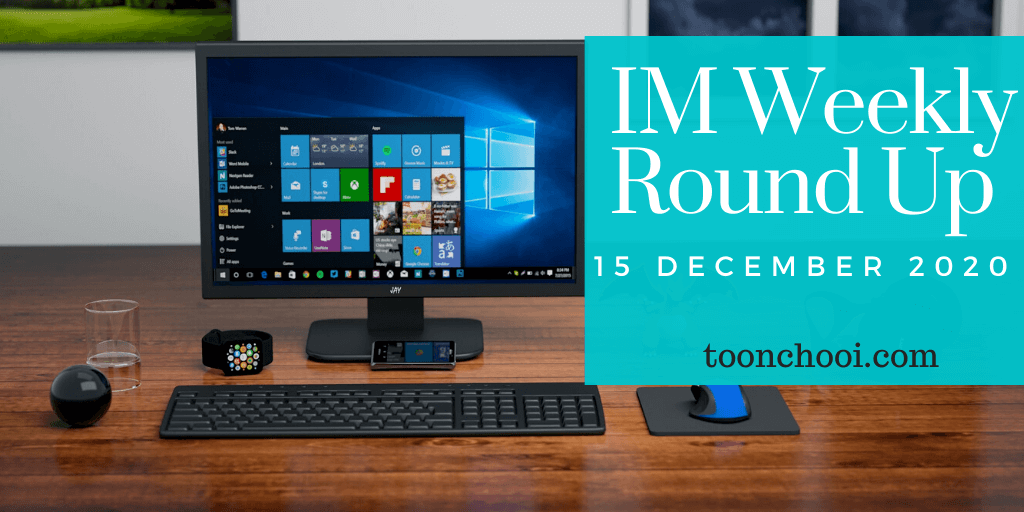 Good day everyone and welcome to Marketing Weekly Roundup – your weekly marketing recap email.
Here's your marketing weekly roundup of blogs, podcasts, & videos hand picked by me to help you to improve your marketing skill:
1. Email Marketing Mistakes You Should Leave in 2020
Are you ready to take your 2021 email marketing strategy to the next level? Here are some of the biggest email marketing mistakes worth leaving behind in 2020 and what you should do instead. 
2. How Misspelled Keywords Affect SEO
Algorithms are constantly getting updated to give searchers the best user experience. Is using misspelled keywords still a valid strategy for SEO? Find out here.
3. 14 Link Building Strategies Professionals Choose in 2021 [Big Survey]
Want to optimise your off-page presence using the all-powerful link building technique? SEMrush share their most effective link building techniques in this article. 
4. Building a Lead Generation Native Ad Campaign From Scratch
Native advertising can be particularly effective for acquiring leads. So how do you create campaigns that capture leads? How should they differ from your sales campaigns? Here are the answers.
5. Boost conversion rates with these five email marketing automation strategies
Email marketing automation helps firms drive conversions. Here are five uses for automated email, along with tips on how to deploy it. 
6. 15 Expert Tips for Driving More Marketing Qualified Leads
Marketing qualified leads are the leads that have the highest chance of conversion. Learn how to optimize your marketing funnel to generate more MQLs.
7. Five Steps To Creating An Email That Converts
A well-composed email is an exceptionally powerful instrument to encourage your subscribers to make a move. Here are five strategies to follow when creating action-inspiring newsletter. 
8. 6 Unique Marketing Campaigns We Love & How to Make Your Own
In order to distinguish your marketing campaigns from others, you campaign need to be creative and delivering engaging experiences that captivate your audience. Here are some marketing campaigns you can emulate.
9. Facebook ads help: Why are my ads not converting?
You have killer copy and creative but your Facebook ads aren't converting. What gives? Here are some quick tips for troubleshooting.

10. Introducing the new Google Analytics
Google Analytics just got a major upgrade recently. According to the new announment, the new Google Analytics will give you the essential insights you need to be ready for what's next. 
11. How To Start Text Message Marketing For Your Business?
Text message marketing is one of the most effective methods of getting your business' message to those who need to hear it. But there are several things you need to understand before you begin your text message marketing for your business.
12. Three Ways Marketing Automation Can Help Grow Your Business
Marketing automation is software that uses predefined rules to perform routine tasks automatically. Let's look at a few ways you can use marketing automation to help your business grow and prosper.
13. 5 Real-Life Examples of Facebook Retargeting Strategies That Work
Facebook retargeting has grown in popularity because it's even more effective than your Facebook advertising. Here are five real-life examples of Facebook retargeting strategies that work. 
14. 7 Key Tips For Optimizing Your Email Marketing Ahead of Holiday Season
As the holiday season fast approaches, get your email marketing strategy prepped with these seven fresh tips for testing, subject lines, and more.
15. How to Use Cold Emails to Grow Your Small Business
Is your small business using cold emails to boost sales? Check out this list on how this strategy can pad your company's bottom line.
16. 25 WordPress SEO Mistakes to Fix for Better Rankings
Want to boost your WordPress website's visibility in the SERPs? Make sure to avoid these 25 common mistakes for better SEO results.
17. The Ultimate Guide to LinkedIn Ads
Check out this the ultimate guide on how to use Social Selling System on LinkedIn to book qualified appointments with prime prospects at scale.
18. What Is a Full-Funnel Facebook Ads Strategy?
Yes, you can make money with a more fractured approach, but a full-funnel Facebook Ads strategy is the pathway to long-term success with Facebook Ads and remarkable revenue returns.
19. 15 Ways to Jumpstart Your Social Media Marketing for 2021
Planning a comprehensive social media strategy in advance will help you get a jumpstart for 2021. Here are a few ways to get an edge in the coming year.
20. 75 Creative Online Marketing Strategies for Businesses on a Tight Budget
Below you will find 60 creative online marketing strategies for your business. My hope is that you not only read this full list, but put a few of these into practice and watch your business grow! 
That's it for this week marketing roundup. If you have an article that you would like us to feature in this weekly roundups, please send a message through the contact form here. If it's suitable, I will post it for free. All I ask is that you share this weekly roundup on your social media channels.
ToonChooi