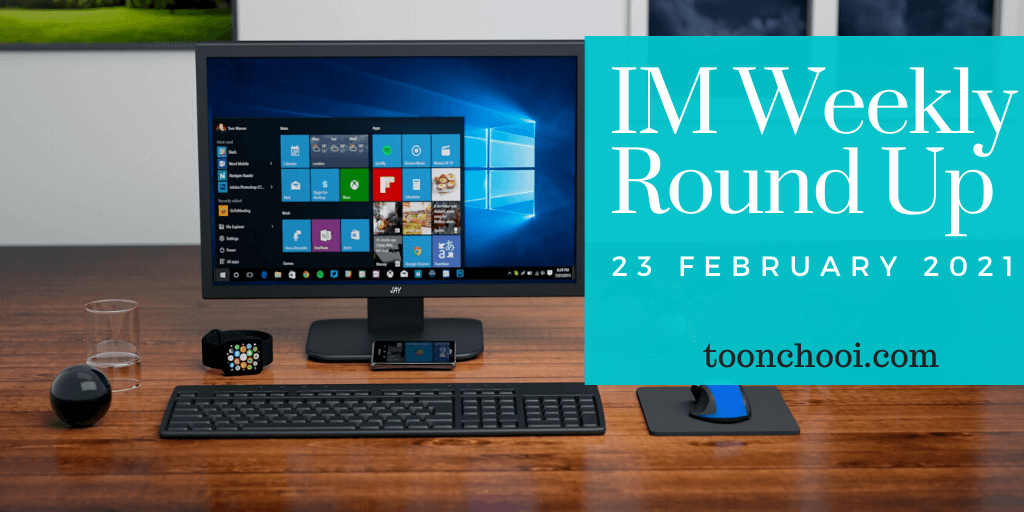 Happy Tuesday everyone and welcome to the latest issue of Marketing Weekly Roundup, helpful marketing tips, hand-picked just for you to help you become a better marketer!
Below is this week wrap up of useful marketing insights, tools, tactics and trends from experts:
1. How to Write Bullet Points People Actually Want to Read
Bullet points keep people engaged with your blog posts, pages, articles, and copy like nothing else. Let's take a quick look at how to get this done, and get it done well.
2. What is Clubhouse? [+Should Marketers Care?]
Let's find out where Clubhouse came from, what it actually is, and the pros and cons of using it in your marketing strategy.
3. 10 Marketer Approved eCommerce Analytics Tools You Need Now
Choosing a good analytics tool should be part of any business strategy. Here are ten of the best analytics tools
4. Four Reasons Why Content Marketing Is Hard
There are many reasons why content marketing fails and businesses quit. Understanding these reasons and how to overcome them will help you build a successful program. 
5. How To Create Beautiful And Effective Email Signatures
Email Signatures are just as necessary as the subject line and body. Uncover methods that will improve almost every email with the help of signatures that won't only make your emails stand out but also potentially generate leads, help gain followers on social media, and a lot more!
6. How to Create a Twitter Landing Page (With Examples)
Learn how to use Twitter landing pages to help you get more value from every follower who clicks.
7. YouTube SEO Guide: How to Rank Your Videos in 2021
YouTube is the second most visited site worldwide after Google. So why not use it to drive tons of traffic to your website? Learn how to optimize your videos to rank them in search.
8. 7 Common eCommerce Business Mistakes to Avoid in 2021
Here are the 7 most common mistakes that e-commerce entrepreneurs usually make. By understanding them in detail, you will not panic when they arise and solve them easily.
9. Should You Find an Influencer for Your Brand
Influencer content outperforms brand content. And as expected, 92% of marketers who use influencer marketing find it compelling, rightly so because people respond to it. The only problem is, do you need influencers to drive your business forward? Let's find out.
10. Social Selling on LinkedIn: 12 Tips for Building an Effective Profile
For B2B social sellers, there is one platform that is king — LinkedIn. Here are 12 tips to help put yourself in a position to build relationships and close sales on the platform. 
11. 10 Common Facebook Lead Generation Mistakes You Should Avoid
Steer away from these common lead generation mistakes when deciding your ad strategy on Facebook as a digital marketer.
12. How To Create Engaging Promotions For Your Small Business
If you're not engaging with your audience, there's a good chance you're leaving money on the table. Find out how to create engaging content across some of the most widely used platforms.
13. How to Prepare for Page Experience and Core Web Vitals
Here is a summary of everything you need to know about the page experience signal and Core Web Vitals to help you prepare for rollout in May this year.
14. How Google's New 'Mobile-First' Policy Reduces Your Website Traffic
There are several things you can do to prepare for the new 'mobile-first' policy. Let's take a look at three of them to avoid drop in traffic.
15. 4 Proven Strategies To Increase Your Website Traffic Within 30 Days
Use these four proven strategies to increase your website traffic:
1. Upgrade old blogs
2. Create viral contents
3. Generate quality backlinks
4. On-page optimization of your site
16. 3 Search Marketing Tactics to Drive Last-Minute Ecommerce Sales
When you need to quickly move stock, feature timely promotions, and generate last-minute sales in ecommerce, try these proven search marketing tactics.
17. Email Marketing Benefits for Small Businesses
Email marketing campaigns can help small businesses reach their target audience. Here are the biggest benefits email marketing offers small businesses.
18. 6 Tips To Create An Effective SMS Campaign
SMS is one of the effective ways to promote e-businesses. Follow these 6 amazing SMS marketing tips to engage customers and do an SMS market campaign successfully.

19. The Definitive Guide to Successfully Rebranding in 2021
If you're considering a rebrand, learn how to rebrand your business and how other companies successfully rebranded their names, logos, websites, and brand identities.
20. 21 Ways to Increase Instagram Followers
Knowing where to start when setting up an Instagram page can be difficult. And growing your followers can be even trickier. We've put together our top tips to help you grow your fan base on the platform. 
That's all for this week roundup. If I missed an article that you feel should be featured, let me know, I'll try to include it in next issue!
ToonChooi