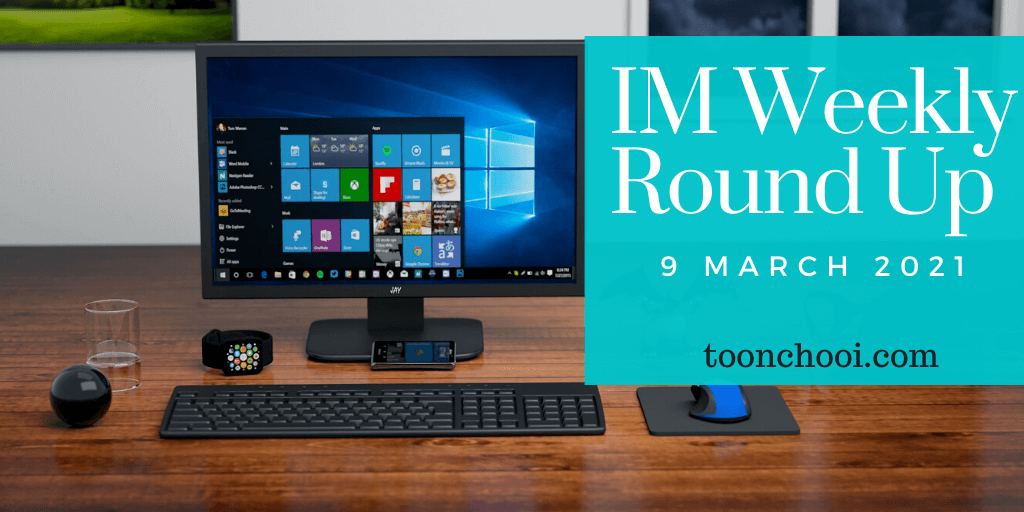 Good morning everyone and welcome today's marketing weekly roundup to keep you up-to-date with all the latest digital marketing news, tips and tactics from experts around the world…
Below is this week marketing roundup of the helpful marketing tips, hand-picked just for you. If I missed an article that you feel should be featured, let me know, I'll try to include it in next issue!
1. Lead Generation for Online Courses in 5 Simple Steps
Looking for a lead generation strategy to market your online course? Check out these 5 easy steps to acquire leads that you can then convert into paying customers. 
2. 75 Open-Worthy Subject Line Ideas
While there is no secret to the perfect subject line, there are a few words and phrases that can help get more eyes on your emails. Here are 75 subject line ideas to help improve your open rates.
3. How To Create an Ecommerce Website with WordPress
A step-by-step tutorial to create an ecommerce website with WordPress.
4. Manage Your Email Marketing Campaigns:  7 Mega Tips for Your Business
To run any small business successfully, you need to stay track of and evaluate your email marketing performance. Here are some tips for your email marketing campaign.
5. The Definitive Guide to Affiliate Marketing for Beginners
Learn what affiliate marketing is, all the effective tips and strategies you can use as an affiliate to make more money online and the things you need to avoid at all cost.
6. How to Improve Your Business's Lead Generation Process
A lead generation process is a series of steps through which you attract leads via marketing and present them with a call to action (CTA). Here are 6 ways to perfect your lead generation process
7. How to Find a Manufacturer or Supplier for Your Product Idea
Let's look at the basics of sourcing a supplier for your next project. We'll give you ideas for some places to search, and examine how you should approach suppliers and what to ask them when developing a product for your ecommerce business.
8. 4 Full-Funnel Marketing Tips to Drive Purchases on Facebook
In order to make Facebook ad campaigns both efficient and effective, you need to adopt a full-funnel marketing strategy. Here are guide to implement a full-funnel strategy step by step.
9. How to Use Your PPC Campaigns as a Prospecting Tool for SEO
PPC can be a great way to immediately break into a new market and start generating website traffic. But you need to use all of that PPC data to shape a smarter SEO strategy in long term. Here are how to use your Google Ads campaigns as prospecting tools for SEO.
10. Brand Affiliates 101: What Is Affiliate Marketing?
Many brands and marketers alike have found that affiliate marketing is effective for driving sales and generating impressive revenue online. If you're interested in getting started as a content creator or brand vendor, this article will tell you what you need to know about affiliate marketing.
11. 5 Ways B2B Marketers Sabotage Influencer Marketing Success
Avoiding bad practices is a strong first step to ensuring investments in influencer marketing programs result in expected returns. Here are 5 of the most common things B2B marketers do to sabotage their influencer marketing success:
12. How to Build a Successful Influence Marketing Campaign
Building influence marketing campaigns, boils down to six steps. Here are the six steps to building influence marketing campaigns! 
13. 20 Ways To Get More Views on YouTube
Getting views on YouTube takes time and effort. But, if done right, it pays off. Here are a few ways to get more views on your YouTube account.
14. 101 Best Instagram Tools and Apps
There's a whopping 101 awesome tools (lots of free ones too!) for Instagram. They have been categorised into 13 different categories:
15. How to Ace Your Instagram Promotions Strategy
Now it's time to reach out to a new audience. This is where Instagram promotions come in. Instagram promotions allow you to select an organic post from your profile and show it to additional people that you target, for a specified duration. Here are how to do it
16. Social Media Influencers:  Mega, Macro, Micro or Nano
If you're looking to dive into the lucrative world of influencer marketing, knowing a mega-influencer from a nano-influencer is absolutely essential.Find out influencer types and identify the best use case for each one.
17. Content Calendar: How to Plan, Organize, and Share Ideas
If you're ready to put your horse before your cart, you have to start with a content calendar to stick with your publishing schedule.
18. Tips for Success With Checkout on Instagram
Instagram can turn your company's Instagram into a shoppable storefront. Learn 3 tips help you make the most of checkout on Instagram
19. How To Use Content To Draw Others To Your Brand
Content is still so powerful even in the digital age. Once you learn how to harness content built around your brand, consumers will start flocking. This guide will help you get started.
20. Why Your Shopify Site Isn't Making Sales
Many people who've spent weeks setting up their online store, but just aren't seeing results. Here are some reasons why thesee-commerce store sales don't live up to expectations.
I hope that you found this marketing roundup insightful! Stay tuned for the next marketing weekly roundup to get more updates on new tips and insight in digital marketing and advertising.
ToonChooi