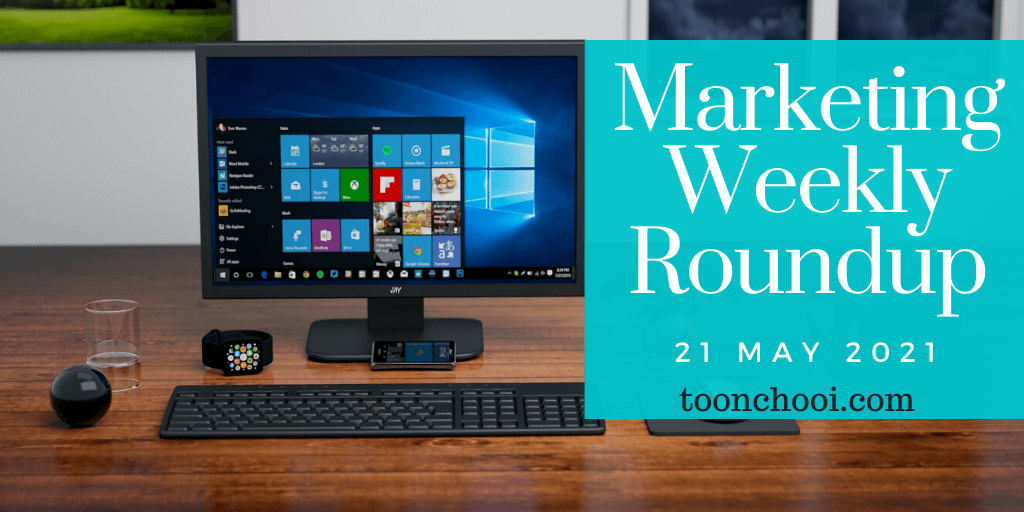 Happy Friday. Welcome to this week's marketing weekly roundup to keep you up-to-date with all the latest digital marketing news, tips and tactics from experts around the world…
Below is this week marketing roundup of the helpful marketing tips, hand-picked just for you. If I missed an article that you feel should be featured, let me know, I'll try to include it in next issue!
1. Clever Ways To Boost Your Ecommerce Sales
Even though the online purchasing has increased tremendously, it's still a big challenge to stand out in the crowd and increase sales, but thank goodness, there are dozens of ways with the help of which you can boost your ecommerce sales.
2. 10 eCommerce Trends All Online Shop Owners Need to Know in 2021 [Infographic]
Learn the ecommerce key trends that will affect your online shop over the coming year to to improve your eCommerce website.
3. From Dropshipping to DTC, Here Are the Most Popular Business Models for Ecommerce
How can entrepreneurs build a sustainable business and ensure competitive advantage? It all starts with your business model. Learn about the most innovative types of business models, with examples and insights from companies using them. 
4. 9 Essential e-Commerce WordPress Plugins
You'll need to consider the best e-commerce WordPress plugins if you're serious about starting that online business. Here are some some of the best e-commerce WordPress plugins to get your site up and running in no time.
5. Types Of Video Content In Digital Marketing
Overall, all videos can be divided into 3 main categories:
1. Awareness
2. Engagement
3. Education
Here are 7 main types that are used for video content marketing with examples as ideas for your future videos.
6. Understanding Facebook Ads for E-commerce
Running a blend of Dynamic Product Ads as well as conversion Ads for your e-commerce business can help increase your ROI. Let's take a look at a few objectives one can choose for running these facebook Ads for ecommerce.
7. 6 Ways To Increase Organic Traffic To Your Shopify Store
1. Optimize Your Shopify Store for Speed
2. Use Multiple Sales Channels
3. Produce And Share Quality Content
4. Focus On Your Search Engine Ranking
5. Use Shopify Apps
6. Review Your Store's Data And Analytics
8. Grow Your Business with these 10 Free Marketing Ideas
You don't need a bottomless budget and hours of free time to effectively market your business. With these 10 free marketing ideas, you can begin to make a splash right away.
9. 15 Low-Cost Alternatives to Paid Advertising That Increase Your Sales
Here are 15 low cost effective lead generation and advertising alternatives to attracting more traffic and customers for small businesses. 
10. Five Quick And Easy Steps To Create A Successful Social Media Strategy
A successful social media strategy effectively sets your brand apart from your competitors. However, creating a winning social media strategy is easier said than done. Here is a step-by-step process in creating a quick and simple social media strategy the Uassist.ME way. . 
11. How to Get More Backlinks to Your Website in 2021 (+ Tips)
Backlinks are essential to generating real SEO value, but not all backlinks are created equal. Here are some tips and strategies you can use to build quality backlinks for your site.
12. How to Use Social Media to Sell in Person
90% of top salespeople use social selling to close more deals than those who don't. They are using what is called social selling, and their results are off the charts. Here are five ways you can use social media to sell in 2021
13. Own Your Brand: Brand Positioning Strategies and Examples
Creating a successful brand takes more than a pretty webpage and an eye-catching logo. A huge part of your success comes from how you make your brand known. This is called brand positioning, and it allows you to create a narrative for your company and help a particular brand image of your company come to mind for your customers. 
14. Five Ways to Create Engaging Content That Converts for Your B2B Business
Content that engages the reader is fundamentally the same no matter where it comes from. Here are five ways you can engage your audience with excellent B2B content that converts.
15. Tools and Tips on How to Find Niche Influencers That are Actually Influential
This article will arm you with the proper tools and knowledge to claim your digital space and make your brand's voice heard by speaking through devoted niche influencers.
16. How to Create a Lead Generation Minisite in 3 Steps
Here are the 3 steps to setting up a minisite for lead generation, plus tips and tools to help you get started today.
17. Tips to Optimize Your Marketing Strategy for SaaS Lead Generation
You need to know who you're trying to target and their unique needs in order to generate more leads and subscribers for your SaaS brand. Here are 17 different marketing strategy methods to do it 
18. How to Get More Views on TikTok
TikTok can be a powerful tool for increasing brand awareness. Here's the break down how to get more views on TikTok — from optimizing your content for the For You Page to using trending sounds
19. Persuasive Ads on Instagram: Writing to Sell
Discover how to create ads specifically designed to sell products and services on Instagram.
20. Rethinking Acquisition: How to Market a Product to Your Existing Customers
There are tons of marketing tactics out there. But an eclectic mix of tactics, no matter how creative, doesn't make for a compelling marketing strategy. We dive into how to effectively market your product by increasing retention, average order value, and customer acquisition.
That's it, folks. I hope you liked this online marketing weekly roundup.

ToonChooi