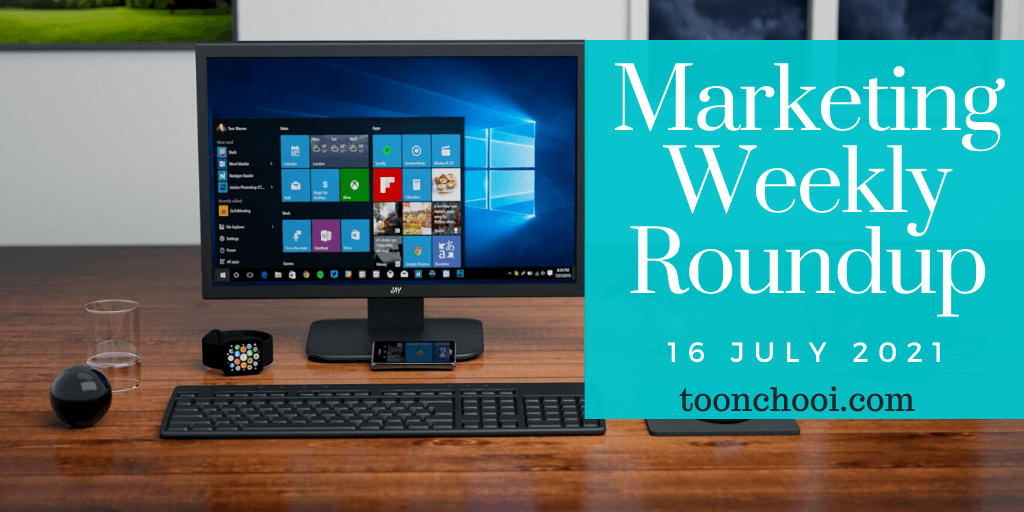 Happy Friday everyone. Are you ready for the weekend and getting into backyard barbecue territory? But before that, here are some marketing news and insight to read below:
1. 5 Killer Tips to Increase Your YouTube Subscribers
YouTube is undoubtedly the biggest video-sharing network worldwide. Here are the most efficient ways to increase the number of YouTube subscribers.
1. Ask viewers to subscribe
2. Use influencers and other creators to your advantage
3. Leverage other social media channels
4. Create quality content and interact with your audience
5. Brand your channel
2. 9 Essential Blogging Tips For Business: Generate More Traffic Today
Here are 9 essential blogging tips for business owners to generate more traffic, leads, and conversions.
3. 10 Ways SEO Is the Secret to Brand-Building
Use strategic SEO for brand recognition across multiple touchpoints, build loyalty by meeting content expectations, and you might just become someone's new favorite brand.
4. An Email Marketing Guide for 2021
Email marketing is an incredibly powerful digital marketing channel that businesses use to communicate with their prospects and customers. Discover what email marketing can do for your business, and how to implement it into your digital marketing strategy with this handy guide.
5. Lead Generation: 4 Ways To Drive Higher Performance In 2021
According to SEMRush's "State of Content Marketing" report, 79% of marketers say their top priority for 2021 is to generate more quality leads. Here are some tips to improve your lead nurture and ultimately increase lead quality in 2021.
6. 16 Critical Things To Get Straight Before Creating A Digital Marketing Strategy
Planning a digital marketing campaign isn't a simple process. Here are some important aspects that marketers should consider before creating a strategy.
7. How to Repurpose Content For Your Email Marketing Campaigns
Repurposing content for your email marketing campaigns is pretty much exactly what it sounds like. You take a blog post, or Instagram story, or any other marketing material, and you repackage it into an email to send to your customers and subscribers as part of your email marketing strategy.
8. How to Find and Work With Instagram Influencers in 2021
Instagram influencer marketing can seem pretty intimidating (and expensive!). Fortunately, it can still work for you as an entrepreneur. Learn how to find and work with affordable Instagram influencers, with tips for running a successful campaign. 
9. 17 ecommerce marketing tips to follow in 2021
Running an online store is a lucrative business idea, but it doesn't come without its challenges. Finding ways to make your ecommerce site stand out can feel like a daunting task. Here are 17 foolproof ecommerce marketing tactics to promote your online store.
10. 8 Ways to Optimize Your eCommerce Website for Maximum Conversions
You need to optimize your eCommerce site for better conversions which, in turn, increase your sales. Here are 8 proven tips that will help increase sales on your website. 
1. Reduce Steps in The Checkout Process
2. Improve On-Site Search
3. Improve Ranking on Google
4. Optimize Your Site Speed
5. Utilize Product Images Strategically
6. Include Social Proof
7. Improve Your Site Security
8. Optimize Product Pages
11. 15 Ways Influencer Campaigns Can Go Wrong And How To Fix Them
While influencer marketing campaigns are great for driving traffic and recruiting new customers. However, sometimes influencer marketing can go wrong and how to address these situations if they arise. 
12. Every Content Marketer Should Use These 9 Tools
Here are some of the most important types of content marketing tools out there, along with some advice on how to make sure you select the right ones for you to make your content marketing to be effective. 
13. How to Sell on LinkedIn (A Simple Guide!)
LinkedIn is a powerful sales platform if you use it correctly. This guide will walk you through exactly how to use LinkedIn to support your sales strategy for the B2B market.
14. 8 Retail Email Examples You Can Use to Increase Ecommerce Sales
A good retail email marketing strategy fosters a relationship with customers who use your product or service, helping your retail business carve out a niche of a massive market. Here are some ways you can market and grow your business using email, offering some of the best retail email examples available as a guide.
15. 9 Tips for Writing Effective SEO Content
Here are 9 simple tips anyone can use for writing effective SEO content so that Google and your readers can find it!
16. Page Speed: SEO Guide to Shorter Load Times
While Core Web Vitals is still rolling out, it's likely that page speed will now play a bigger role in SEO. So before it's too late, make sure to check your site's page speed and leverage these optimization tips for shorter load times.
17. How To Choose Social Media Tools To Grow Your Brand Quickly In 2021
Social media is as much about sharing and connecting as it is about advertising and profits. Businesses are increasingly using social media tools that enable them to build brand power. Here are some social media tools that automate socila media marketing and save your valuable time and resources.
18. 5 Tips to Significantly Increase the ROI of Your Next Email Campaign
Email marketing has always been one of the most affordable and effective online marketing strategies, driving revenue with a click of the mouse and allowing you to maintain a strong relationship with your customers and user base. Here are some very simple tips that you can implement, making your email marketing campaigns more effective and profitable. 
1. Monitor your email deliverability
2. Optimize for mobile
3. Include a single CTA
4. Segment your email list
5. Use humor and shock value in your subject lines
19. 7 Steps to Launch an Expert Social Media Marketing Campaign
Social media offers new brands an incredible opportunity to launch a new product to a highly targeted, engaged, wallet-out audience. But it takes a lot of preparation and planning, along with a great product, to have a successful launch on social media. Here are the seven steps required to expertly launch a new brand on social media, regardless of the niche.  
1. Establish a clear set of goals
2. Develop a timeline
3. Select the best social-media platforms
4. Map out an influencer-marketing strategy
5. Design launch-campaign assets
6. Schedule your social-media content
7. Launch your campaign
20. How to Use Storytelling in Business to Build Captivated Audiences
In this guide, you'll learn how to apply the art of storytelling in your marketing initiatives to engage and grow your audience, when to use it, and when not to. We'll also look at businesses that get it right, and why their strategy is paying off.
That's it for this week marketing roundup. I hope you like my marketing weekly roundup. If you'd like to suggest your favorite digital marketing content to be considered for an upcoming weekly roundup, please let me know.
ToonChooi