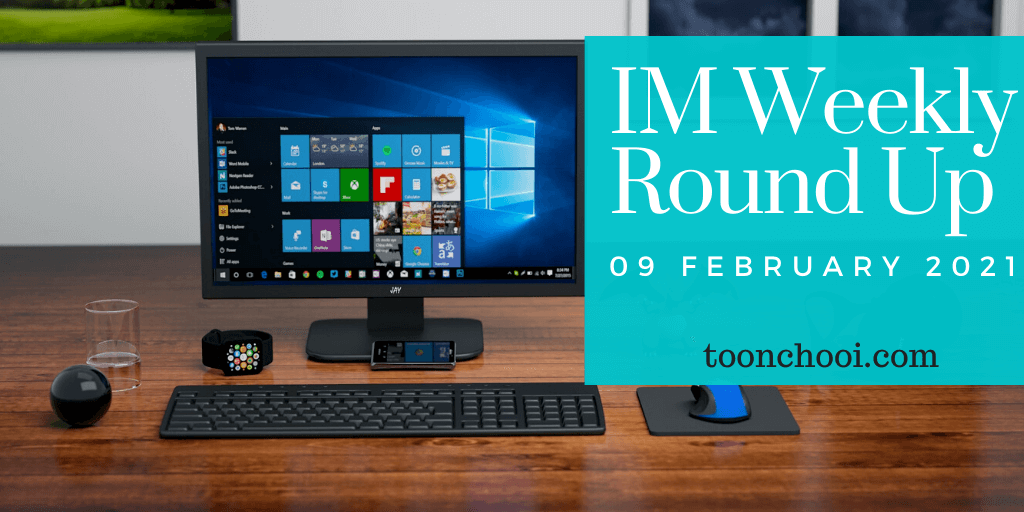 Welcome to the Marketing Weekly Roundup of training and products to help run your business. If you're new here, I'm happy to have you! Marketing Weekly Roundup features some of the top marketing insights, tools and tactics from experts around the world to help you become a better marketer!
Here is my picks this week from across the web:
1. 12 Facebook Ad Optimization Hacks for Massive Success in 2021
Optimization implies that your campaign outcomes will improve as a result. Here are Facebook ad optimization hacks that really help you take your campaign to the next level.
2. The Complete Guide to Crafting Great Content for Social Media
Social media is one of the most important channels for marketing your brand. This makes it critical that you regularly post high-quality, engaging content on various platforms. Here are some steps that you should follow to create great content on social media.
3. How to Use Email Automation for Your Business
Email automation can save you time and money while boosting audience engagement. Here is how to use email automation for your small business.
4. Instagram Business Growth-9 Tips to grow your business on Instagram
Are you looking for how to grow Instagram audience or create instagram business account or how to how to start an instagram business? Here are some Instagram business success tips:
5. 5 New Strategies that your eCommerce Store Needs to Increase Conversions
It's easy to get started with eCommerce. However, it's challenging to survive, sustain, and grow. Here are 5 new-age strategies to improve #conversions and sales
6. How to Build a Fool-Proof Email Marketing Strategy
One of the most effective ways to reach current and potential customers is email marketing. Here are some simple to follow actionable tips to help you create the perfect email marketing strategy.
7. 4 Powerful Social Media Features Marketers Should Use in 2021
Social media is one of the best ways to increase your sales and brand awareness. Here are some new features available across these social media sites which can help your marketing efforts.
8. Five Marketing Channels To Stay On Top Of In 2021
Here are some marketing channels that have proven to be effective and will hopefully bring you success — and generate high responses for your marketing campaigns
9. 7 Best Shopify Alternatives For Your Next eCommerce Store
Shopify isn't the only eCommerce platform out there. Yet with so many choices, how do you choose which is the right Shopify alternative to allow you to not only sell but grow your eCommerce store to the fullest? Click here to find out more!
9. Grow Your Email List and Increase Revenue Using These Tactics
Smart entrepreneurs use email marketing to create new business and turn customers into repeat customers. Here are six strategies that will greatly help your email marketing efforts.
10. 4 Steps to Sell Digital Products & Make Money Online Fast
Want to sell online, but not sure where to start? Turn your passion into a paycheck by selling digital products. Plus, get inspired with 12 product ideas to sell online. 
11. 16 Website & Blog Content Ideas to Get More Traffic & Engagement [Infographic]
Are you struggling to come up with ideas for blog content? Check out these 16 blog content ideas in this infographic.
12. What a Unique Selling Proposition Is (And Isn't) Plus 10 Examples to Inspire You
A unique selling proposition is one of the keys to developing a memorable brand. Here's how to shape your own USP, plus 10 examples for inspiration.   
13. 7 Customer Retention Strategies for 2021
Retaining ecommerce customers lowers costs and boosts profits. In 2021, customer retention could be critical. Use these customer retention strategies for the new year.
14. 11 Business Website Design Trends You Can't Ignore
With many people socially distancing and working from home, your business website is your #1 sales rep. These 11 website design trends for 2021 are sure to give you plenty of ideas for your business website.
15. Growth Hacking: What it is and How SaaS Businesses Can Use it to Optimize Growth
Here are some growth hacking tips for SaaS entrepreneurs or anyone else who is trying to grow a startup in a short amount of time or on a tight budget.
16. 5 Content Marketing Channels You Can't Ignore in 2021
The following 5 are all excellent channels to consider incorporating into your content distribution strategy:
17. The Future Of Growth: The Top Digital Marketing Trends Of 2021 Explained
Here are top digital marketing trends for 2021, with particular emphasis on emerging marketing channels that will stick around for the long haul. 
18. Build Your 2021 Marketing Strategy Now
If you kissed 2020 goodbye without a solid marketing strategy for 2021, don't panic. You still have time to create one. Here's how.
19. How to Use Facebook Analytics
Facebook Analytics can give you the insight you need to better target your audience on the popular social media platform. Learn how to track and measure your Facebook efforts through this guide on using Facebook Analytics.  
20. 19 Tools You Need in 2021 If You Have a Digital Marketing Agency
It then becomes crucial to have tools for digital marketing to help you reach goals, deal with challenges, and save time and money. Here are some tools that can help.
That's it, folks. I hope you liked this online marketing weekly roundup. If you have an article that you would like me to feature in this marketing roundups, please send a message through this contact form here. If it's suitable, I'll post it for free. All I ask is that you share this marketing weekly roundup on your social media channels.

ToonChooi