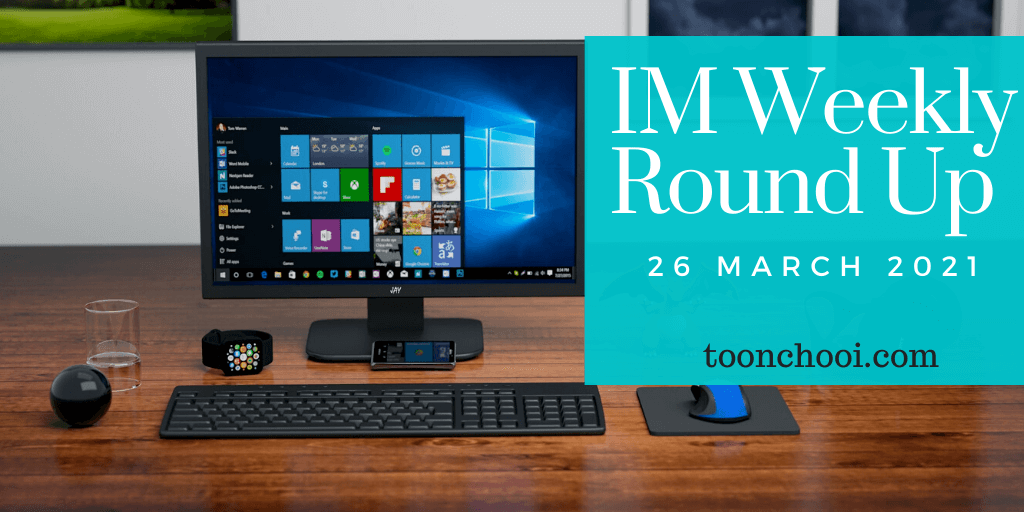 My apology for didn't sent out this marketing weekly roundup on Tuesday as usual, since I plan to change the sending schedule based on the subscribers feedback and split test.  So start from this week, future issue will be sent out on every Friday instead of Tuesday.
As usual, below is this week marketing roundup of the helpful marketing tips, hand-picked just for you to help you become a better digital marketer!
1. Why You Need A Landing Page
Whether you have a website or not, landing pages are an incredibly powerful tool for growth. With them, you can grow your audience, build deeper connections, and set the tone for your relationship with your subscribers. Here are 10 best ways to use a landing page
2. How to Sell Products on Instagram: 6 Money-Making Strategies for 2021
81% of consumers say Instagram helps them make buying decisions. So, do your pockets a favor by learning all of the best and brand new ways to make it rain on Instagram! 
3. 12 Tips To Use Social Media For Small Business
If you're wondering how to use social media for small business, look no further than these 12 essential tips to get started.
1. Start with a plan
2. Decide which platforms are right for you
3. Know your audience
4. Expand your audience
5. Build relationships
6. Pay attention to trends
7. Sell your stuff with social commerce
8. Mix up your formats
9. Focus on quality over quantity
10. Use the right tools
11. Use scheduling and automation to free up more time for engagement
12. Track and refine your performance
4. Digital Marketing Stats to Inform Your Strategy in 2021
Data is a powerful tool, but finding it can be a pain. Aweber compiled tons of helpful digital marketing stats you need to grow your business in one place.
6. How to Optimize YouTube Videos
If you want to increase your YouTube visibility and rankings, you need to optimize YouTube video for SEO following these video SEO tips.
7. How to Create an Effective SEO Strategy for Your Local Business
Get your local business found more often on Google by using the right SEO strategy and  content marketing. Just follow these tips that go beyond Google Local 
8. 11 Stellar Content Marketing Examples to Inspire Your Digital Marketing Strategy
Content marketing is a must for any marketing strategy. Here are examples of creative ways brands set themselves apart and provide value to their audience.
9. How To Make Money With ClickBank – Step by Step Guide to Success
A step-by-step walkthrough of four different ways of making money on ClickBank with different target markets and traffic generation strategies.
10. 11 Places to Find Royalty-Free Background Music for Marketing Videos
There are lots of great resources for free or cheap music to choose from. Here are some 
11. 22 Best Headline Formulas that Work (with Templates)
Looking for the best headline formulas? Here are 22 titles (with headline examples) you can customize for your audience.
12. How to Improve Email Deliverability
Email deliverability rates have a lasting impact on future marketing efforts. Here is how to boost your chances of making sure your emails land in inbox.
13. 8 Instagram Trends to Pay Attention to in 2021
Here are 8 Instagram trends to keep an eye on as you continue to develop your 2021 social media marketing strategy. 
14. B2B SEO: How to Rank Your Business Website Higher in Search
SEO generates more leads than any other marketing strategy, but B2B SEO is not the same as B2C SEO. Here's what you need to know.
15. The Benefits of White Label Businesses
White labelling is one of the quickest ways to start a business. You can jump on a trend and skip the process of making or manufacturing products on your own. Or you can monetize a personal brand by selling merch to fans. Here are 11 ideas for trending white label products to start selling today. 
16. How To Use Hashtags on LinkedIn [Step-by-Step Guide]
Let's get into the basics of using hashtags on the platform and dive into how to find the top trending ones in your industry.
17. Five Tips For Writing Effective Email Subject Lines
Here are five useful tips to help you get a handle on your overall subject-line writing process and then write better and better subject lines over time. 
18. YouTube Video Marketing in 2021: How to Rise in a Ruthless Market
In order to succeed in YouTube marketing, you need to understand YouTube marketing and incorporate the right YouTube marketing strategy.
19. How To Use Social Proof To Generate More Traffic and Sales
Use these 6 social proof tactics to to drive more traffic and revenues to your site:
1. Show off positive reviews
2. Share customer testimonials
3. Get influencer and celebrity endorsements
4. Publish case studies
5. Use numbers and labels
6. Display trust and certification badges
20. How to Take Facebook Ads to the Next Level
With over two billion active Facebook users, you have the ability to target your audience to any niche you can dream of. Here are some innovative and creative ways to get you started on your next set of Facebook ads.
That's it, folks. I hope you liked this marketing weekly roundup.
If you have an article that you would like me to feature in this marketing roundups, please send a message through our contact form here. If it's suitable, I'll post it for free. All I ask is that you share this marketing weekly roundup on your social media channels.
Have a great weekend!
ToonChooi