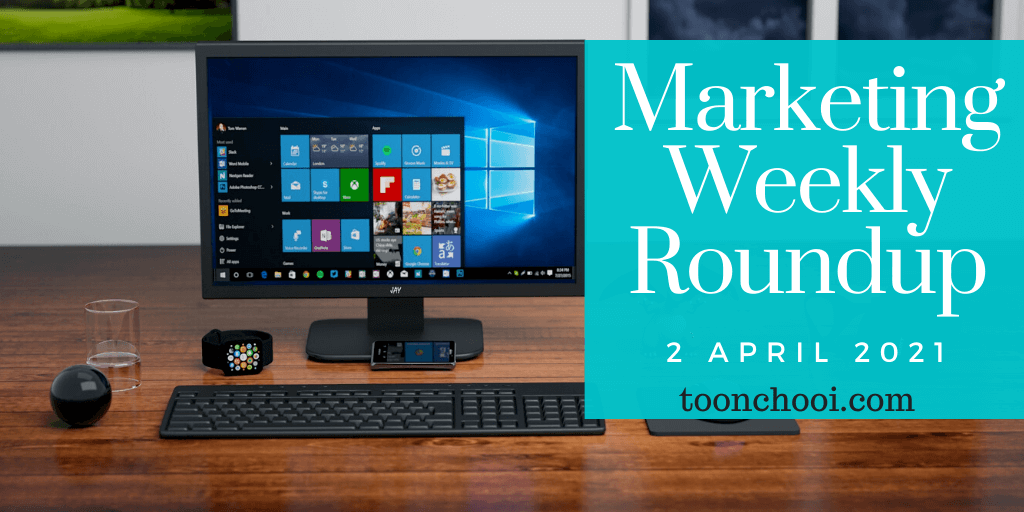 Happy Friday, marketers! 😎
Here's your marketing weekly roundup of  the top sales and marketing blog posts, articles, and resources to help you become a better marketer:
1. How to Write Call to Action Copy
Discover how you can increase subscriber growth by tweaking the copy in your call-to-action button. Plus, see 20 unique call to action phrases that you can copy for your own button right now.
2. Why You Need Branded Content (and How To Get It Right)
Branded Content is a message that resonates with your target audience. This guide'll take you through what branded content is and how to do it right to gain a following.
3. How to Make $100 in a Day with ClickBank: 2020 Edition
Making $100 in a day is a great achievement. This post is dedicated to proving insight and tactics into how to make $100 a day with ClickBank.
4. 5 Best Practices for Small Businesses Using Video Conferencing
Let's look at some of the best practices for small businesses utilizing video conferencing as a communications tool that can help drive conversion rate 
5. Here are 5 ways to stay on budget while setting up your service business online:
1. Purchase a domain
2. Shop around for web hosting
3. Invest in an autoresponder
4. Create a brand board
5. Allocate the most money for equipment upgrades
6. Best Live Chat Apps for Small Business
This guide explains how live chat apps work and their customer service benefits for small business, and provides tips on how to choose a live chat app for your business.
7. How to Become an SEO Expert
SEO expertise requires time, commitment, and experience. Do you have the drive to learn? Here are 21 things you need to know.
8. 27 Local Business Listing Directories
For local businesses of all kinds, maintaining an online presence is key. Therefore, it's important to claim your profiles on business listing sites to keep them up-to-date. Here are the 27 best places to list your local business.
9. What Your SMB Needs to Know About Email Open Rates
Email open rate is one of the most important metrics to pay attention to when implementing email marketing for your business.
10. How to Create a Killer SaaS Content Marketing Strategy
A killer SaaS content marketing strategy is needed to attract new users. Here are step-by-step how to create your own killer SaaS content marketing strategy, including all the tactics, methods, and tools you'll need.
11. LinkedIn Video Strategy: Getting More Exposure on LinkedIn
Want to use LinkedIn video to position yourself as an expert? Wondering what kind of video content to produce?  Learn how to build your expertise using three types of video on LinkedIn.
12. How to Create an Effective Retail SEO Strategy
An effective retail SEO strategy should include savvy keyword targeting, excellent UX, customer reviews and more to overcome the challenges of driving organic traffic to your website.
13. Three Reasons You Should Be Advertising On Social Media In 2021
Here three key reasons why every business should be leveraging social media advertising in some form and how you can benefit from these strategies. 
14. Step by Step Website Audit with Google Search Console
    1. Fix indexing issues
    2. Optimize user experience
    3. Find underperforming keywords
    4. Find underperforming snippets
    5. Find pages that are ripe for an update
    6. Audit your backlink profile
    7. Find internal linking opportunities
    8. See if you've made it to Google Discover
    9. Check for manual actions and security issues
    10. Add a sitemap of your pages
    11. Index new or updated pages

15. How to Use Email Retargeting for Your Small Business
This guide describes email retargeting, how it works and how small businesses can use it to improve their email marketing campaigns.
16. LinkedIn Cheat Sheet: Character Counts, Image Specifications, and Tips You Need to Know
Here is a cheat and tips sheet for LinkedIn suggested image sizes and character counts, along with some added tricks you should know about posting on LinkedIn! 
17. 21 Ways To Build Your Social Media Presence
Having a strong social media presence allows you to better understand your audience so you can better serve them with your product or service. Here is how to increase your social media presence:
18. Three Content Marketing Trends To Watch Out For In 2021
Marketing trends come and go, and if you're able to keep up with what your audience wants, you can put yourself ahead of the competition. Here are three content trends to pay attention to this year so you can take your business to new heights.
19. 5 Effective Content Marketing Tips for Small Businesses
You need a thoughtful content marketing strategy to stand a chance in today's competitive scenario, especially for SMBs and startups. Here are five pointers you should keep in mind when you're working on your content marketing tactics:
20. Three Mistakes That Are Killing Your Digital Marketing Growth
Digital marketing is one of the most powerful tools for marketers to promote their businesses, capture new leads and eventually turn those leads into sales. But you have to avoid these mistakes.
That's all for today. Stay tuned for the next marketing weekly roundup to get more updates on new tips and insight in digital marketing and advertising.
As always, have a great weekend.
ToonChooi