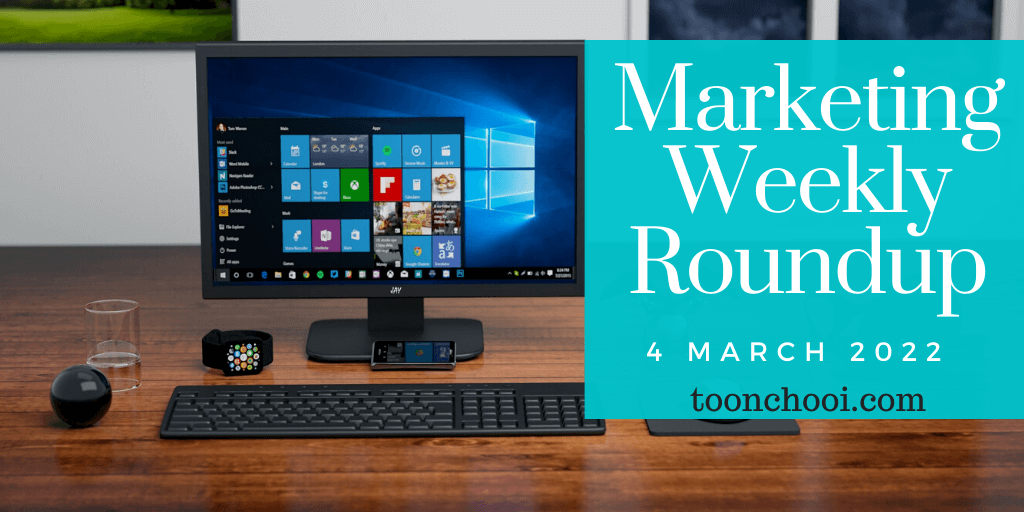 Here is your handpicked roundup for this week, packed with marketing insights, SEO tips, news, and actionable advice from around the world. Feel free to share Weekly Roundup or any other of our roundups with your friends, family, and colleagues.
Let's hop into this week's marketing roundup:
1. How to Create An Effective Facebook Ad Strategy in 2022
Facebook is still a great place to advertise your business. Ads are affordable and you have the ability to target your "ideal" customers. With approximately 1.93 billion people using this social media platform each day, you're bound to reach the audience you're looking for. Like any marketing or advertising platform, you'll want to go into this endeavor with a solid plan or strategy.
    1. Combine Facebook Ads with Content Marketing
    2. Use Giveaways and Contests
    3. Use Lead Ads to Build Up your Marketing List
    4. Incorporate Video Ads
    5. Create Facebook and Google Ads
    6. Utilize Facebook Mobile Ads
2. How to Create Content for Different Purposes: Branding, Sales, and Retention
Every end goal can call for a different kind of content. You might need content that's designed to move people closer to a sale, make you more memorable (branding), or help you maintain clients (retention). The first hurdle is simply making all your marketing messages relevant to the consumer. Here's how to create different types of content for different stages of the sales funnel: branding, sales, and retention.
3. The Best Ecommerce Website Builder
Every great online store starts from the same place — with an eCommerce website builder. You don't have to have any web design experience whatsoever to get started. Here are the in-depth reviews of the eight best eCommerce website builders and brief buyers guide to help you narrow in on the best one. l
    1. Wix — The Best Drag-and-Drop Ecommerce Builder
    2. Zyro — The Best for Integrating Social Selling
    3. BigCommerce — The Best for Large Ecommerce Sites
    4. Squarespace — The Best for Beautiful Ecommerce Designs
    5. Square Online — The Best for Small Businesses with Physical Retail Space
    6. Bluehost — The Best Turnkey WooCommerce Store Builder
    7. WooCommerce — The Best Ecommerce WordPress Plugin
    8. Shopify — The Best Out-of-the-Box Ecommerce Functions  
4. How to Create a Strong Ecommerce Brand Identity
Branding has always been a vital part of marketing, and it's just as important when it comes to eCommerce. It can be challenging to produce a strong brand identity for e-commerce businesses that will have a real impact. Here are some sure-fire ways to get you well on your way to creating a strong e-commerce brand identity. 
5. The Lastest Marketing Trends & Predictions for 2022
This is the perfect time to dust off our crystal balls and start predicting what digital marketing trends we can expect to see in 2022. If you follow them,  It should give you an edge. Here are our top marketing trends and predictions in digital marketing for 2022:
        1. The Social Impact of Storytelling
        2. Rank and Win with Consumer-Driven Content
        3. Use Personalized Content
        4. Why You Need Shareable Assets
        5. The Influencer Economy
        6. Social E-Commerce: The Innovative Way to Shop Virtually
        7. Accessibility in the Digital Age
        8. The Future of Browsing with Search Engine Optimization (SEO)   
6. How to Write a Sales Email That Converts in 2022
Only 25% of emails are getting responses, and that means yours could be one of them—so long as you know how to write sales emails that work. Learning how to write a top-notch sales email isn't easy. Fortunately, you've come to the right place to learn how to write sales emails that don't flop. You'll learn the key characteristics of good sales emails, and we'll even walk you through a few real-life examples.
7. 14 Top Tips For Senior Executives Wanting To Start Their Own Companies
It's not uncommon for senior executives to get an itch to start their own company. There are several crucial things they should carefully consider before taking the leap. Discover how senior executives who are intent on launching their own companies can fulfill both consumers' needs and their own.
    1.  Combine Gifts, Passions And Innovation
    2.  Gain Clarity And Choose Metrics For Success
    3.  Leverage Your Experience And Do A SWOT Analysis
    4.  Brainstorm With Close Friends
    5.  Match The Commercial Proposition With The Value You Offer
    6.  Have A Strong Support System In Place
    7.  Don't Follow Your Passion—Bring It To An Opportunity
    8.  Leverage What Makes You Irreplaceable
    9.  Connect With Your Four Selves
    10. Enroll Clients To Help Craft Your Company Vision
    11. Outline The Customer Journey And Your Sales Funnel
    12. Experiment With A Minimum Viable Product
    13. Take An Inside-Out Approach
    14. Build A Business Around Your Retirement Dreams
8. Most Common B2B Content Marketing and B2B Sales Lead Generation Mistakes to Avoid
Content marketing is often regarded as one of the most cost-effective investments you can make for your company. However, a substantial proportion of businesses are mistaken about the importance of content marketing. Let's go through the most frequent content marketing strategy blunders and how to prevent them.
9. 4 Tips To Maximize Tiktok In 2022
TikTok was recently named the world's fastest-growing brand with an impressive 215% growth over the past year, according to a report by Brand Finance. Here are four quick tips to help you tap into the app's popularity and organically grow your social media presence on any leading platform.
    1. Create for evolving attention spans
    2. Track and test TikTok competitors
    3. Find and pitch influencers
    4. Go for P-A-R
10. Why Is Affiliate Marketing So Hard? [And 10 Things to Do About It!]
Total spending on affiliate marketing in the U.S. will increase to $8.2 billion by 2022, but only 10% of affiliates are responsible for 90% of all clicks and conversions. Clearly, there's a massive gap between successful affiliates and those affiliate wannabes waiting just to get their first affiliate sale. Read on to discover what differentiates successful affiliates from struggling affiliates, why earning an income from affiliate marketing can be challenging, and what to do about it!
11. Make Money Podcasting: 6 Monetization Ideas for New Podcasters
Streaming platforms like Spotify and Apple Podcasts payout for streams, but the payout tends to be very low. Traditional sponsorships are one way, but for new podcasts, the likelihood of finding a high-paying sponsorship is slim unless you're already a well-established figure. In this guide to podcast monetization, learn how to set up automated revenue streams.
    1. Affiliate Marketing
    2. Sell custom merchandise to fans
    3. Offer tiered memberships through Patreon
    4. Host live podcasts and collect tips
    5. Write and self-publish a book for your fans
    6. Join a podcast advertising network
12. 6 Holiday ECommerce Trends to Watch In 2022
The eCommerce landscape has evolved considerably in the past two years, with the global pandemic accelerating the industry's growth and influencing consumer behavior. Holiday campaigns in 2022 will need to meet evolving trends to succeed, and here are some initial thoughts that can shape your efforts going forward.
13. How To Improve Your Email Newsletter In 2022
Email marketing is a great way to touch base with your audience, provide product education, and keep existing customers engaged with your brand. Newsletters contain helpful information about your company, as well as content designed to appeal to your audiences' goals and pain points. Here are several tips you can use to improve your newsletters and see more success with your email marketing strategy in 2022.
    1. Include plenty of value-packed content
    2. Look for micro-personalization opportunities
    3. Prioritize accessibility
    4. Gather feedback from your audience
14. How To Find High-Quality Podcast Guests
Booking guests on your podcast is an excellent way to expand your audience. A great guest can bring a fresh perspective, new information, and captivating stories. In this episode of Podcasting Q&A, we share the best way to find high-quality podcast guests, so you never run out of connections! 
15. Why Your Growth Marketing Strategy Should Include These 4 Things
Figuring out what to include in your growth marketing plan is one of the more challenging aspects of moving forward with growth marketing. Most of them involve examining the traditional sales and marketing funnel and how leads and customers move through it. With those stages in mind, here are four things your growth strategy should include.
    1. Identification of Customer Personas That Are Dropping Off
    2. A/B Testing
    3. An Omnichannel Approach
    4. Well-Defined Priorities and KPIs
16. Sales Automation Tools – Finding the Perfect Fit for Your
The average sales rep spends only 34% of their time actually selling. Tasks such as composing emails, prospecting, and data entry can be performed with exceptional efficiency by pre-programmed software. Here are 8 top sales automation tools that you should consider using in your sales process moving forward.
17. 5 Email Marketing Habits to Leave Behind
Email marketing can boost your ROI by $42 for every $1 you spend, according to the Data & Marketing Association. In 2022, the number of emails sent and received every day is expected to surpass 333 billion. Let's take a look at some of the more sabotaging ones we should leave behind.
1. Inconsistency and lack of punctuality
2. Neglecting welcome emails
3. An outdated list
4. Spam complainers: do you remove them immediately?
5. Insufficient testing
18. What is your B2B Social Media Marketing Really Lacking?
Social media has gone from a nice-to-have to a must-have in modern-day marketing. A B2B social media marketing plan has to be pursued with certain specifics and goals in mind while being executed with a different action plan. One of the key reasons that have led these brands and others to have a good social media presence is their ability to drive engagement using original content.
19. 14 Social Media Trends Marketers Can Leverage In 2022
Taking advantage of the most popular trends on various social platforms is a great way to reach target audiences and expand awareness of your brand. Knowing is half the battle, so read on to find out which trends in social media promise to have the greatest impact this year. 
    1.  Companies Engaging With Users On Live Platforms
    2.  Incentivizing Employee Advocacy On Social Networks
    3.  Creators Monetizing Content As Brand Partners
    4.  LinkedIn Mega Influencers Driving Job Market Shifts
    5.  Immersive AR And VR Experiences Via Social Media
    6.  More Powerful Messaging Through Discord Groups
    7.  An Increase In Livestream Video Shopping Events
    8.  Paid And Organic Strategies For Social Commerce
    9.  Users Abandoning Social Media
    10. The Rise Of Common Interest Groups
    11. Personalized Experiences Connecting Communities
    12. Micro-Influencers And B2B Influencers
    13. TikTok For B2C And LinkedIn For B2B
    14. Tying Community And Giving Into For-Profit Initiatives
20. What Video Marketers Should Know in 2022, According to Wyzowl Research
Wyzowl has released an annual State of Video Marketing survey since 2015, charting usage, spending, channels, and opinions among video marketers and consumers. Find out what's happening in video marketing right now, and how do its growth and success stand up to the twists and turns of a global pandemic.
That's it for this week's marketing roundup. Have a wonderful weekend!
ToonChooi
With AWeber Pro, you'll have automations, customer segments, and A/B testing to help you grow your business in the new year. Check it out now.