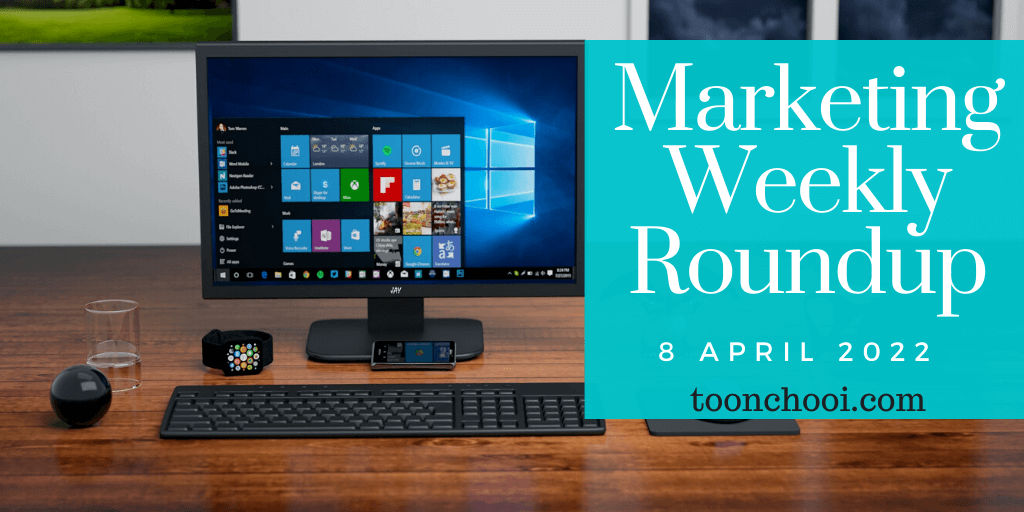 Hello and welcome to Marketing Weekly Roundup. Here is your handpicked roundup for this week, packed with marketing insights, SEO tips, email marketing tips, social media marketing news, and actionable advice from around the world.
Now, let's get into today's marketing roundup.
1. 30 Easy Ways to Make Real Money Online
Interest in making money online from the safety of our homes is on the rise. There are many creative ways to make money online beyond surveys and selling used goods on Craigslist. Some businesses and side hustles are better suited to the laptop lifestyle than others. In this guide, we break down the strengths and shortcomings of 30 of the top money-making options.
1. Dropshipping
2. Print on demand
3. Custom products
4. Sell on Etsy
5. Sell on Amazon
6. Digital products
7. Media
8. Blogging
9. Affiliate marketing
10. Online courses and workshops
11. Freelance services
12. Start a YouTube channel
13. Become an influencer
14. Write ebooks
15. Look for side gigs
16. Do translation work
17. Sell stuff online
18. Livestream on Twitch
19. Take online surveys
20. Sell photos online
21. Become a social media consultant
22. Start a podcast
23. Become a transcriber
24. Review apps, websites, and software
25. Become an audiobook narrator
26. Rent a spare room on Airbnb
27. Buy and sell domain names
28. Invest in real estate
29. Invest in the metaverse
30. Become an online tutor
2. Why Your Brand Needs A Strong Visual Identity [+ 5 Examples to Inspire You]
A brand's visual identity is a powerful tool for telling a company's story and building customer affinity. A poorly-designed identity can confuse customers with lackluster messaging and disjointed graphics. Consistent brands are 3.5x more likely to have strong brand visibility than inconsistent brands. It's important to understand what makes up an identity and how to create one.
3. 5 Steps to Developing a Content Marketing Strategy
Whether you are a startup or an established business, content marketing is essential to your success. Content marketing is the process of creating and distributing valuable, relevant, and consistent content. Developing a content marketing strategy will help you map out a plan to create and distribute content that will attract your target audience. Here are five steps to developing a successful content marketing strategy:
1. Identify Your Goal
2. Define Your Target Audience
3. What Content Does Your Target Audience Want?
4. Run a Content Audit
5. Create a Content Calendar
4. Top B2B Marketing Strategies for SaaS Businesses
Effective B2B marketing for SaaS businesses can look much different from brick-and-mortar organizations, but some strategies hold across all fields. You can have the world's best software to offer, but without a killer marketing strategy, your investment in research and development is going to fall flat. Here are some top B2B marketing strategies for SaaS businesses.
5. 8 Ways Ecommerce Stores Are Using Instagram
With more than 1 billion users around the globe, Instagram is one of the most powerful social media platforms out there. Brands and businesses have used it throughout the world to promote their products and services. Here are eight brilliant ways to use Instagram to enhance your e-commerce sales.
1. Provide Customer Support
2. Use Ads to Reach Out On Instagram
3. Instagram Shoppable Posts
4. Work with Influencers
5. Engage with Users
6. Optimize Everything
7. Plan with Customers
8. Pre-Release Hype
6. The Best Navigation for Ecommerce Sites
An easy-to-navigate e-commerce site is the first step to conversions. Visitors need to access information without getting overwhelmed. They need to determine instantly whether to continue down the funnel. For eCommerce sites, that funnel is often two, three, or even four navigation bars to facilitate decisions.
7. 23 Simple Email Marketing Tips to Improve Your Open and Clickthrough Rates
Practicing good inbound marketing means sending emails to people who actually want to hear from you. Here are 23 tips that are perfect for small and growing businesses, but anyone can embrace them right now. These tips will help you improve your emails' open rates, clickthrough rates, and lead generation potential.
1. Do not buy email addresses.
2. Abide by CAN-SPAM rules.
3. Ensure your opt-in process complies with GDPR.
4. Email new contacts within 24 hours.
5. Send your emails from a real person, not your company.
6. Pre-set the preview text.
7. Write clear and clickable subject lines.
8. Keep your emails concise.
9. Include one call-to-action button per email.
10. Add alt text to your CTA image.
11. Hyperlink your emails' images.
12. Include noticeable text links.
13. Place at least one clickable item above the fold.
14. Add alt text to all of your images.
15. Avoid background images.
16. Add social sharing buttons.
17. Simplify sharing with ready-made tweets.
18. Add an email forwarding option.
19. Clean up the plain text version of your emails.
20. Optimize your emails for mobile users.
21. Preview and test your emails before sending them.
22. Don't be afraid to 'clean up' your contact list.
23. Monitor each email's performance.
8. How to Improve Customer Engagement With SMS Marketing
Businesses of all sizes and in all industries are always seeking new strategies for engaging with their customers. SMS or text messaging marketing is an effective way to reach people in a variety of different ways through social media, advertising, and other channels.
9. 5 Reasons Why Brands Lose Followers on Instagram
14% of Instagram marketers report losing followers from 2020 to 2021. If you're part of that 14%, you may be panicking trying to figure out what's causing the decline. Below are the top reasons why brands lose followers on Instagram and how to regain them.
1. You're not posting often enough or posting too much
2. You're being too sales-y
3. You had bot followers
4. You don't have a consistent aesthetic and voice
5. Your audience has evolved and you're not keeping up
10. TikTok Trends B2B and B2C Marketers Should Watch in 2022
According to Hubspot Blog Research, 44% of marketers currently leverage TikTok. A report by InVideo shows that around 50% of brands like Google and IKEA still aren't leveraging the platform. Let's check out the top TikTok trends at a brand marketing level, how to find trends on the platform, and tips for joining them.
11. Four Ways to Optimize Ecommerce Search
Most companies spend a double-digit percentage of their total revenues on marketing activities, including search. 61% of eCommerce sites perform below average for internal site searches. But there are other ways merchants can optimize the search challenges they face. Here are four tips that give merchandisers an excellent opportunity to capitalize on internal search.
1. 'Searchandising' — Merchandise for Search
2. Autocomplete and Synonym Matching
3. The Personal Touch
4. Visual Discovery
12. Why We Care About Email Marketing: A Marketer's Guide
Email marketing helps organizations acquire and retain customers, build businesses and make more money. A successful email marketing program requires a thorough understanding of the channel. There is a growing emphasis on personalization and the use of engaging dynamic content. New challenges tied to inbox algorithms and deliverability have added technical considerations that marketers need to manage. Here are some best practices to help your brand stay ahead of the game.
13. 10 Definite Impacts On Social Media Marketers Need To Brace For
For brands to survive, they will have to listen to, and respond, to their demands. Consumers want more personalized content, faster service, and better experiences – they want it all now. This will require companies to break down silos and democratize of data. Based on Talkwalker's latest social media report, there are 10 key areas in social media for marketers to focus on this year.
1. TikTok will take over social media
2. Social ads will develop, as cookies get crunched
3. Social selling will simplify the customer journey
4. Post-pandemic content will shape up to consumer needs
5. Omnichannel engagement will change the way consumers engage with social media
6. Influencer marketing will finally grow up
7. Brands will lead in social media decentralization
8. Metaverses will be the next consumer connection
9. Brand inclusivity will be critical
10. Communities will develop
14. 21 Best About Us Page Examples (+ How to Write One)
The About Us page is one of the first supporting pages you'll likely design, regardless of the industry. When a visitor wants to learn more about you or your business, the About page is the page they'll look for. Unfortunately, About Us pages are often treated as an obligation rather than an opportunity to build trust and share your story. Shopify recently published a guide to writing a compelling About Us page—and it's worth looking at.
15. 6 Common Content Marketing Mistakes You'll Want To Avoid
These days, we're all creating content. Whether it's for our blog or social media channels. And we're expecting to see results from the effort. But a lot of the time, this isn't happening. So, where could we be going wrong? Well, these 6 content marketing mistakes could be the reason.
1. Being too self-promotional
2. The wrong types of images
3. Keyword stuffing
4. Sharing one type of content
5. Overly descriptive copywriting
6. Not understanding your audience
16. YouTube vs. Vimeo: Which Video Platform is Best for Your
While YouTube is obviously the largest video hosting platform on the web, it might not be the best choice for every business. To help you find the best fit for your company's unique needs, we compared YouTube against the smaller, more niche platform Vimeo. Read on to see the results, and decide for yourself.
17. What is Content Governance? 4 Easy Steps to Create a Model in 2022
Content governance keeps your relationship with your customers thriving, and allows you and your team to more effectively focus on your content goals. In this post, we'll cover the topic of content governance – what it is, why it's important and how you can create a model for your business.
1. Establish and define the roles and responsibilities of the content team
2. Design content workflows
3. Create policies, standards, and procedures for content
4. Document guidelines and ensure company-wide compliance
18. Twitter Advertising for B2B Marketers: Twitter Ads Campaign Types
54% of B2B marketers use Twitter to expand brand awareness, interact with prospects, and drive sales. There are two ways you can use Twitter advertising: Posting interesting content to grow your brand organically or leveraging Twitter Advertising, where you pay to reach a highly targeted audience. Discover the different types of Twitter Ad campaigns, including who can use them, and strategies to help improve your Twitter advertising ROI.
19. 10 Differences Between Conventional And Digital Marketing
With traditional marketing strategies and new, innovative techniques in digital marketing, businesses can capture the attention of their audiences in various ways. There are many factors to consider, such as the type of business, campaign budget, and the sales funnel. Let's make a comparative analysis between conventional and digital marketing to determine which marketing strategy suits you the best.
1. Conventional Marketing Features Tangible Mediums
2. Digital Marketing Is More Cost-Effective:
3. Digital Marketing Gives Prompt Data Analysis:
4. Conventional Marketing Interacts Less With Customers:
5. Digital Marketing Features Two-way Communication:
6. Digital Marketing Features Better Optimization:
7. Digital Marketing Offers Competitive Analysis:
8. Conventional Marketing Has Fewer Security Concerns:
9. Digital Marketing Targets Generation Z:
10. Digital Marketing Offers Skip-able Advertisements
20. Clever Ways to Promote Your Business Using QR Codes
QR codes, or Quick Response codes, are everywhere. We scan them in restaurants to see the full menu and advertisements to learn more about a brand. Scanning QR codes is quick and easy, making them highly engaging tools. Here are some new ways to use QR codes to promote your business.
That's it for this week's marketing roundup. Until the next one, have a wonderful weekend!
ToonChooi
With AWeber Pro, you'll have automations, customer segments, and A/B testing to help you grow your business in the new year. Check it out now.