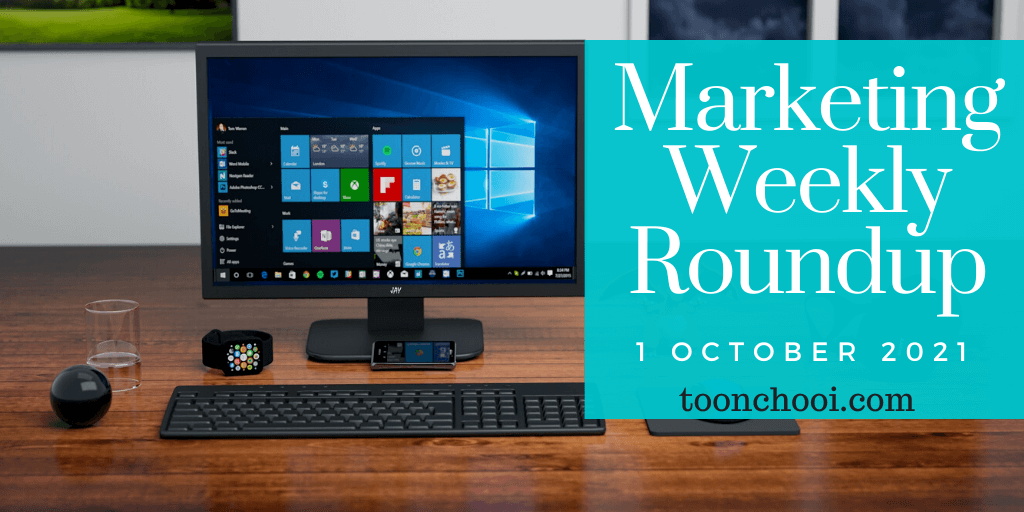 Friday means that it's time for a new Marketing Weekly Roundup, so make yourself comfortable and let's recap this week in marketing insights, seo tips, tactics, social media news.
Now, let's get into today's marketing roundup.
1. Email Marketing Best Practices
Annoying potential customers with a bad email marketing campaign is a surefire way to lose potential sales. Here are ten tips to help you avoid that problem. 
    1.  Don't flood your customers' inboxes
    2.  Make your email marketing strategy appealing
    3.  Avoid poor subject lines
    4.  Don't use too many graphics or stock photos
    5.  Make sure your CTA is clear and easy to identify
    6.  Add a personal touch
    7.  Provide value to each reader
    8.  Make sure your email lists are clean
    9.  Don't use a no-reply email address
    10. Manage your email campaigns with email marketing software   
2. Go Beyond Likes and Follows: How to Create a Social Media Strategy That Sells
Social media marketing can help you build an audience of customers and drive sales, or it can be a time-consuming distraction. Learn how to create a strategy that keeps your actions focused and allows you to execute without taking too much attention away from running your business. 
3. 5 Ways Reddit Helps an Ecommerce Brand
Reddit is among the most visited sites worldwide. It offers a venue to further a brand and establish expertise. Here are five ways how to use Reddit to build your eCommerce brand.
1. Join relevant communities
2. Create an ad
3. Create your own subreddit
4. Host an /r/IAmA
5. Obtain feedback on your company
4. How to Choose the Best WordPress Theme for SEO
Learn why SEO-friendly WordPress themes are important for search rankings, see how to choose one, and discover the 5 best themes for SEO.
5. Find Out How to Master Social Media Ads in 10 Simple Steps
Paid social media advertising has become one of the most effective ways of promotion nowadays. Learn how to master and run a powerful social media ad campaign in 10 simple steps. 
    1.  Establish Your Goals
    2.  Know Your Target Audience
    3.  Use Retargeting Tools
    4.  Choose the Best Social Media Platforms
    5.  Create Your Ad Campaign Content
    6.  Get Inspired by Your Organic Posts
    7.  Customize Your Ads for Mobile Devices
    8.  Test Your Ads
    9.  Set a Social Media Advertising Budget
    10. Monitor and Adjust
6. Best Time to Send an Email: According to 11 (Recent) Studies
Choosing the right send times for the email to land in someone's inbox will get good open rates, a better click-through rate (CTR), and generate more traffic to a website or to social media. Here are some key takeaways for when to send an email from the comprehensive list of studies.
7. Optimizing Your Email Marketing In 2021
Email marketing is arguably more important now than it ever was before. Use these tips to optimize your email marketing in 2021 and start appealing more to your audience. 
    1. Give emails a personal touch
    2. Boost engagement with interactive features
    3. Create designs that get attention
    4. See what automation can do
    5. Use emails to show appreciation
8. How To Do Instagram Hashtag Research
With over one million active users, Instagram is one of the most popular platforms at the moment. Hashtags are important when you posting on Instagram. Let's find out how do hashtags work and how do you find the right hashtags for Instagram.
9. 11 Best Tools to Manage Content Marketing in 2021
Content marketing is essential for growing your business and staying engaged with your audience. That said, it doesn't need to be time-consuming. Here are 11 content marketing tools that will save you time and increase your productivity and consistency.
1. Trello
2. Asana
3. JotForm Approvals
4. CoSchedule
5. Yoast
6. Canva
7. Ahrefs
8. Grammarly
9. Hootsuite
10. BuzzSumo
11. ConvertKit
10. How to Grow Your App Startup Organically with App Store Optimization (ASO)
ASO is about getting your app in front of the right users at the right time. Here are the specific strategic and technical factors that helps you increase traffic and downloads.
11. SEO Keyword Research: 15 of the Biggest Mistakes You MUST Avoid
SEO marketing campaigns start with keyword research that is done right. Watch out for these 15 mistakes that can hold back your performance.
    1.   Ignoring Search Intent
    2.   Allowing Clients to Choose Keywords
    3.   Forgetting to Look at the SERPs
    4.   Aiming for One Keyword per Piece of Content
    5.   Targeting High-Volume Keywords Only
    6.   Avoiding Long-Tail Keywords
    7.   Not Talking to Your Customers
    8.   Going Back to Insert Keywords
    9.   Not Knowing What Channels Your Customers Are Searching
    10. Pushing Exact Match Keywords
    11. Not Paying Attention to Keyword Localization
    12. Skipping Topical Research
    13. Shunning Your SERP Competitors
    14. Passing Over Keyword Difficulty
    15. Neglecting Conversions
12. SEO for Ecommerce: How To Increase Organic Search Traffic
This SEO guide teaches digital entrepreneurs specific strategies to lead more search engine traffic to their eCommerce sites.
13. 15 Best Free and Low-Cost Marketing Strategies for Small Businesses
You need to get more customers and grow your reach for your small, business, but you don't have a big marketing budget to work with. Don't worry, here are 15 effective marketing strategies that are low-cost or free for your business!
1. Start a Newsletter
2. Focus on SEO Content Marketing
3. Focus on Your Existing Customers
4. Engage With Social Media
5. Consider Guerilla Marketing
6. Publish Quality Content
7. Optimize Your Google My Business Listing
8. Focus on Generating Referrals
9. Create Strategic Partnerships With Other Businesses
10. Get Started With Video Marketing
11. Host Online Events
12. Run a Giveaway
13. Become Active in Your Local Community
14. Use All of Your Marketing Real Estate
15. Find online Communities to Connect With Your Customers
14. 5 Tips on How to Choose Affiliate Products to Promote
So… You're ready to promote a new affiliate offer, and you want to make sure it's a solid choice before you invest a lot of time, money, and effort. Discover how to choose affiliate products to promote using data-driven approach.
15. How to Plan a Facebook Ad Campaign for the Holidays
Are you planning to use Facebook ads to promote your products or services this holiday season? Looking for a reliable process to ensure your campaigns succeed? Read on to discover five key steps to get the best possible results from your Facebook ad campaigns during peak holiday sales periods.
1: Optimize Your Website for Facebook Ads Traffic
2: Create or Update Your Facebook Product Catalog
3: Plan Your Seasonal Facebook Ad Campaigns
4: Test Your Facebook Audiences and Ad Creative
5: Supplement Paid Efforts With Organic Facebook Content
16. How To Drive Traffic With Low-Hanging Keywords
Most businesses are ambitious in their efforts to rank on the first page for competitive keywords. However, so are your competitors. Diversifying your strategy with low-hanging keywords can transform your search marketing efforts and start driving higher rankings, more traffic and more leads.
17. 6 Reasons Why Instagram Is A Great Marketing Tool For Your Business
Many companies have shifted their advertising budgets from traditional TV and print ads to digital marketing strategies such as Facebook, Twitter, and Instagram. Here are six reasons why Instagram is a great tool for any business looking to increase brand awareness and drive sales:
1) Visual communication
2) Unique
3) Authenticity
4) Easy to use
5) Growing
6) Simple
18. How to Use TikTok: Beginners Start Here
TikTok is the seventh most-used social media platform in the world, with 689 million global active users. Find out how to use TikTok, from setting up an account and navigating the platform to using the app's most popular editing features.
19. Creating a Podcast That Builds Trust
Podcasting is an amazing space to find your voice as a marketer and brand. It helps you grow your business and builds a loyal audience. Let's find out what you need to do to successfully launch a business-building podcast.
1: Decide What Type of Podcast to Produce
2: Define the Goal for Your Podcast
3: Plan Podcast Episodes That Deliver Value to Your Audience
4: Prep for Each Podcast Episode
5: Avoid 3 Common Mistakes When Starting a Podcast
20. A Complete Guide To B2B Sales
Making business-to-business (B2B) sales is the dream of every business owner. They have more significant order values and higher conversion rates, but they also enhance productivity and are generally cost-effective. Here's a step-by-step guide on B2B sales strategies.
ToonChooi
Start Your Email Marketing Free Now
Now You Can Start Out Using Aweber 100% For FREE. No Credit Card Required… no time restriction – no trial needed! Get it here