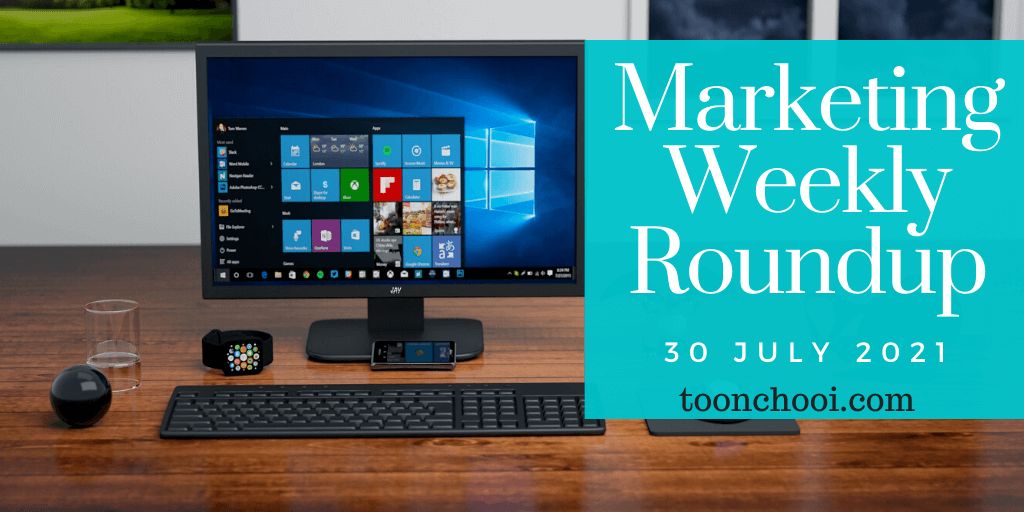 Hi there! Welcome to another digital marketing weekly roundup. This is where I share the top marketing insights, tactics, trends and news in the world of digital marketing so that you can stay up to date.
Below is this week marketing roundup of the helpful marketing tips, hand-picked just for you:
1. How to Set Up Your eCommerce Business
Planning to start an eCommerce business? Follow these 3 simple steps so that you understand how easy it is to start an eCommerce business through determination and discipline.
2. 5 Digital Marketing Trends You Should Not Miss In 2021
It's a fierce market out there, but by focusing on these trends you should be able to increase your brand's traffic considerably. Let's take a look at 5 digital marketing trends that you should not miss in 2021

3. A Small Business Guide to TikTok [Infographic]
This infographic gives you a comprehensive overview of all the key elements you need to consider in building a brand presence on the platform. There's a heap to take in and consider in your planning.
4. Influencer Marketing 101: A Blueprint for Running a Successful Campaign
Discover how to reach your ideal customers, increase brand awareness and drive sales by collaborating with influencers.  
5. 20 Best Local Marketing Strategies
Local marketing is all about connecting with the right customers in your specific area. Follow this complete guide on local marketing to learn the most effective ideas and strategies for marketing local businesses. 
6. 10 of the Best Tools to Find Influencers on Social Media
Influencers can be a brand's best friends, provided the brand is armed with the right tools to find the right brand ambassadors. Here are some of the best social media tools for finding influencers.
1. Awario
2. Brandwatch
3. Influencer One
4. BuzzSumo
5. Mention
6. Upfluence
7. Traackr
8. Klear
9. Grin
10. Veloce
7. 5 High-Impact Marketing Tactics To Drive Sales For Your Software Company
With the exponential growth of software, technology, and internet companies in the Indian startup landscape, how you market your new solution is crucial to its success. Here are five of the best marketing tactics for promoting your software solution.  
8. 7 Steps to Creating a Winning Keyword Database
The right content marketing strategy that uses the power of keywords to the fullest will enable you and your brand to reach the audience that will ultimately make those conversions come frequently and quickly. Here are seven steps that will help you create a winning keyword database.
1. Find out who your audience is and what they want to know
2. Create a list of questions and categorize your keywords
3. Create a keyword list and answer your list of questions
4. Write your content with value in mind
5. Check for the keyword search volume
6. Score your keywords properly
7. Make sure to prioritize constantly
9. 5 Reasons to Prioritize Email List Hygiene for Marketing Success
Email list hygiene is the process of weeding out cold or decayed contacts and retaining the responsive ones. There is nothing wrong with letting go of a chunk of dead contacts from your email lists to make it more effective. In fact, if you don't indulge in this practice, your sales and marketing teams can experience a steep dip in lead engagement rates.
10. How to Create an Amazing Video Marketing Strategy for Your Business
Video content dominates the online space. If your business isn't implementing a video marketing strategy, then it's time to start. This guide will help you create a video marketing strategy that works for your business.
11. Create a Social Media Marketing Plan from Scratch
Succeeding in social media marketing is no fluke. However, you need a sound social media marketing plan if you want to reap all of these benefits. Here is the step by step plan creation process to help you up.
1. Identify Your Goals
2. Research Your Audience
3. Understand Your Brand Personality
4. Research Your Competitors
5. Craft Engaging Content
6. Set a Posting Schedule
7. Market Your Content
8. Measure Your Campaign Performance
12. The Ultimate Guide To A Lead Magnet Funnel That Will Boost Your Subscriber Rate
Lead magnet funnels provide a unique way of growing your email list. Today's guide will show you how to create the best lead magnet funnel for your business. You will learn about customer personas and their role in creating a compelling lead magnet. You will also discover the different types of magnets you can use and how to build the ultimate opt-in page.
13. Why Print on Demand Is (Probably) the Quickest Path for Anyone Who Wants to Sell T-Shirts
If you're looking for a low barrier to entry to entrepreneurship, then the $10 billion custom t-shirt industry might be for you. Thanks to a growing ecosystem of print-on-demand companies, it's relatively easy for anyone to design (or outsource design) shirts and sell them online. In this guide, we review our favourite print-on-demand companies and how to get started.
14. How Can You Effectively Measure Social Media Marketing?
When approaching your social media strategy, it's important that when considering all of the factors mentioned above that they are always considered in light of your brand's marketing KPIs to determine the success of your campaigns.
15. What You Need to Know About Google Mobile-First Indexing
To rank higher on search engine results pages (SERPs), your website will need to be optimized for mobile Google search. Here are the basics of Google mobile indexing and what changes you should be implementing to ensure your website will rank as high as possible for Google mobile-first indexing.
16. 5 Critical Marketing Strategies for Product Promotions
Whether you own a small or large company, effective marketing is critical for product promotions. These five strategies will help you put together product promotions that sell.
17. How to Start an Ecommerce Business and Make Your First Sale
If you're interested in how to start an eCommerce business, this guide will walk you through everything from defining your brand to making your first sale so that it's simple and straightforward.
18. Product Research: The 15-Step Checklist for Finding Profitable, in-Demand Product Ideas
Looking for your next top-selling product? Learn the tips and tools needed to find trending products in the market to sell in your online store.
19. How to Rank a Blog in Google's Top 10 Search Results
Doing SEO for a blog is different from doing SEO for an e-commerce or even a service-based website. So how do you rank a blog on page 1? Well, here's how.
20. 12 Tips To Increase Landing Page CTA Conversions
The purpose of a landing page is to capture leads that then go into your inquiry funnel. Here are 12 tips that will help you improve your calls-to-action and landing pages to boost conversion. 
That's it for this week marketing roundup. See you in the next issue.
ToonChooi