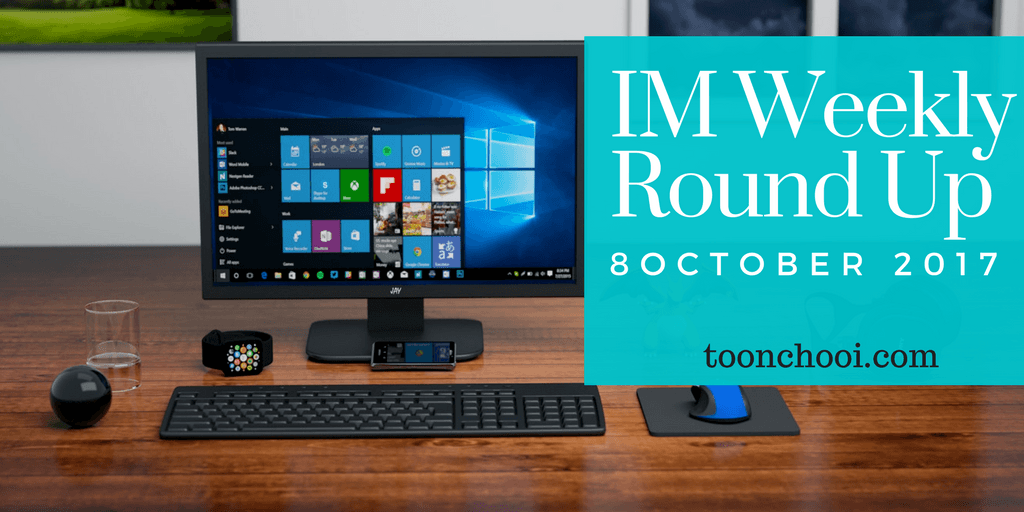 Here are this week internet marketing roundup for 8 October 2017:
In this guide, a list of 10 most important signals Google uses in its local search algorithm (the ones that have the highest correlation to rankings), grouped into 4 categories, and some tips for getting each factor right.
https://toonchooi.com/t/read/local-seo-cheat-sheet/
2. 8 Blog Post Ideas You Can Write And Publish Today
In this article, You'll learn 8 blog post ideas for various types of posts that you will be able to create, even if your creativity is on holiday, you have a mild version of writer's block, or you simply are in a hurry and all other ideas you can come up with will take more time to research and create.
https://toonchooi.com/t/read/8-blog-post-ideas-can-write-publish-today/
3. How to Get 7 Times More Twitter Traffic
Want to learn how I increased traffic from Twitter by 7 multiples? Try this ONE simple Twitter marketing tip.
http://imtips.review/how-to-get-7-times-more-twitter-traffic/
4. 10 Quick Social Media Marketing Tips
Most social media marketing campaigns are primarily designed to help gain more social following, increase product/brand visibility or drive traffic to a website. Here are quick must-know tips you should consider when rolling out your next social media campaign.
https://toonchooi.com/t/10-quick-social-media-marketing-tips/
5. The 10 Factors That Will Make Your Social Media Marketing Campaign Profitable
Social media marketing has been on the minds of marketers since the rise of Facebook and Twitter more than a decade ago, but its most stubborn opponents still view it with the same resentment, and the same argument: it's not a profitable strategy. Let's explore what, exactly, a social media strategy needs to become profitable.
http://imtips.review/the-10-factors-that-will-make-your-social-media-marketing-campaign-profitable/
Increasing conversions isn't easy because there's so many different variables. In reality, there are probably several reasons. A perfect storm of conversion mistakes, all coming together at exactly the wrong time.