Five Surefire Ways to Increase Conversions and Sales
If you're like most online marketers, small business owners, bloggers or other website owners, then you're always looking for ways to increase your conversions and sales. After all, it's just smart business to make the most of your traffic. If you can boost your ROI, then you'll be putting more money in your pocket at the end of every day.
Now here's the thing…
You don't do one grand gesture in order to increase your conversions and sales. Instead, you take a series of small steps. And collectively, these small steps add up to BIG results.
What sort of steps should you take? Below you'll find five surefire ways to boost your conversions and sales.
And the best part?
You can implement every single one of these ideas using one simple website feature: attention bars. More on that in just a few moments. But first, take a look at these ideas…
1. Present an exit offer.
A lot of marketers figure if a visitor is leaving their site, then that visitor wasn't really targeted or interested. And that assumption is a big mistake.
Here's why…
Just because a visitor is leaving doesn't mean they're saying "no" to everything. They've just said "no" to whatever they've seen so far. And if you dangle the right offer in front of them, you might just get an enthusiastic "YES!"
Let's suppose someone is looking at your $97 software offer. They're interested, but maybe it's not in their budget just yet.
So, what happens?
When they leave your sales page, they're gone for good. They probably won't be back. And yet, this is a qualified prospect who is interested in what you're selling. They just haven't seen the right offer yet.
Here's what you do: when they leave your sales page, make them an offer they can't refuse. For example:
• Give them a free trial.
• Give them a low-cost trial.
• Offer a "lite" version of the software at a reduced price.
• Give them a discount coupon for the full version of the software.
Now what does your prospect say? "YES!" And you just saved a sale and created a customer!
Next…
2. Get visitors on your list.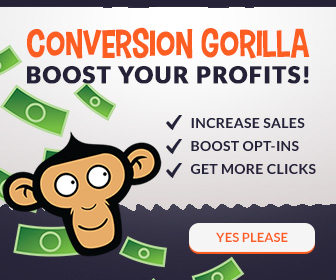 This is pretty basic, but it's a strategy that plenty of marketers still overlook. Simply put, you need to work hard to get as many of your visitors on your mailing list as possible. That way, you can follow up with them via email over time to close the sale.
Remember, a person leaving your site isn't saying, "no." They might be saying, "not yet," or "maybe." And when you get them on your mailing list, you can turn that "maybe" into a definite yes.
Next idea…
3. Offer an exciting bonus.
If you're an affiliate, then it's no secret you're competing against hundreds or even thousands of other affiliates who are all selling the exact same thing.
Think about that for a moment.
Saying, "Hey, buy this thing through this link" isn't going to be enough to pocket those commissions. To meet that goal, you need to do two things:
1. Develop a good reputation in the niche. Obviously, this isn't something you do in a short amount of time. This is an ongoing task that requires you to promote good products, do so in an honest way, and really help your audience.
2. Add value to every offer. In other words, offer prospects a bonus if they purchase a product through your affiliate link.
This second one is really effective, and it's something you can start doing immediately. Simply offer a related, valuable bonus that's in high-demand, and you'll see your conversion rates get a huge boost. And for obvious reasons – people like to get the most bang for their buck, so they're going to use the affiliate link that gives them more value for their money.
Next…
4. Upsell your customers.

You've got a prospect sitting on your order form with their credit card in hand. Prospects don't get much hotter than this. He's in the buying mood. And that's why now is the very best time to suggest that he add something to his order. In other words, offer an upsell or cross-sell of a product that will enhance the use and/or enjoyment of the main product.
For example, let's suppose you have someone who's ordering a meal-planning app from you for the purposes of losing weight. Offer an accompanying diet guide or low-calorie cookbook as a cross-sell, and you're sure to boost your average per-transaction price.
Here's another idea for boosting conversions and sales…
5. Display a countdown timer.
Sometimes your prospects are interested in your offer. But for whatever reason, they put off the actual purchase. They bookmark your page and tell themselves they'll come back to it later.
You can guess what happens, right?
Yep, "later" never comes. The person loses interest in your product once the excitement of the sales pitch wears off. Or life gets in the way, and they totally forget about your offer.
What's the solution to saving these sales?
You need to stir up a sense of urgency. You need to make people feel like they need to purchase RIGHT NOW… or risk missing out. Yes, you need to create a little fear.
You know what creates just the right amount of order-boosting fear? A limited time offer. And to make it even more powerful, you can match this offer with a countdown timer that's visually ticking down the hours, minutes and seconds left before the offer expires. It's a powerful way to boost the sense of urgency – and your sales!
Now here's the best part about all of these ideas…
You can implement every single one of these ideas using an attention bar. Specifically:
1. Put an offer in an attention bar that appears when the visitor is intending to leave your site.
2. Display your opt-in offer using a well-placed attention bar (preferably one that appears after a delay).
3. Insert your affiliate bonus offer in an attention bar, and then overlay this attention bar directly on the sales page. (Yes, that's completely possible when using iFrame technology.)
4. Place your upsell offer in an attention bar on the order form to really call attention to it.
5. Put a countdown timer in an attention bar that displays on a sales page, or even on some other page of your site to advertise a flash sale or other special offer.
In short, using attention bars is a GREAT way to boost your conversion and sales. Because not only can you use these attention bars in the five ways described above, but you can put them to work for you in countless other ways as well. You can use them to:
• Reiterate a big benefit.
• Insert a powerful testimonial.
• Place videos or images in them to draw attention.
• Use countdown timers to create urgency on any sort of offer.
• Persuade prospects to join your list.
• Announce new products, sales or news.
• Direct prospects to related offers.
• Encourage people to request more information.
Simply put, attention bars work like crazy because they're eye-catching without being eye sores!
But for a lot of marketers, this strategy poses a problem…
Namely, the average marketer or small business owner simply has no idea how to create one of these bars. They don't have the coding know-how. And even those who know a bit about coding don't know how to create professional-looking bars that appear at specific times.
Now here's the good news…
You can start creating your own conversion-boosting attention bars in as few as two minutes – no coding knowledge or skills required!
How?
By using the web-based Conversion Gorilla app.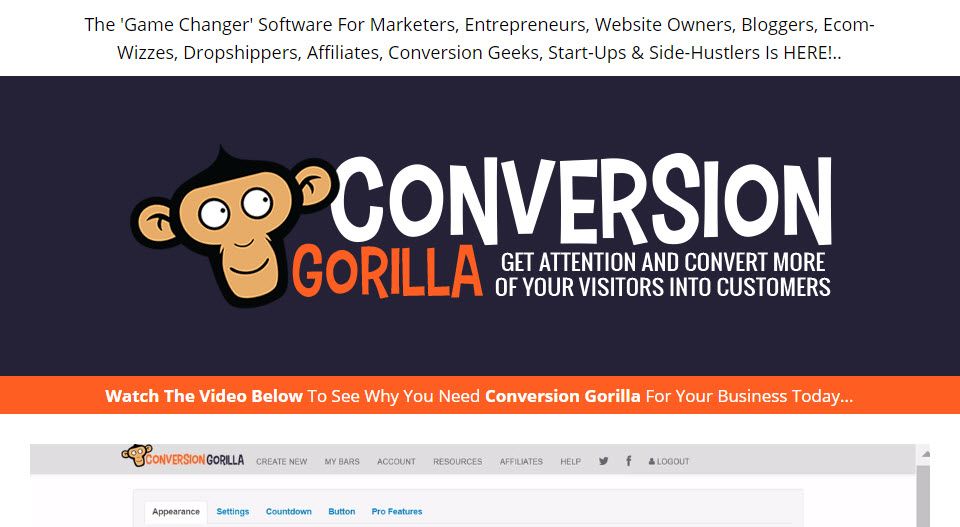 This is a point-and-click easy way to create beautiful, powerful, and high-converting attention bars. And these bars are fully customizable with a click of your mouse, including:
• Insert conversion-boosting countdown timers.
• Decide when, how and where your attention bars will appear on your page.
• Get the ability to overlay your attention bars on other peoples' websites, such as your affiliate link.
• Change the colors, font, size and more with a click of your mouse.
• Change your attention bar on the fly in your dashboard, and it instantly updates across your sites.
And so much more. Conversion Gorilla makes it easy for anyone to boost conversions and sales using cutting-edge attention bar technology.
Ready to see it in action for yourself? Check out the demo here:
And then grab your account to put this powerful tool to work for you!